Sleep deprivation is a growing public health issue and quality sleep is vital for our health. Several factors contribute to the quality of our sleep, and today we will focus on the environment, specifically, the amount and quality of sound around us while we sleep.
The best white noise machines should cater to different needs such as:
infants and children
travelers
office environments.
These sound conditioners guarantee to provide a peaceful and calming sound quality, ensuring a peaceful mind and a good night's sleep.
[ How to Sleep Well at Night Naturally ]
A List of Top 10 Best White Noise Machines for Sleeping
Sleep Easy Sound Conditioner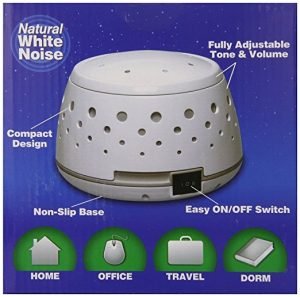 The sleep easy sound conditioner uses a mechanical sound to provide comfort to you. It does this using a fan. The fan produces some soft sound and you can adjust the volume of that sound. Since that sound is emitted through some holes, you are also able to adjust the sizes of such holes to achieve the sound that would really soothe you. I must also say that this machine comes at a very convenient price just for you. To prove this, check its price on Amazon.
Pros
Simply plug it in and turn it on
Volume and tone are fully adjustable
Compact design
Affordable price
Cons
Light and cheap feel
Not loud as expected
Not built to last: average durability
Sound+Sleep High Fidelity Sleep Sound Machine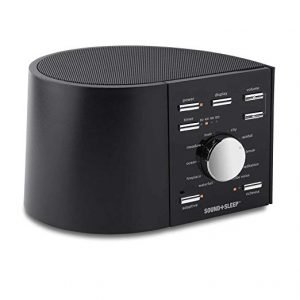 This is a product of the Adaptive Sound Technologies that produces more than just white noise! It is sophisticated such that it is able to offer 30 different sounds, to create the same number of soothing environments like waterfall and meadows environments among many others. That comes as a surprise I know. This product is available on Amazon too at a pocket-friendly price alongside many more offers.
Pros
Real sounds from actual recordings
Customizable timer
Authentic sounds
Cons
More expensive than some other products on this list
Durability: average
Not cheap
Lectofran Noise Machine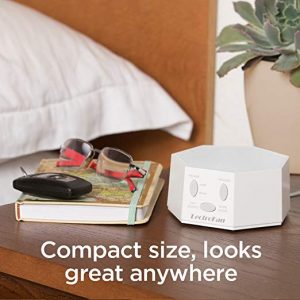 In our list, Lectofran has to find a place. Don't ask why, look at the reasons. This is also another one from Adaptive Sound Technologies. The fact that it is portable makes me like it. It offers 10 different white noise environments, including and not limited to the most liked Brownian environment. That makes me love it more. Its price seems not to match its value as it appears cheaper. That is another feature that you will certainly like.
Pros
10 fan sounds, and 10 white, pink and brown noises
20 unique digital sounds
Cons
Not eligible for return
Durability: poor
Conair Sound Therapy Slums Machine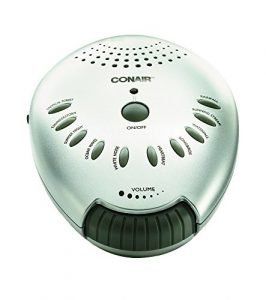 Another one that gambles with the sound you will need. The company trusts their odds with the 10 different sounds the machine offers. You do not have to play each sound to find your best if you know its name but just press the right button and play it. Its oval shape is appealing. You can choose to use batteries to power it or use a DC power source. That is convenient. Let us agree about that.
Pros
10 soothing sounds
60 minute auto-off timer
Easy to use
Durability: good
Cons
Marpac Dohm Classic White Noise Sound Machine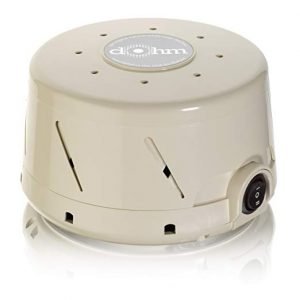 This is one of the best. Take it from me. It produces just some, but widely accepted sound, that of some rushing air. I love the shape and I find it difficult to choose from the variety of colors it comes with.
Pros
Easy to use
Compact design
Not very durable
Cons
Usability and durability: average
AVANTEK White Noise Sound Machine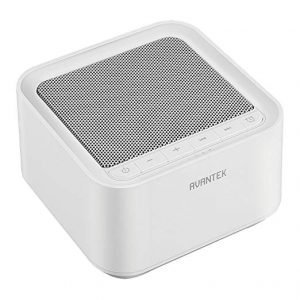 The therapeutic sounds from this Avantek machine are also great for relaxation, meditation and concentration on study or work.
Pros
Very compact and portable
Doesn't feel cheap
Sound quality: good enough
Cons
SNOOZ White Noise Sound Machine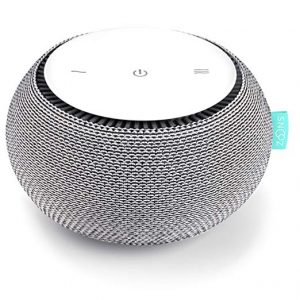 You can easily control the Snooz white noise sound machine with its smartphone app. Happy baby and mommy!
Pros
Easy and friendly for travelers with its portable design
Adjustable tone & volume (10 settings) for babies, kids, adults, and even pets
Cons
Average and inconsistent, weak app functionality
Sound quality: above average
Big Red Rooster White Noise Machine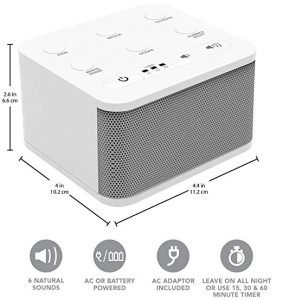 The recommended product is the best for home, office, or even travel. You can enjoy these sounds: rain, brook, ocean, thunder, white noise, summer night.
Pros
6 clear sleep sounds
Small and portable
Great value for the money (one of the cheapest on the list)
Cons
Sound quality: below average
Housbay Sound Machine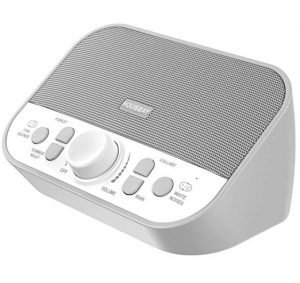 This sound machine comes with a dual speaker and 28 soothing sounds. It can help most people  masking loud cars, dogs barking, and especially snoring.
Pros
4 soothing nature sounds
Easy to adjust volume
Non-stop and sleep timer
Cons
Sound quality: just average
PICTEK White Noise Machine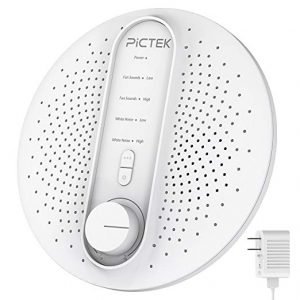 Unlike other listed products, this fan sound machine works all night long to drown out the random noises.
Pros
Auto-off timer
3 ways to customize the sound
2 USB charging ports (DC 5V, 1A)
Cons
Durability: average
Sound quality: good