When it comes to purchasing a bike seat for your baby, safety should be your top priority. Here are some factors to consider when choosing a bike seat:
Fit: The bike seat should fit your child properly. The harness should be snug but not too tight, and the seat should be at a comfortable height for your child.
Position: The bike seat can be mounted on the rear rack or front rack of your bike. Rear-mounted seats are generally safer, as they keep your child further away from the wheels. However, front-mounted seats offer better visibility for your child.
Features: Some bike seats have features that can improve safety, such as a padded backrest, a sunshade, and a kickstand.
It is important to note that not all bike seats are created equal. Some are more expensive than others, and some have better safety features. It is important to do your research and choose a bike seat that is right for your child and your needs.
Also recommended: Best Infant Car Seat Stroller Combos
A List of Top 10 Best Baby Bike Seats
Schwinn Child Carrier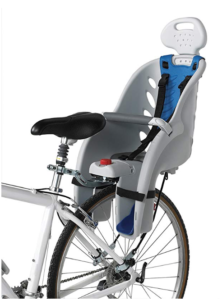 The Schwinn Child Carrier is a rear-mounted bike seat that is designed for children ages 1 to 4 years old and weighing up to 40 pounds. It is a sturdy and well-made seat that is easy to install and remove. The seat has a padded backrest and a five-point harness to keep your child safe. It also has a sunshade to protect your child from the sun.
Pros:
Sturdy and well-made
Easy to install and remove
Padded backrest and five-point harness
Sunshade
Affordable
Cons:
Can be difficult to see over the seat when riding
Can be heavy for some riders
Not suitable for children over 40 pounds
Overall, the Schwinn Child Carrier is a good option for parents who are looking for a safe and affordable rear-mounted bike seat for their child. It is easy to install and remove, and it has a number of safety features to keep your child safe. However, it can be difficult to see over the seat when riding, and it can be heavy for some riders.
Here are some additional details about the Schwinn Child Carrier:
Weight: 10 pounds
Dimensions: 19.5 x 16 x 17 inches
Maximum weight capacity: 40 pounds
Materials: Steel frame, nylon seat, and foam padding
Features: Padded backrest, five-point harness, sunshade, and kickstand
Price: $59.99
If you are looking for a rear-mounted bike seat that is safe, affordable, and easy to use, the Schwinn Child Carrier is a good option. However, if you are looking for a seat that is lightweight and easy to see over, you may want to consider a different option.
Also, here's a list of top 10 best lightweight double strollers.
WeeRide Kangaroo Seat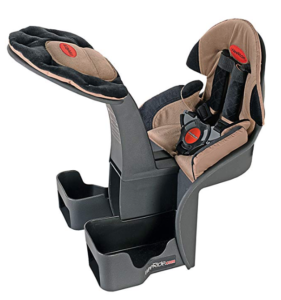 Kids also want to enjoy the experience of a long bicycle ride. WeeRide offers you a seat that will boost the safety of your baby as they enjoy the fun. It does not irritate the child since it has an ultra-thick back padding. It is fitted on the front of the bike. Install it is easier using the mounting bar equipped on it. Finally, for safety reasons, it has a sturdy harness.
CyclingDeal Front Baby Carrier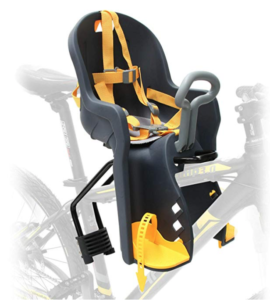 If your kids weigh up to 15 kilograms, then this is the perfect seat for them. Designed with materials that are safe for kids, the clamp design works for most types of bikes. It does not shift on movement. It is also made of high-quality material that does not break easily when it is in use. The child will enjoy watching the road from the front as you go out for the ride.
iBert T-Front Mounted Baby Seat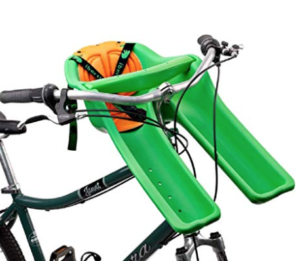 You can mount the seats on the front of the bike. It's the best option because they increase the safety of the child. You can also monitor the child easily unlike when they are mounted on the rear. It is made of quality child-safe plastic material. It is very durable hence as your child grows, you will not need to buy a new one. Finally, it's lap bar and safety harness are adjustable to keep the child comfortable.
Bellelei Pepe Bike Seat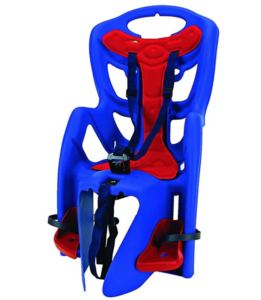 This brand reputes itself for baby seats that can carry kids of up to 50 pounds comfortably. Your child will enjoy the adventure of riding along with you as you keep fit and exercise your body. It is quick to mount on any bike saving your time for set up. Also, it is rear-mounted but this does not mean it compromises on the safety of the child. It secures the baby safely with the three-point harness.
Hamax Child Bike Seat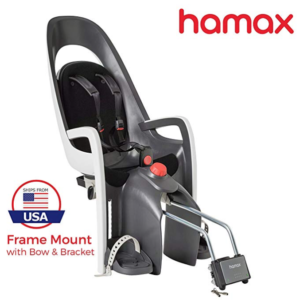 This is the perfect seat for kids 9 months old and above. It features an ultra-shock absorbing frame for safety. When you are on speed, a devoid-type frame that can be set up easily without compromising the safety of the child. It has a padded back that positions the baby in such as a way that minimizes their risk of injuries. Your child will be thanking you later when you create memories in your adventure with them as they grow.
Thule Yepp Mini Child Seat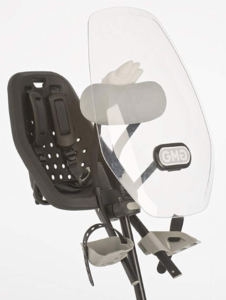 This seat has all key features for your child. It's safe and comfortable while riding outdoor. It has an ergonomic design with food straps to secure the baby well. The slanted rack design ensures bumpy rides are comfortable. To maximize the safety of the child, it has a five-point harness. Easy to set up and mount and you can carry your 33 pounds baby along.
Lixada Baby Bicycle Seat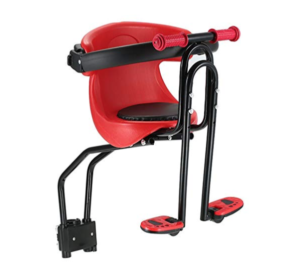 The seat looks very simple yet very ideal for the comfort and safety of your child during outdoors. It is a front-mounted seat that will allow you as the parent to interact with your child along the ride. The design is well balanced and sturdy. It can give you the best stability for the bike. With the padded seat, your child will sit for hours without complaining of discomfort.
Padded seat provides superior comfort and the pedals
CyclingDeal Rear Baby Seat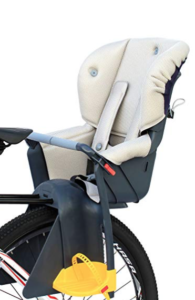 Parenting is more fun nowadays. Why? Well, because you do not have to forgo having fun and adventure because of having a baby. This rear seat can fit most bikes to ensure that your outdoor becomes more memorable. It is very easy to install mounting and dismounting on the bike. The thick pad ensures comfort and reduces side movements when riding. For more safety, it absorbs the shock during bumpy rides.
Adjustable height of seat backrest
Compatible with most bike frames
Thule RideAlong Child Seat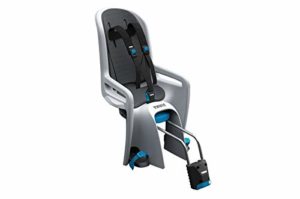 Finally, I close this review with the Thule child seat. It has been designed to work on most standard bikes. If you move around often, then this is the best option for you since mounting and dismounting is easy. It has protection wings that protect the child both the body and the legs. Also, it is very ideal for both boys and girls aging 9 months and above. And it will offer a comfortable ride along in all kinds of terrains.
Detachable, water-repellent padding
Machine washable and reversible
Single-hand adjustable foot rests and foot straps