A changing pad cover is essential for diaper changes. With messy and hectic moments, a cover protects the changing pad from pee or poop stains. Comfort is also crucial, as many changing pads can feel cold to a child's skin. Investing in a good cover allows for easier diaper changes and keeps the child comfortable. Familiarize yourself with what a changing pad cover is.
A List of Top 10 Best Changing Pad Covers
Ziggy Baby Changing Pad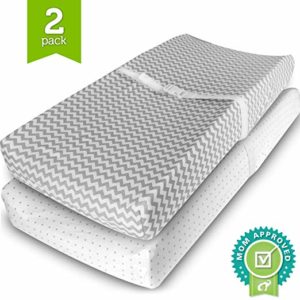 When buying a changing pad, you should go for one that is soft and warm to the baby. Soft and fashionable, the changing pad will not be messy for you and the baby. It is made of 100% cotton material and both ideal for girls and boys.
Soft and cuddly
Made of 100% high quality jersey cotton
Brolex Jersey Knit Pad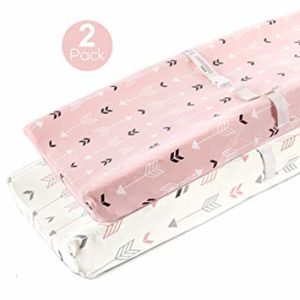 This is a set of pad cover which comes in two color options pink and white. It comes in two covers for every pack you buy hence you will not worry when the main one gets dirt on it. You can conveniently use it when you are out of the house. It has been designed to fit most of the standard changing tables. It is stain-resistant and made baby-friendly polyester material.
Stain resistant topper can be cleaned
Machine washable
Summer Infant Pad Cover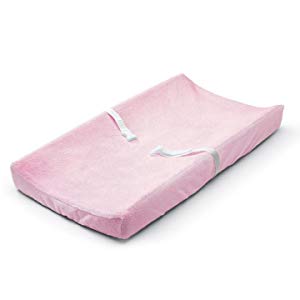 Every parent wants to have an appealing and fashionable nursery for their babies. This pink changing pad will offer just that. It comes with material that the baby will remain warm when changing them. You can even change the baby when they are sleeping. The material of the cover is machine washable and also stain resistant. It also comes in other color combinations white, blue, etc.
100% polyester cover is stain resistant and colorfast for longer use
Elastic bottom keeps cover on the padfits most standard sized changing pads
Available in blue, white, pink, ecru and chocolate
Ultra plush covers are so soft to the touch
Burt Bee Changing Pad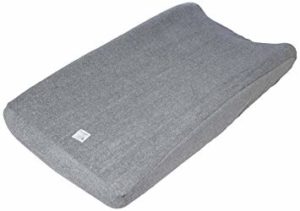 This is one of the most unique changing pads we have. It is an organic one. So that it is very safe for the baby. Moreover, it is free from any kind of chemical that can be harmful to the baby. Last but not least, it is also very comfortable. Hence, your baby will enjoy every moment when it is diaper changing time. It is also very durable and can fit on most of the standard pads on the market.
Designed with safety in mind
Fully encased, premium elastic along the entire bottom edge
Keeps changing pad covers safely in place
Munchkin Waterproof Changing Pad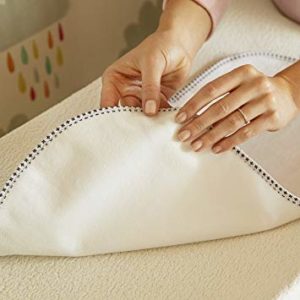 Pee can sometimes spill when the baby is being changed. The hassle of dealing with a bad smell is not the best for mothers. This one is designed to ensure that your changing pads remain extra safe for the baby. Made from polyester and 100% waterproof, it will provide extra protection. You will thank us later when you get yourself one of these.
Liner helps with messy changes, providing extra protection
Ideal for use on changing pads
Liner has PVC free water proof backing
Machine washable
Boppy Changing Pad Liner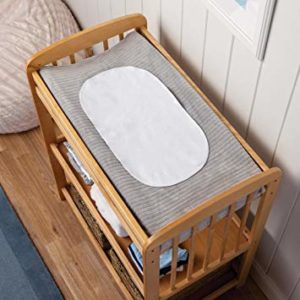 Every parent will want a cover that will be easy to wash. So, this particular one has become a favorite for many parents. It has an absorbent terry cloth that will protect from the pad from constantly getting dirty. You would want to spend more time bonding with the child and not changing and washing their dirty linen. If you go for this one, you will save yourself the time.
Protective waterproof liner for easy washing
Waterproof liner ideal for changing pad covers
LA 4-Sided Changing Pad Cover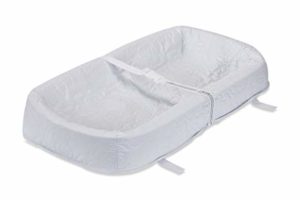 When changing nappy, the baby slipping and gridding in the pad is not the best thing for you. Why? Because sometimes this becomes messy and soils the changing pad. You should get yourself this 4-sided cover for coverage and comfort for the baby from the cold. They come in different sizes, ensure that you get your size right. The material used is baby-friendly.
Non-skid bottom that prevents pad from sliding while changing baby
Waterproof, anti-microbial, phthalate free, non-toxic, non-allergenic, stain resistant
Easy to keep clean with mild soap and water
Safety harness for baby with a quick release buckle
Ely's and Co. Changing Pad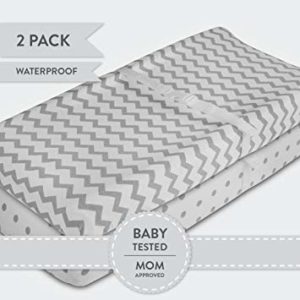 The manufactures of these covers made them with the mother and the baby in mind. Made with very soft material, it is comfortable for the baby. The material is also very safe free from irritation on the baby's skin. They are made from jersey cotton fabric. And the waistband is elastic for flexibility and safety. You do not have to worry whether your kid is a boy or a girl because it is unisex in design. Finally, the covers are 100% cotton.
Waterproof: changing pad cover
Unisex and comfortable
Soft Material: 100% high quality Jersey Knit cotton
Easy to clean: Machine washable, lightweight fabric
Superior Safety: Tight elastic band, doubly reinforced for durability and safety with TPU waterproof lining
Trend Lab Changing Cover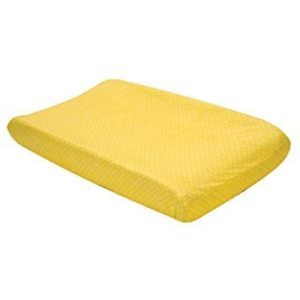 These covers come in different colors and designs that suit most users. Your child feels comfortable. It protects them from dirt when they are having their smelly diaper changed. They are fully elasticized and are made of 100% cotton which is very soft and comfortable. You and your baby will feel trendy when you use these covers.
Stylish and comfortable
Soft printed cotton cover is fully elasticized
Cover fits standard sized changing pads
Stretchy Changing Pad
Finally, the stretchy changing pad is very soft made of 100% cotton material. And it's lightweight. It comes in different sizes. So you do not have to worry that you will not get one that matches the size of your changing pad. It is comfortable for the baby because the material is free of toxic chemicals.
Elastic bottom and the buckle strap holes that accommodate the safety straps
Stain resistant topper can be cleaned easily
Soft material
Machine washable