To have a modern finish to your home, having bistro chairs is one of the items you are supposed to tick in your checklist. How the chairs can elevate how stylish a place looks is amazingly significant. However, buying the highest quality chairs is not guaranteed to many because of ignorance.
To avoid silly blunders when you are choosing the best bistro chairs, you are supposed to do thorough research and find out the features the best products have. Close friends, customer reviews, and writings about bistro chairs are some of the sources you can use to have the information you need when researching.
Due to their elegance, comfort, and style, French Bistro chairs have grown in popularity. They are lightweight to ensure that moving them outside to the garden when you plan to have drinks and dinner outdoors is not impeded. With the many dealerships available to sell the product, you are supposed to buy from a reputable and trusted dealer, failure to which you risk to buy counterfeited products.
Here are the best bistro chairs to buy for your home.
To bring a touch of French belonging to your outdoor spaces, balconies, patios, and decks, French Bistro chairs are the perfect stylish dining chairs you should choose. You are assured of absolute comfort while sitting on the breathable rattan and wicker chairs when you are preparing to have a three-course meal or a glass of gin and tonic.
Though the chairs are mainly traditionally designed to be used outside on the paved streets of France, when kept in a modern dining room or farmhouse kitchen, they improve how the place would have looked were they absent.
The charming chairs are wrong and lightweight, so they can be easily carried when you choose to use the seats inside your home and still be brought on the outside when you are looking for outdoor comfort.
Sunwashed Riviera Dining Chairs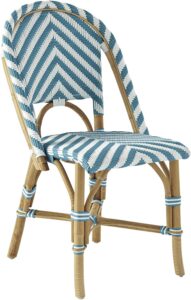 The Sunwashed Riviera Dining Chairs are the ultimate French bistro chairs perfect for bringing the Parisian Summer touch into your home. The chair has been affectionately handcrafted using ancient French techniques and exclusively finished, highlighting the fantastic natural variations in the wicker.
The chairs have iconic shapes and a regular wicker color to arouse happy reminiscences of sitting with your friends or family in the glare.
White and Red Wicker Bistro Chairs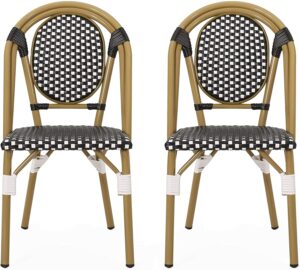 The charming White and Red Wicker Bistro Chairs are ideal for both outdoor and indoor dining. These chairs feature a wicker design which offers a checkered look.
The wicker has been made on a powder glazed aluminum frame with 100% water-resistant PE wicker to allow the chairs to be used outdoor all year round.
If you want to have a touch of French chic in your home garden, you should select the Red and White Wicker Bistro Chairs.
Lea Bistro Chair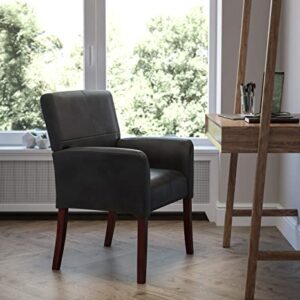 The Lea Bistro chair has been designed to fit both outdoor and indoor uses. The chairs feature a woven dotted design in white and blue for a classic look. Striped trips at the bound joints add a contemporary touch to the traditional Lea Bistro French chairs.
The Lea Bistro French woven chairs are durable and robust and made from a Swiss-made artificial fiber that offers optimum comfort and holds its structure and looks for many years to come.
Riviera Bar and Counter Stools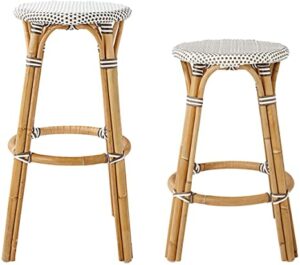 Adding a few Riviera Bar and Counter stools to your bar or kitchen counter have been the best organization for many who yearns to bring a dash of Parisian chic to your kitchenette. The seats create a beautiful breakfast area where comfort is guaranteed when chilling and eating croissants while perusing the papers in the morning.
The Riviera Bar and Counter Stools have been woven from lightweight plastic and rattan, making them exceptionally comfortable and friendly for the whole family. Their making suits both outdoor and indoor use. However, when not in service, the seas should be stored in a dry place.
Remi Alfresco French Bistro Chairs
The white and blue Remi Alfresco French Bistro Seats are perfect for alfresco dining. The chairs are stylish, strong, and durable since they are built on bamboo-finished aluminum frames.
They are sold as a set of four and are a perfect solution when you want to bring a touch of sophisticated French style to your outdoor living area.