Gone are the days when taking a nap in an office chair was a painful and uncomfortable experience. Traditional office chairs were made of hard plastic and lacked proper ergonomics, making napping nearly impossible. However, the need to take a break and relax is real, and sometimes a nap is necessary to continue working effectively.
To help you find the best office chair for napping, this guide reviews 5 options that are specifically designed for comfortable, supportive napping. These chairs offer superior support for the upper body, neck, back, and lumbar area, and come with soft armrests for added comfort. So, if you need to take a nap during work, choose one of these top-rated office chairs for a restful, rejuvenating experience.
[ Best Chair Mats for Hardwood Floors ]
A List of 5 Most Comfortable Office Chairs
Duramont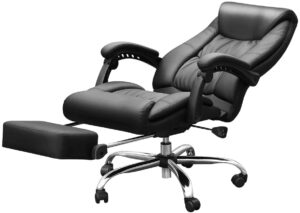 This is an outstanding office chair made of high-quality, durable and comfortable materials. It is designed to provide long hours of sitting comfort and offset the all-too-frequent fatigue that arises from prolonged sitting in an office environment.
The full-body mesh fabric seat offers great support for the spine, backrest and lumbar area during extended use. Besides, this chair has a perfect combination of ergonomics and modern flair giving it an airy appearance, perfect for a working environment.
Duramont offers superior comfort and ergonomics for the back, hips and ass. It is an extremely comfortable chair that provides the user with total lumbar support.
Hbada Reclining Office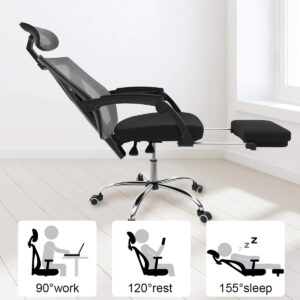 This is a unique office chair that contains a separate backrest, to enable the user to choose between a sitting or a lying position. It also features adjustable lumbar support and fully adjustable seat height. This allows users to have a completely customized seating experience, suitable for their own body type and lifestyle.
The arm rests are also upholstered with soft faux leatherette fabric that provides additional comfort; this feature helps alleviate many of the common problems associated with traditional office chairs.
The built-in frame is made of sturdy steel, which makes it a great long-term investment. Furthermore, this office chair has a five-star locking caster base and 360-degree swivel that ensures maximum stability and security.
HomCom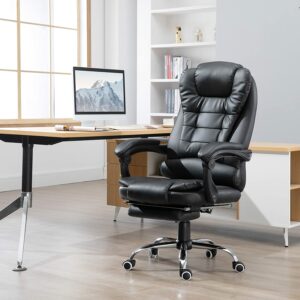 This office chair features high-quality leather padding and a sleek & stylish design. Additionally, it contains a high-density sponge filling that provides maximum comfort and lumbar support. It also has adjustable seat height, tilt tension and backrest angle, allowing users to find the optimal sitting position for comfort.
This chair also comes with an integrated headrest pillow that can be adjusted to 2 different angles for added support. The fabric is made from 100% leather and the chair has a chrome base that provides long-term stability.
Merax Portland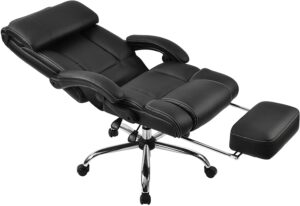 This office chair is made of high-quality leather, PU and mesh materials to ensure long-lasting comfort and durability. The chair features a reclining seat with a 360-degree swivel that allows users to rotate effortlessly in any direction.
It is fitted with a tilt tension control knob that can be adjusted according to the user's preference. The armrests are padded with soft faux leather and they can be adjusted up or down for maximum comfort during extended use.
The steel frame is grounded on 4 wheels with 360-degree swivel; this enables the chair to rotate smoothly in any direction. It also has a 5-star lock mechanism that provides the user with superior stability and security.
VIVA Office High Back Bonded Leather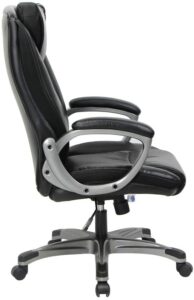 This is a sophisticated office chair fitted with high-quality leather, which is upholstered in a stylish and unique design. The chair comes with 360-degree swivel and adjustable tilt tension, which enables the user to find their most comfortable sitting position.
The armrests are covered with soft faux leather, which provides long-term comfort during extended use. The chair has an integrated headrest pillow that can be adjusted to 2 different positions for added support during long periods of sitting.
This office chair also has adjustable backrest, which allows users to change the reclining angle according to their own preference. The chair is equipped with a double wheel casters and a 5-star base to provide stability and support for a smooth operation.