With living spaces getting smaller and families getting bigger, the demand for collapsible, foldable, and extendible tables is ever-increasing. Collapsible tables have an immensely dynamic function- not only do they take up less space, but they are also portable and can be carried around for all those picnics, barbeques, and road-trips that we love to go on. While everyone has their own set of requirements for foldable tables, some tables stand out from others. In this list, you'll also find small table for dinning and for kids.
A List of Top 25 Best Collapsible and Folding Tables for Small Space in 2018
1. The SpaceMaster Corner Housewares Modern Multi-Purpose Dining Room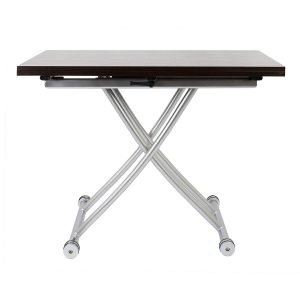 A sturdy table that seats 4-6 people, the SpaceMaster Dining Room is ideal for those who love small spaces but do not wish to compromise on quality or elegance. With a walnut wood finish and an adjustable X to easily collapse the table, SpaceMaster has ticked all the boxes for a multi-purpose, sturdy, and space-saving collapsible dining table.
Price: Approximately $300
2. Corell R60 Round Plastic Folding Table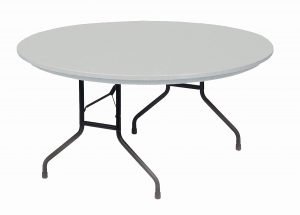 If you are looking for something more budget-friendly, the Corell R-series is the place to look. With a strong steel frame but a light plastic top, the R60 is ideal for something that is sturdy yet portable. The table can easily seat around four people and has a 30 -inch diameter. While it may not be the most elegant to view, it certainty does the job.
Price: Approximately $150
3. Lifetime 22301 Folding Square Card Table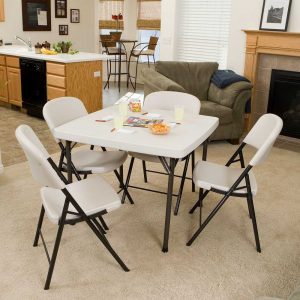 Retailing for about $80, it doesn't get more economical than the Lifetime 22301. With a 37-inch top and a beautiful almond finish, the collapsible table is ideal for a picnic with kids. It boasts a durable and strong outlook and a rust-resistant all-weather frame, which along with its lightweight properties and portability make it a great option for those on a budget.
4. Coleman Compact Folding Table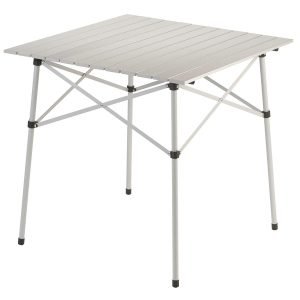 A foldable, full-size folding table large enough to seat 4-people, the Coleman $80 table is great to carry for long trips due to its lightweight. With its aluminum setup, it is easy to hold and carry and does not add on weight. It is also quite elegant, the aluminum finish gives it a unique outlook and its checked top has a marked personality, making the Coleman Folding Table a great addition to your camping gear.
5. Office Star Resin Multi-Purpose Round Folding Table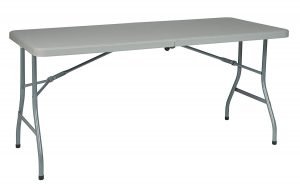 Overall, the Office Star Folding Table is perhaps the most complete and multi-purpose option you will find on the market. With its ability to hold about 300 pounds of weight, a heavy-duty frame that is water and stain-proof, and a simple yet attractive outlook, the Resin folding table is ideal for those who wish to use their table for various purposes. Build for both indoor and outdoor use, the table is 6-feet long and can seat about 4-5 people.
Price: Approximately $100
6. Costco Vinyl Top Folding Table
With the ability to fold flat, a durable-steel frame, a powder-coated finish, cross-braces, and a vinyl exterior, the 20"x48" Costco folding table is portability-extreme. The cheapest table on this list, clocking in at about $40, the Costco top can seat 2-3 people. While it may not be large enough for a party, it gets the job done if you really want to save money.
7. IKEA Ingatorp Desk
For those looking for quality yet not so pricey, we have the ingenious IKEA Ingatorp Desk. The dual folding drop-leaves makes it easy to adjust the table size according to your needs. It is one of the most stylish pieces of foldable furniture out there. The unique design and elegant outlook will give your small room both quality or portability.
8. Scalloped Edge Wood Folding Card Table
The Scalloped Edge Wood Folding Card Table is designed especially for small apartments and is a stylish piece of contemporary design. It has a white, marble-like outlook that fits in with any contemporary interior decoration. With a clean yet simple aesthetic, the Scalloped Edge Wood Folding Card Table is easy handle and fold but looks great and extremely stylish.
9. Costco 6-foot Centerfold Table
With a secure lock and all-seasons top, the $50 Deluxe 6-foot Centerfold Table is lightweight yet incredibly attractive. It has a comfortable handle and weights only 25 pounds yet is large enough to seat about 4-6 people with ease. Its all-seasons frame is also ideal for outdoor use- say goodbye to rust and wear!
10. National Public Seating BT3000
The BT3000 with its unique rectangular steel frame and a molded plastic top is the last to make it to our list. It is slightly pricier at about $100 dollars, but the price is definitely worth it. With a 6-foot frame and sturdy legs, the table is ideal for 6-7 people and a lot of food. It's fully white exterior also looks simple, and so it will blend in easily with all other pieces of furniture.
Small portable folding tables are convenient and easy to set up and move. They can be used for many purposes, from small household tables for households with only one or two people as their main table, or used for outdoor and recreational purposes such as camping as is usually the case. This is a list of the best small folding tables to help you make an informed decision.
11. CampLand Outdoor Folding Table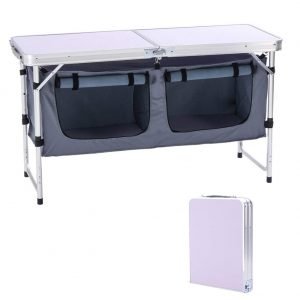 This is one of the best portable folding tables you can buy. It can carry a maximum load of 220 pounds, and is made of top quality HDPE, and it is foldable in half. With a size of 18.5 x 27.36 inches, this is one of the best outdoor tables for recreational use and those parties, it will handle plenty of heavy bottles and plates and is easy to clean.
12. Outsunny Portable Folding Table
This is a good all-rounder small outdoor table, with a size of 120 x 60 x 54-70 cm with an adjustable height. This is good value for money and will work for most uses. It does not however handle as much weight as the Todeco table; it is rated for 65 lbs versus 220.
13. Outdoor Interiors 10070 Eucalyptus Folding Side Table
This is one of the best looking small outdoor folding tables, being made of eucalyptus. It folds nicely. It is a bit more expensive than other small folding outdoor tables, but is well worth the money for its looks!
14. Flash Furniture Round Plastic Table
This is one of the best tables on the market, and it is sold in different sizes. It is easy to clean and is perfectly functional.
15. Banqueting Folding Table
The Banqueting folding table is made of plywood with a light oak finish with metal legs. It has a 120 cm diameter and is beautiful and is of good quality.
16. Coleman Outdoor Compact Table
This is a good small portable folding table for those who prefer a perfect square table. It is very durable and it complies with EN581 standards, is UV resistant and comes with a 5-year guarantee.
17. ALPS Mountaineering Camp Table
This is a good quality and very small folding table, measuring at 60 x 40 x 27 cm. It is made of robust aluminium and has a very solid look. This table was designed with strength and is also easy to carry, and is available at very good prices.
18. Camco 51895 Bamboo Folding Table with Aluminum Legs- Compact Design
This is a good quality budget folding table that is very light, measuring at 25.5″ x 19.75″. It is designed to easily be moved and is good for indoor use.
19. Outsunny EZ Carry
This is another outsunny table but with carry handles. It weighs only 2.7 kg and is easy to carry. This is designed with the traveller in mind, and is great for camping trips and festivals.
20. Travelchair Side Canyon
This is probably one of the smallest tables available here, and it weights around 1.7kg. This is aimed at camping and is just big enough for a two-man camping trip.
11. Bracelet Babies© Children's Folding Table & Folding Chairs Furniture Set
Youth furniture is usually managed from a pointless point of view. It's shocking to see that this 10-year set made in France continues to be made in sensitive beech wood. It is obvious that it is more than a standard working zone that is more suitable for one than for a table. It is legitimate from the first year of life and comes in a dimension of particularly refined shades like this coral pink in contact. In incomprehensible dimensions especially for the quality clearly arranged.
22. Delta Children Windsor Kids Wood Chair Set and Table
This wonderful furniture set is suitable for children who have done three or more. Each seat interweaves another safari creature, including a neighborly lion, a panther, an elephant, and a monkey. The round table has a cross section of 60 cm and offers space for dinners, introductions and puzzles. The Deltra Children Windsor has a reasonable responsibility in wooden toys, with a recognizable quality you will get some answers about plastic. The pieces can also be obtained unhindered.
23. Children's Wood Table with 2 Chairs Furniture Set For Use in Kids Play Room Kindergartens and Daycares Blue
Fasthomegoods's table continues to run with two seats and has a main structure. The heavy MDF furniture is painted white, but it can be balanced with a touch of tinted colors, stickers or stencils without much stretching. It reaches a level with punches and builds together effectively. There are no ringing or shouts for this set, but it is an exquisite choice for the opportunity that you would lean on not limiting yourself to something that will outgrow in a few years.
24. Lipper International 534WN Child's Rectangular Table with Shelves
A selected table and stool set for guards bound to the current structure (with little attention paid to the nursery). The Lipper International 534WN Child's Rectangular Table with Shelves has clean lines and is made of concealed, strong birch wood that is noticeably smooth. Pens and brushes can be stowed in a wrapped compartment inside, and dull, tinted pencil sacks are an optional addition to the stools.
25. Table Magis Linus and two Alma seats
Sensitive materials ensure that the Linus table is unstable and easy to clean after the occasional overflow. The legs are made of white polypropylene with included fiberglass, preferably with plastic coated MDF. It is available in three sizes, from 55 cm to 120 cm wide. The Alma Coordinate is Magis' suggested assistant: This plastic stackable seat can be used outdoors, is available in 4 shades and has a strong back.
Good to Know
The above small folding tables are all good choices, and they can be used for many purposes. From camping to recreation. We hope this has been an informative guide and has helped you chose the right table for you. Giving children their very own notable table is fundamental to finding the center. It does not matter if it's about mealtimes, explanations and brands or a normal secret. Teenagers love to use and support furniture in their own, exceptional size, and set the stage for more point-by-point rehearsals between Amigos.
Most tables and seats are common for teenagers between the ages of 3 and 6, so they have a short time-frame and reasonable comfort. If you spend more, you promise that there is more fun and quality than style. Consider furniture that your children will really benefit from before you need to share it.
Some plastic sets can be used all around, however, when all is said, those at the temperate end are all the more meaningless in quality. The yield for materials that are effectively cleaned will withstand scratches and pounding and will withstand high stress over a short period of time.
While all of the collapsible tables listed here are great in their own right, the choice you make really depends on your own requirements. If you are looking for something economical, we recommend the plastic tops but if you are going for high aesthetic value, think about the F2 or the Ola!
Related Reviews: