Small portable folding tables are versatile and practical for various purposes. As living spaces become smaller, extendable tables are becoming more popular. Collapsible tables have a dynamic function as they take up less space and are easy to move, making them perfect for picnics, barbeques, and road trips. This list includes small tables for dining and for children.
If you're looking for the best small folding tables, this list will help you make an informed decision. All of the small folding tables mentioned above are good options for various activities, from camping to recreation. We hope this guide has been informative and has helped you choose the right table for your needs. Providing children with their own designated table is also important for keeping them focused.
[ Best Folding Rollaway Beds ]
[ Best Small Computer Desks ]
A List of Top Best Extendable Dining Tables for Small Space
The SpaceMaster Corner Housewares Modern Multi-Purpose Dining Room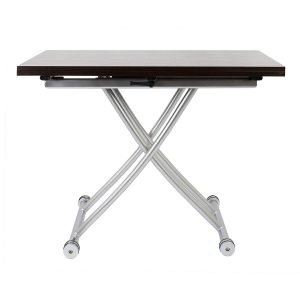 A sturdy table that seats 4-6 people, the SpaceMaster Dining Room is ideal for those who love small spaces but do not wish to compromise on quality or elegance.
With a walnut wood finish and an adjustable X to easily collapse the table, SpaceMaster has ticked all the boxes for a multi-purpose, sturdy, and space-saving collapsible dining table.
Corell R60 Round Plastic Folding Table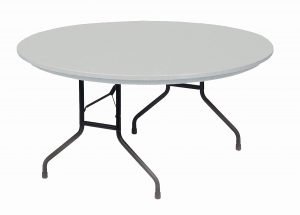 If you are looking for something more budget-friendly, the Corell R series is the place to look. With a strong steel frame but a light plastic top, the R60 is ideal for something that is sturdy yet portable. The table can easily seat around four people and has a 30 inch diameter. While it may not be the most elegant to view, it certainty does the job.
Lifetime 22301 Folding Square Card Table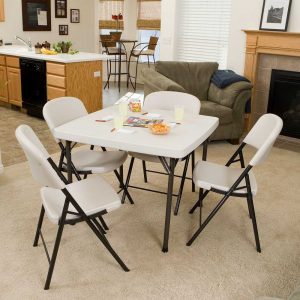 Retailing for about $80, it doesn't get more economical than the Lifetime 22301. With a 37-inch top and a beautiful almond finish, the collapsible table is ideal for a picnic with kids. It boasts a durable and strong outlook and a rust resistant all-weather frame, which along with its lightweight properties and portability make it a great option for those on a budget.
Coleman Compact Folding Table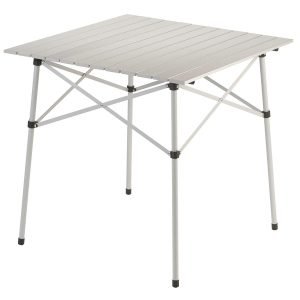 A foldable, full-size folding table large enough to seat 4 people, the Coleman $80 table is great to carry for long trips due to its lightweight. With its aluminum setup, it is easy to hold and carry and does not add on weight. It is also quite elegant, the aluminum finish gives it a unique outlook and its checked top has a marked personality, making the Coleman Folding Table a great addition to your camping gear.
Office Star Resin Multi-Purpose Round Folding Table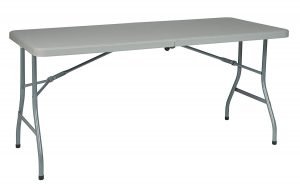 Overall, the Office Star Folding Table is perhaps the most complete and multi-purpose option you will find on the market. With its ability to hold about 300 pounds of weight, a heavy-duty frame that is water and stain-proof, and a simple yet attractive outlook, the Resin folding table is ideal for those who wish to use their table for various purposes. Build for both indoor and outdoor use, the table is 6-feet long and can seat about 4-5 people.
Costco Vinyl Top Folding Table
With the ability to fold flat, a durable steel frame, a powder-coated finish, cross-braces, and a vinyl exterior, the 20"x48" Costco folding table is portability extreme. The cheapest table on this list, clocking in at about $40, the Costco top can seat 2-3 people. While it may not be large enough for a party, it gets the job done if you really want to save money.
IKEA Ingatorp Desk
For those looking for quality yet not so pricey, we have the ingenious IKEA Ingatorp Desk. The dual folding drop-leaves makes it easy to adjust the table size according to your needs. It is one of the most stylish pieces of foldable furniture out there. The unique design and elegant outlook will give your small room both quality or portability.
Scalloped Edge Wood Folding Card Table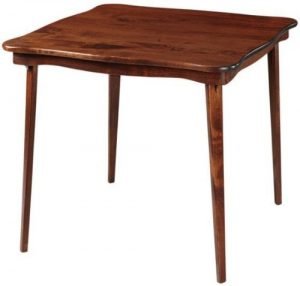 The Scalloped Edge Wood Folding Card Table is designed especially for small apartments and is a stylish piece of contemporary design. It has a white, marble like outlook that fits in with any contemporary interior decoration. With a clean yet simple aesthetic, the Scalloped Edge Wood Folding Card Table is easy handle and fold but looks great and extremely stylish.
Costco 6 foot Centerfold Table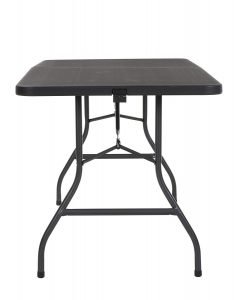 With a secure lock and all seasons top, the $50 Deluxe 6 foot Centerfold Table is lightweight yet incredibly attractive. It has a comfortable handle and weights only 25 pounds yet is large enough to seat about 4-6 people with ease. Its all seasons frame is also ideal for outdoor use. Say goodbye to rust and wear!
National Public Seating BT3000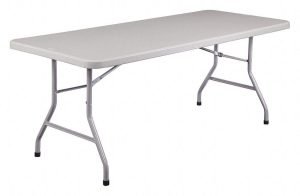 The BT3000 with its unique rectangular steel frame and a molded plastic top is the last to make it to our list. It is slightly pricier at about $100 dollars, but the price is definitely worth it. With a 6-foot frame and sturdy legs, the table is ideal for 6-7 people and a lot of food. It's fully white exterior also looks simple, and so it will blend in easily with all other pieces of furniture.
11. CampLand Outdoor Folding Table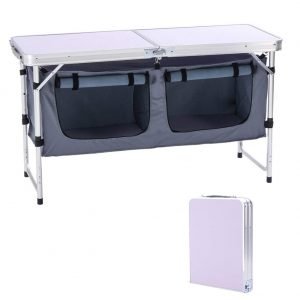 This is one of the best portable folding tables you can buy. It can carry a maximum load of 220 pounds, and is made of top quality HDPE, and it is foldable in half. With a size of 18.5 x 27.36 inches, this is one of the best outdoor tables for recreational use and those parties, it will handle plenty of heavy bottles and plates and is easy to clean.
12. Outsunny Portable Folding Table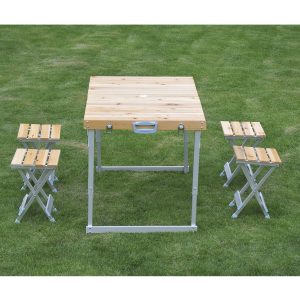 This is a good all-rounder small outdoor table, with a size of 120 x 60 x 54-70 cm with an adjustable height. This is good value for money and will work for most uses. It does not however handle as much weight as the Todeco table; it is rated for 65 lbs versus 220.
13. Outdoor Interiors 10070 Eucalyptus Folding Side Table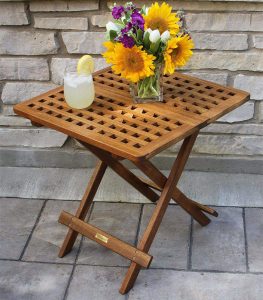 This is one of the best looking small outdoor folding tables, being made of eucalyptus. It folds nicely. It is a bit more expensive than other small folding outdoor tables, but is well worth the money for its looks!
14. Flash Furniture Round Plastic Table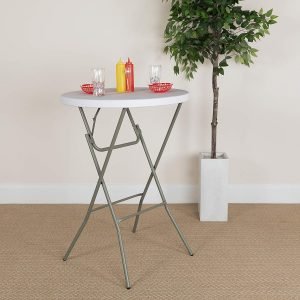 This is one of the best tables on the market, and it is sold in different sizes. It is easy to clean and is perfectly functional.
15. Banqueting Folding Table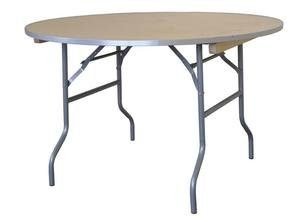 The Banqueting folding table is made of plywood with a light oak finish with metal legs. It has a 120 cm diameter and is beautiful and is of good quality.
16. Coleman Outdoor Compact Table
This is a good small portable folding table for those who prefer a perfect square table. It is very durable. Also, it is  Aluminum frame with MDF prep surface. And it comes with a 1-year guarantee.
17. ALPS Mountaineering Camp Table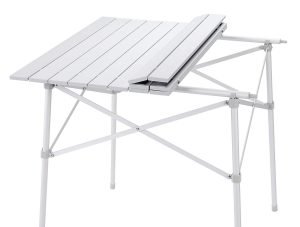 This is a good quality and very small folding table, measuring at 60 x 40 x 27 cm. It is made of robust aluminium and has a very solid look. This table was designed with strength and is also easy to carry, and is available at very good prices.
18. Camco 51895 Bamboo Folding Table with Aluminum Legs- Compact Design
This is a good quality budget folding table that is very light, measuring at 25.5″ x 19.75″. It is designed to easily be moved and is good for indoor use.
19. Outsunny EZ Carry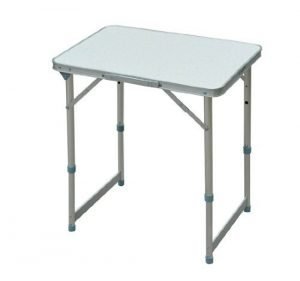 This is another outsunny table but with carry handles. It weighs only 2.7 kg and is easy to carry. This is designed with the traveller in mind, and is great for camping trips and festivals.
20. Travelchair Side Canyon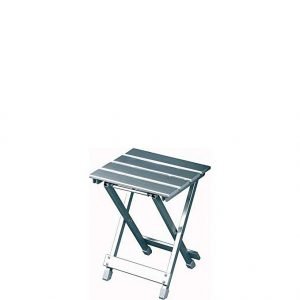 This is probably one of the smallest tables available here, and it weights around 1.7kg. This is aimed at camping and is just big enough for a two-man camping trip.