Indoor string lights are a versatile and attractive option for any occasion or room, but it's important to make the right choice. Consider factors such as cost, length, and desired atmosphere when selecting your indoor string lights. Cheap string lights often burn out quickly, are too short, and have uneven bulb spacing. On the other hand, the most expensive option may not always be the best. Be sure to measure the length of your space and choose string lights that will create the atmosphere you desire. With a little consideration, you can find the perfect indoor string lights for your needs.
A List of Top 5 Best Indoor String Lights
Omika color changing string lights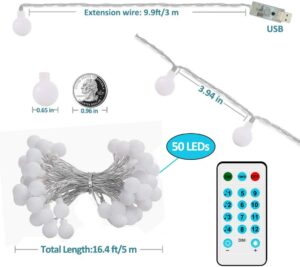 If you want a festive atmosphere with numerous color selections to trigger different moods, this is one of the best color-changing string lights on the market.
These string lights are remote-controlled. Therefore, you can select any of sixteen different colors to set your string lights too. Moreover, the timing, speed, and light patterns are under your control. Therefore, you can choose whichever mood you desire.
In addition, these string lights have a soft plastic coat that prevents the tangling of the string lights.
Specifications
AC power source
66 feet in length
200 LED lights
Pros
Water-resistant
Flexible
Remote control
Various lighting options to pick from
Weritioo battery string lights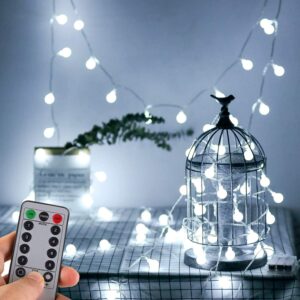 Whenever you want to cut down on the impact string lights have on your electricity bill, opting for battery power is a viable option as; you will reduce your electricity bill and still have your desired effect or atmosphere.
The Weritioo string lights utilize three double-A batteries to light globe-shaped LED bulbs. Moreover, with its remote at hand, you can adjust the timing, brightness, and even mode. Consequently, with these string lights, you have:
Reduced electrical bills
Greater freedom over your lighting options.
Specifications
Double-A batteries
100 LED light bulbs
33 feet in length
Pros
Remote controlled
Battery-powered
Moonibear LED fairy lights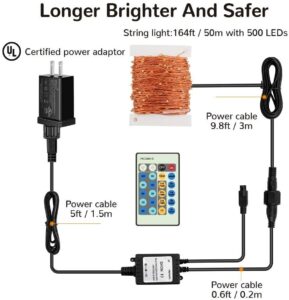 Whenever you want LED string lights to cover a large area, the Moonibear string lights are a good option. They are some of the longest yet economical string lights in the market. The string lights measure about 100 feet for only 40 dollars. Moreover, you get not only a single strand but two 100 feet long strands.
You also need not worry much about the power outlet location, as with a 14-foot long adapter cord, you can comfortably plug in your string lights to most outlets.
You will find the string cords also come with a remote control that will allow you to select your preferred timing, brightness, and consequently your desired atmosphere.
Moreover, these string lights are suitable for outdoor use.
Specifications
300 LED bulbs along its length
100 feet in length
An AC power source
Pros
The string lights are 100 feet in length
The adapter is 14 feet in length
Remote control
Twinkle star LED curtain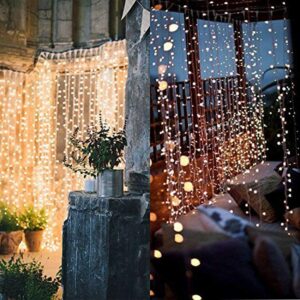 When creating attractive atmospheres, few can rival a waterfall effect. Few string lights bring this effect into life than the Twinkle star curtain.
You can utilize these lights in various framed sections of your house like; window frames, pergolas, and so on. Moreover, depending on your desired string light color, you can select any of eight different color options that best bring out your desired atmosphere.
Specifications
The string lights are 6.6 by 9.8 feet
300 LED lights over the string lights
AC Current output
Pros
Louis chose string lights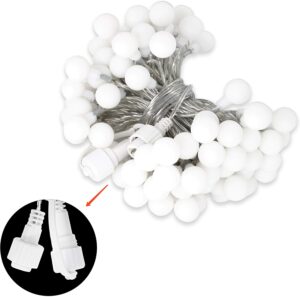 When it comes to an all-rounder string light, few match Louise choice due to its various features like:
Extendibility which enables chain linkage of numerous strings to form a longer string light;
Remote control feature that enables the manipulation of the lighting conditions as required by the operator
Twist ties
Eight lighting modes including; flash, waves, and twinkle
Waterproof design
Specifications
49 feet in length
100 LED bulbs along its length
AC power source