Elevate your work from home experience by incorporating a mobile desk into your setup. With the ability to move and use these desks from any location, boredom from working in the same place will become a thing of the past.
How to Choose the Perfect Portable Desk
Consider the Size
Before making a purchase, determine what you will be using the desk for. Do you need a desk for a PC or a laptop? Portable desks come in various sizes, with some being large enough to accommodate multiple people or computers. Make sure to consider the amount of space you need and choose a size that meets your requirements.
Think About the Design
Portable desks are also available in different styles, each with its own unique features. Some have legs, while others have casters for easy mobility. Some are even designed to be used as side tables for beds or sofas. Take into consideration where you plan on using the desk and choose a design that fits your needs.
Find the Best Portable Desk for You
We have gathered a list of the best portable desks on the market, each with its own unique features. These desks are adjustable in height, making them comfortable to work with from any location. Take a look at the available sizes and designs and choose the perfect desk for you.
The best portable desks
VIVO Standing 32 inch Desk Converter, Height Adjustable Riser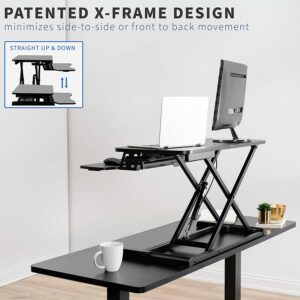 A working desk that you can carry to use from anywhere at home is a great choice. This is a versatile operating portable desk suitable for people working from home and school kids too. The working surface measures 31.5 x 15.7 inches large enough to accommodate two people or two monitors.
This desk is adjustable in height so that you can create the most comfortable working space for yourself. Equipped with a lifter lever, the desk allows you to set up to use either while standing or sitting. It may need assembling, but putting the parts together takes a few minutes to complete, and it is easy.
What we like
This portable desk is made with premium and sturdy high-grade steel materials
One is given a 3-year warranty for quality assurance
The desk is adjustable to accommodate different use modes
This desk comes with a keyboard tray to keep the area organized
Need Small Desk 31 1/2″ No Assembly Foldable Writing Table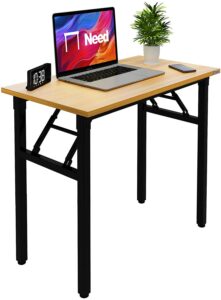 If you live in a small apartment or condo with minimal space, this is the perfect table to get for your studies or work. The table is space convenient since you can also fold it away when not used to create space in the room. The working surface has a thickness of 4.5 inches wide, which is strong enough to hold a laptop.
Speaking of strength, this portable desk has quality material crafting. So, this desk will last you for a very long time. The steel frames, especially on the legs, are coated to protect them from rusting when touched with moisture,
What we like
This portable desk is compact to save space when using and storing
The table does not require any assembling; just set up and begin to sue
Folding and unfolding the table takes a few minutes
For quality assurance, this portable desk comes with a money refund warranty
Cooper Mega Table [XXL Folding Laptop Desk] for Bed & Sofa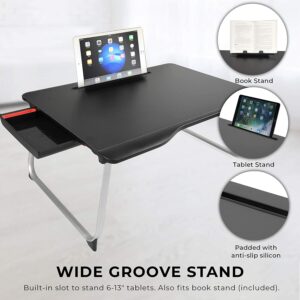 If you are looking for a portable desk that you can use while in bed or chilling on your sofa, this is a recommendable option. It is a versatile desk that you can use for various activities like working with a laptop, eating, reading and even writing. The table legs are adjustable for convenient fitting it in different spaces to work or use it.
The height also adjusts so you can create the perfect working height for you. Meaning, either you are short or tall, this portable table will for sure suit you. Another great feature you will love from this portable desk is the inbuilt side table that can hold your iPad, phones or tablet to create enough working space.
What we like
This portable desk is multifunctional
The height and width are adjustable
The desk is sold with a 2-year warranty against manufacturing defects
The legs of the table are foldable when storing it away
SDADI 2 Inches Carpet Wheels Mobile Standing Desk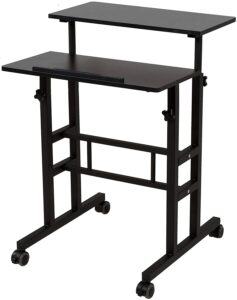 You can either use a versatile working desk while seated or standing since it has two working surfaces. Moving this desk from one corner of the house to the other is relatively easy since it has four casters. The desk's height is still adjustable from 27.5 to 45.3 inches until you get the right working height.
Featuring 1.2mm steel crafting, this portable desk is super durable and stable for both adults and kids use. You can work with the desk both indoors and outdoors since it is coated against rust and corrosion.
What we like
Assembling this portable desk is relatively easy and straightforward
It has two working surfaces that accommodate two working modes
The height of this desk easily adjusts
This desk weighs less than 30 pounds, so carrying it around is easy
Stand Up Desk Store Pneumatic Adjustable Mobile Laptop Desk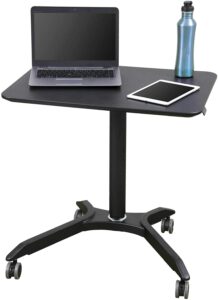 If you enjoy working while seated and sometimes standing in your home office, this is the best working desk to purchase. The desk features casters at the base, so moving it around the house in case you want to change the working locations is smooth for you. Another thing that I love about this portable desk is the size.
It only measures 28.1 W x 19.6 D X 27.1 and 41.9 H inches to fit in small spaces, even for people living in apartments. Transitioning the height of this desk is super easy since it has a level, and you need to lock the adjusted size to tighten it.
What we like
This portable desk can be used while sitting or standing
The desk comes with a 5-years warranty
The desk has casters for smooth moving it around
This desk is adjustable in height