Love baking? Looking to upgrade your kitchen with a reusable baking mat? Consider a silicone baking mat over tin foil, parchment paper, or disposable wax paper. With so many brands and models available, choosing the right one can be overwhelming. To make your decision easier, we've compiled a list of the top 10 silicone baking mats in the market.
A good quality silicone baking mat is essential in the kitchen because it provides a non-stick surface for preparing dough and pastries. It also replaces the need for parchment paper and greasy sprays while baking. The top rated silicone baking mat evenly distributes heat, preventing burning. Additionally, it is reusable and durable, making it a cost-effective choice for bakers. This list will help guide you in choosing the best silicone baking mat for your cookie and macaron needs.
A List of Top 10 Best Silicone Baking Mats for Cookies and Macarons in 2022
Jollylife Silicone Non-Stick Baking Mat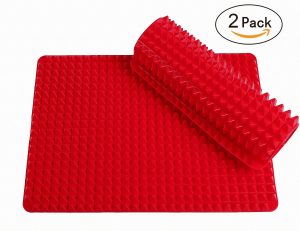 This silicone baking mat by Jollylife is completely made of food grade and BPA-free silicone to ensure the safety. The package includes 2 mats which can fit easily in oven sheets or might be cut to a specific size. These mats can be heat-resistant up to 445 degrees F.
Surprisingly, they are designed with a pyramid form to keep the foods elevated while you are cooking. For this reason, the bottom of the foods won't easily burn, plus it aids in eliminating any excess grease and making your foods crispier. For cleaning, just take a toothbrush and wash it with clean water.
Velesco Set of 2 Silicone Baking Mats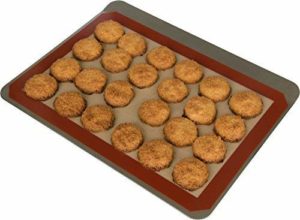 Coming with a set of 2 half-sheet mats, the Velesco silicone baking mats are large and thick with the dimensions of approximately 11×16 inches, which can fit the US standard of a half-size baking tray. Basically, they are great baking, kneading, and even rolling. The silicone material is totally approved by the FDA to ensure that you can use it safely without toxic. Overall, the Velesco baking mats can provide consistent results with a completely non-stick surface.
AmazonBasics 2 Pack Silicone Baking Mat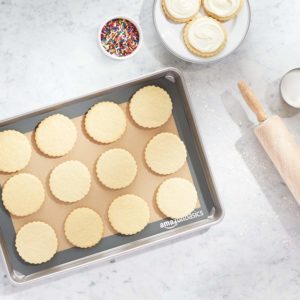 This set of 2 silicone baking mats by AmazonBasics is specially designed to make your baking process much easier and more effective. Therefore, you don't have to use oil, parchment paper, or cooking sprays for these simple tasks. Its food-grade silicone construction can withstand heat up to 450 degrees F.
In addition, with the measure of 16.5×11.5 inches, both mats can easily fit with any half sheet size pans. Lastly, their nonstick surfaces make cleaning quicker as no baked food can stick after use.
Artisan Set of 2 Silicone Baking Mats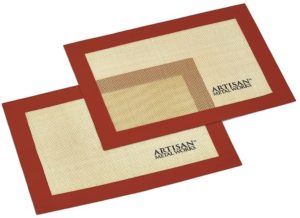 Unlike other product, these silicone baking mats from Artisan is made with a transparent silicone case and a durable, strong woven fiberglass core. As a result, you clean these items easily just by washing gently or wiping with a damp, soft cloth. In addition, both mats are completely food grade and BPA to ensure the safety while cooking. In general, the can be used for roasting, freezing, baking, and can even be used to dough, roll or knead.
KITZINI Non-Stick 2 Sheets Baking Mat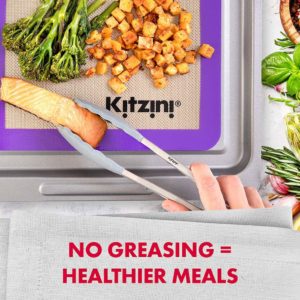 The last product on this list is a perfect option made by KITZINI, one of the most trusted names in household utensils. Just like other options, these two mats are approved to be food safe by the FDA. With a silicone construction, you can quickly and easily clean it just by wiping with soapy, warm water. More importantly, the package also provides a free e-book that has a lot of wonderful recipes.
Silpat Macaron Baking Mat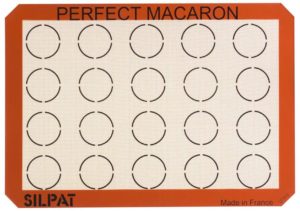 Made of fiberglass mesh and the highest quality food grade silicone
Fits 13×18-inch sheet pan
Silchef Silicone 3 Piece Non Stick Baking Mats
If you want the best cheap product, look no further. The Silchef Silicone 3 Piece Non Stick Baking Mats are all you need.
Made with silicone-coated fiberglass mesh
Nontoxic & BPA Free
AmazonBasics Silicone Macaron Baking Mat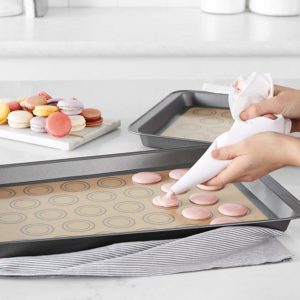 For easy bakin, the AmazonBasics Silicone Macaron is another best cheap product for most kitchens. You won't need to use oil, cooking sprays, or parchment paper

Oven-safe up to 480 degrees F
Super Kitchen Extra Large Multipurpose Silicone Nonstick Baking Mat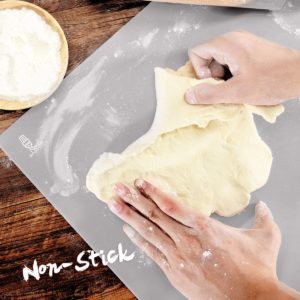 One of the best baking mats you should buy. Made of the highest quality food grade silicone, it's quite durable and lays flat and grips the counter top well. Not surprisingly, this mat is best for rolling out pie and cookie dough. It stays put and doesn't move at all when you are rolling out the dough. Believe it or not, most dough doesn't stick at all.
Non-toxic, BPA free, eco-friendly, and odorless
23.4 x 15.6 inches
LIMNUO Silicone Baking Mat for Pastry Rolling with Measurements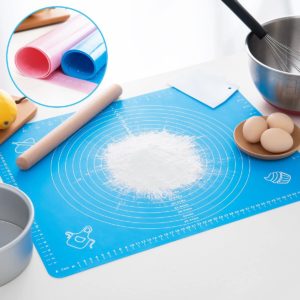 This Limnuo is a must-have accessory for any kitchen. We love this product as the baking mat will never tarnish or discolor. This baking mat will never tarnish or discolor. Durable for many years, it's one of the must-have accessories for any kitchen.
Ideal for kneading, rolling, and shaping breads, Pizza Dough's, pastas, pastries, pie crusts and fondants

Made of FDA approved, 100% food grade silicone

Stain-proof, BPA free and stick-resistant