We all cherish the home appliances that we invest in, considering how expensive they can be. However, the hard part comes when these appliances get damaged within a fraction of a minute due to power surges or electrical spikes. To protect them from damage, it's important to invest in the best wall mount surge protectors.
Using the best protectors ensures that your equipment is safe from any potential damage. These surge protectors are designed to accommodate various devices, from charging your tablets and smartphones to powering your TVs.
[ Best Whole Home Surge Protectors ]
A List of Top Best Wall Mount Surge Protectors
Surge Protector Power Strip, ETL Listed, TROND 7 Widely-Spaced Outlets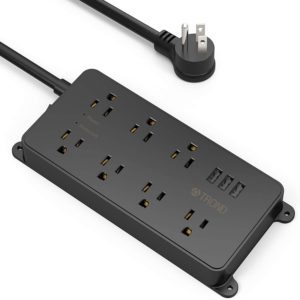 This is a surge protector that has been made with the ability to ensure that one wall socket is expanded into 7 surge protected other outlets. It is unique in the sense that 3 of the 7 will be USB charging stations. That way, you will have eliminated the need of having multiple chargers around you. All you need is the USB power cable and that's all. It has been designed with a larger space that is placed in between, a very vital move that will ensure that other larger adapters are well handled.
Features
It has been made with a wall mountable design. All you need are 4 screws and it is ready to be installed on the wall.
The extension cord that has been used on it is pure heavy with 14awg pure copper. That is why it has a better current carrying capacity than others
It has been made with an angle flat plug that will eliminate awkward cords from damaging indoor decor
The power strip is good as it is able to handle large plug adapters
Kasonic 6-Outlet Wall Mount Surge Protector 2 Pack, 900 Joules Power Strip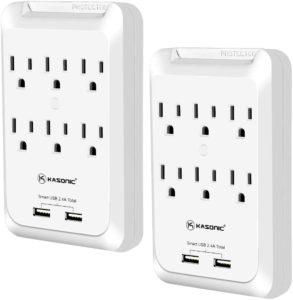 Just don't decide where you will use this item because it is a perfect one that can be used either at home or in the office. It is a strong protector that is able to handle all heavy items up to 6 of them in number. It comes with a maximum capacity of handling up to 1875W, hence will not encounter any problem in handling your appliances. The slim low profile design that it has is also a unique one but attractive and also a strong one.it has been finished with a neutral white color that makes it able to fit all interior décor that you are handing.
Features
The slim design makes it attractive with the white color that ensures it fits any room décor
It has been designed with the surge protection ability to protect your devices from damage
Has been designed with smart USB charger ports to charge your smartphones directly
An LED light turns to on showing you that your devices are protected from electrical spikes
Belkin 6-Outlet Pivot-Plug Surge Protector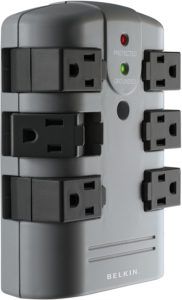 Electronic devices are sensitive from surges and if any surge come their way, then their damage are always vital. I have to assure you that to avoid repairs and buying of new ones, always be ahead and protect them. This is a 1080 joule surge protector that will provide a powerful protection from any form of damage. To add on that, the pivotal design also makes it the best. The 6 surge protected outlets will ensure that every device gets power that is safe to use.
Features
The rotating plugs are convenient as they provide enhanced flexibility
Able to safeguard personal electronics an any small appliances form damage that is caused by surges
Able to offer users with a maximum spike amperage average of 36000A
Designed with up to 6 outlets that will give you enough space to power your appliances and devices safely
Smart Plug Outlet Extender, Gosund Surge Protector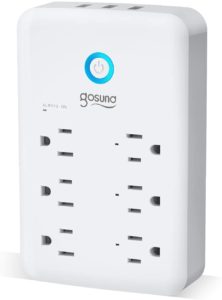 This is a multifunctional wall plug that comes with up to 3 smart plugs that are able to handle up to 15A and smart USB ports that also handle 3A. The in plugs also have the ability to handle 15A and always ready to provide you with continuous power supply. It is a smart plug because it can be controlled by Alexa and Google voice control. When you that to be done, you will just need to set the name for each appliance in each socket. Then a simple voice control like "please turn on the lamp" will work magic with the lamp being turned on. That way, your hands will be free and your life on the other part being more convenient. On top of that, you can set a schedule that you can use to turn on/off your electrical appliances.
Features
Works with both Alexa and Google voice controls so that you just control your appliances with voice commands
Designed with 3 smart controls that you can just control from anywhere you will be
The timer function that it has been made with is able to allow you have multiple timing to help you turn on/off your electrical devices
Offers you up to 5 protections, short circuit protection, over current protection, overload protection, surge protection and fire resistance of up to 1382 degrees F.
Belkin 6-Outlet USB Surge Protector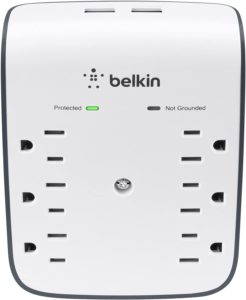 You will now have the leeway of charging all your essential devices with ease and safety in mind with the use of this plug. You will realize that it is a smart and convenient accessory that can be used in any home office, workstations, entertainment centers and any other place that you will need power. It will allow you power and charge up to 6 AC devices and you will not worry of any electrical damage.
Features
Has been made with a wall mountable design
Yu can be sure of protection form power surges and sudden energy spikes that might damage your machines
Has 2 USB charging ports that will let you charge tablets and smartphones safely
It is compact and with a durable design that will resist any form of damage