Ensuring the security of our homes is crucial, and the first line of defense is a well-guarded door. Traditional keys are no longer enough, and it's time to upgrade to smart locks. That's why we've compiled a list of the best Wi-Fi smart locks for you to choose from. With these advanced locks, you can control your door from anywhere.
Imagine being able to operate your door lock remotely with a simple app. You can now control who has access to your home, granting or revoking access as needed. With a Wi-Fi smart lock, you'll have complete control over the security of your home, providing peace of mind and convenience.
[ The Best Bedroom Door Locks ]
A List of Top 5 Best Wifi Smart Locks
U-Bolt Pro Bluetooth Enabled Fingerprint and Keypad Smart Deadbolt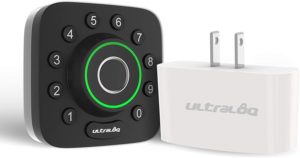 The great ability that it has is that it is smartphone controlled with the use of an app, form anywhere that you will be. With that kind of app, you will be able to lock and unlock your door; you can also share your E-key. At some point, you can also check the status of your door and its log record. That way, your safety and security of your home will always be guaranteed. It has been designed with a finger print and an anti-peep keypad. But with your smartphone with you, you can unlock it with ease. When all that is no near, I comes with a mechanical key that you can use instead.
Features
It can be voice controlled with the use of alexia voice or Google assistant.
With the fingerprint technology, you just need one touch to unlock the door form any angle that you will be
Designed with auto lock and unlock ability, that will need your smartphone with you
Allows you to share an access to your home remotely by use of a code. This will just happen for specific purposes and times
ULTRALOQ BT UL3 Smart Lever Lock, Satin Nickel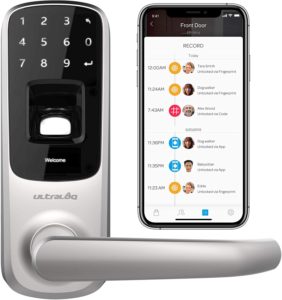 Here is the best Wi-Fi smart lock designed to work well for kids and the elder. It uses advanced fingerprint identification and you can enroll up to 95 fingerprints. The device is intelligent and can identify you within 0.5 second. Also, the keyless entry allows the user to unlock the door with smartphone. The reversible handle makes the device suitable for both right and left handed doors. Auto wakeup fingerprint sensor and intuitive OLED screen will make operation a snap. Get this user-friendly smart lock and keep your kids away from where your firearm is stored.
Features
Advanced fingerprint technology uses waterproof, dustproof and scratchproof sensor to ensure unlocking is effortless and secure
Anti-peep password will ensure that stranger will not steal your password by watching you nearby
Knock/shake to open design let you to use the lock without the need of opening an app
3 AA batteries are powerful enough to run up to 1 year and you'll get low battery alert on OLED display
August Wi-Fi, (4th Generation) Smart Lock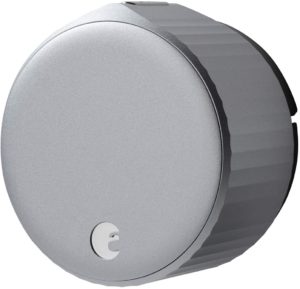 It is time to protect your valuables in your wine cellar, home office or storage room with the help of this intelligent lock. You can remotely lock or unlock the lock, grant virtual guest keys, check door status and even know whose coming or going. It comes with inbuilt Wi-Fi to make your operation easy but secure. The smart lock is easy to install and you can attach to your existing deadbolt and this will allow you to keep your original keys. Auto lock and unlock feature will let you to worriless if you've remembered to lock your door or not.
Features
Biometric verification allow you to use facial recognition or your smartphone's fingerprint and this is deal for an added security
Designed work effortlessly with all three voice assistants i.e. Alexia, Siri and the Google Assistant
The new model is 45% smaller and yet effective and secure ideal for upgrading your existing lock
Requires no additional bridge to let you to connect to Wi-Fi and this will let you to operate on it without the fuss
Yale Assure Lock SL, Wi-Fi Smart Lock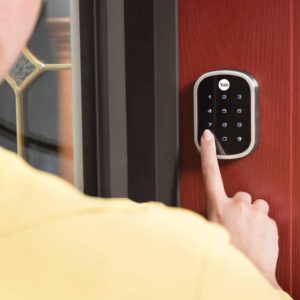 If you want to replace your existing deadbolt, this is a slim key free deadbolt that has been designed with a touchscreen keypad. That means that there are no keys to worry about to lose and also no cylinder for you to pick. The good side of it is that you can lock, unlock, and even share access to your home from anywhere you will be using the Yale app. At the same time, you will be able to monitor who us coming to your home. When you have your phone with you, the door will unlock automatically. If the phone will not be there, then use the keypad to unlock it.
Features
You can create access or share unique entry codes that will allow some authorized people to access your home
Designed to work with your smartphone and it will unlock automatically when you get home, if you have your phone with you
You can lock, unlock and even share the lock status with use of voice assistants like Siri, Google assistant and alexia
You can enter a code on the keypad to have the door unlocked
Kwikset 99390-001 Halo Wi-Fi Smart Lock Keyless Entry Electronic Touchscreen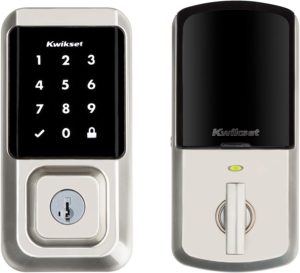 This is a Wi-Fi connected smart lock that has the ability to connect directly to your home network and to your phone. This will enhance a better secure home that will no need a 3rd party smart home hub, panel or even subscription. It will allow you to create up to 250 unique user codes that will allow access to your home by close friends. Remember that these codes can also be disabled by use of that smart app installed in your smartphone.
Features
The best when not comes to protecting advanced break-in techniques
You will be able to receive notifications of the locking activity and even view the lock event history
Designed with a patented secure screen security feature that will prevent on screen fingerprint identification
Has been fitted with voice assistants that work with alexia and Google assistant