Snoring is the production of a jarring sound that happens when air flows past the relaxed tissues found in the throat. This causes a vibration when we breath. Snoring could happen naturally, can be caused by a chronic condition, or could indicate a severe health problem. Snoring can be very irritate to some people, and there are ways to reduce snoring. These include sleeping on your side, not taking alcohol before your bedtime, shedding some weight or even getting anti-snore beds. Today we look at the best five adjustable beds for snoring.
[ Best Bunk Beds for Small Rooms ]
[ Best Toddler Beds for Travel ]
How do adjustable beds help in preventing snoring?
The best way to prevent yourself from snoring is by sleeping upright. Not all beds can offer this. And this is where the adjustable beds come in as they can make you sleep upright in the right angle. Adjustable snoring beds will help in reducing back pains, neck pains, and constipation.
Value your body and mind the well-being of the person sleeping next to you or the one you are sharing the room with. Go through the review again and get an adjustable mattress that will work well for you.
A List of Top 5 Best Adjustable Beds for Snoring
iDealBed 4i Custom Adjustable Bed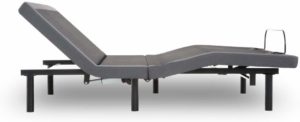 The reason we recommend iDealBed 4i Custom as one of the best adjustable beds in this review. We love the sleek modern sturdy design. Made to fit any decor with a neutral charcoal furniture grade fabric, this adjustable bed will give more people the comfort and convenience in the bed room.
So why I recommend this the iDealBed 41? Well, it's the best value for your money. It's super easy to install. The zero gravity position is so comfortable.
Specifications
A wireless Back-lit remote with 19 buttons
2 USB ports on each underside
An Ultra Sturdy Steel frame
Under-bed Night Light
4 Smart One Touch iDeal Memory pre-sets
An emergency battery back-up power box
Simple 2 step assembly design
Pros
Easy to assemble as no tools are required.
Comes with an emergency battery back-up power box.
2 USB ports that would charge your device
3-present memory positions
Cons
No pillow tilting
When the head is raised, it moves you from the nightstand
Not a deck-on-deck bed.
Blissful Nights Adjustable Bed Base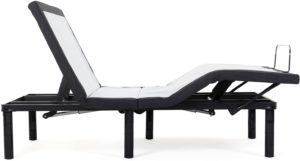 What's in a name? Blissful Nights Bed Base comes with adjustable legs allows the adjustable base to fit into most bed frames giving the appearance of a standard foundation.
So why should buy this bed? It's a quality product with a good price. Assembly is no hassle as you won't need any tool.
Specifications
Has a wireless remote
Adjustable legs
Base options as you can choose a Queen or Split King
No tools are required for setup
A foot retainer for holding the mattress
A Back-up battery power box
Weighs 119 pounds
Measures 60 x 80 x 14 inches
Pros
It has a foot retainer bar to keep the mattress in place
It has under-bed lighting
Very durable
Reducing joint pains
3 different heights
Made of high-quality materials
Cons
They have poor customer service
Reverie 5D Adjustable Bed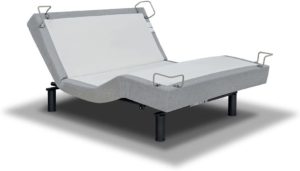 Made in USA, this is one of the best adjustable bed frame for those who suffer from sleep apnea, snoring, and lower back pain. The Reverie 5D Adjustable Foundation features light gray upholstery and virtually unlimited head and foot positions.
Specifications
It weighs 122 pounds
Measures 80 x 60 x 15 inches
Wireless back-lit remote
3D wave technology for a better massage
The massage has ten intensity levels
Comes with a Back-up battery.
Pros
20-year warranty
Excellent safety features
An app or a remote can efficiently operate it
Good price
Quiet head and foot adjustment
Cons
It does not have a power strip for the accessories
LUCID L300 Adjustable Bed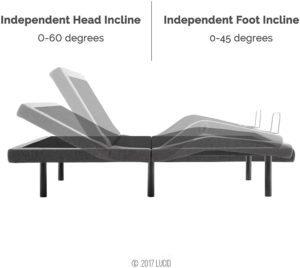 Our favorite of the Lucid adjustable bed is the folding hinge, which makes shipping quite reasonable. Easy to assemble, changing elevation and position is quiet.
Specifications
Weighs 144 pounds
Measures 79.5 x 59.5 x 15 inches
A wireless remote with a flashlight
An upholstered charcoal-grey frame
Made of polyester
Programmable memory option for your best position
Pros
Very easy to setup
Not too expensive
Quiet movements
Easy to understand remote
It reduces joint pains too
Cons
It only has one position memory
Leg height cannot be altered/adjusted
The mattress moves at times.
Leggett & Platt S-Cape Adjustable Bed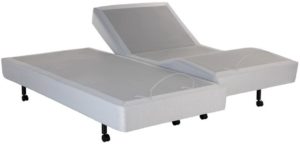 The great thing about this adjustable bed is it has many nice features to like. Easy to install, it's quiet. You can easily adjust it to suit your needs.
Specifications
2 programmable positions
A back-lit wireless remote
A wall hugger engineering
A press-and-hold safety feature
A grey patterned upholstery
Hold up to 700 pounds
Pros
Pillow tilting
2 factory pre-set position, flat and anti-snore
Impressive safety features
Under-bed nightlight
Adjustable legs
Cons
No mattress retention bar
You cannot buy directly from the manufacturer