If you don't want to go through the hustle of buying a bed frame separately, you can always opt for the platform bed that comes with the headboards. The majority of such platforms also have slats for supporting the mattress. So, you need to attach the parts if need be spread a mattress and begin to use your bed.
These are the top five best platform bed frames with headboards in the market. The platforms are easy to assemble and are super strong since they hold a heavyweight of more than 200 pounds. Some of the reviewed bed platforms come with footboards and slats to complete a bed structure. So, look through the review to find a bed that meets your needs.
How to choose the best platform bed frames with a headboard
Size
Do you need the bed frame for single-person use or a bed that more than one person can use? The platform bed frames with headboard are made in different sizes ranging from small, queen size, twin size, king size, and so on. Another thing you need to consider in terms of the size is the room you need to install the bed. If it is a kid's room with minimal space, a small or twin size will be recommended.
The materials
These beds are crafted with either wooden, metal, or materials. Wooden beds are classic and can fit in most homes. They are easy to install and blend with other furniture in the room. But some wood materials are quite weak and may start to sprinter after a while of using the bed.
Metal beds, on the other hand, are durable and affordable. However, bed frames are pretty cold and may be uncomfortable to lean on.
Materials bed made with faux or leather are climbing in demand due to their classic style they add to the room. They are super cozy and blend well with most homes. However, these types of beds need more care as they may require cleaning the materials.
A List of Best Platform Bed Frames with Headboard
Twin Size Bed Frame with Headboard and Footboard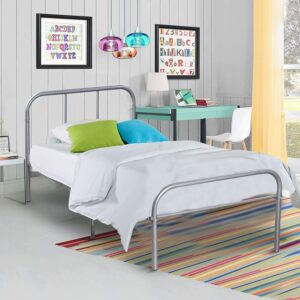 The fact that this bed platform does not need you to buy extra slats saves your money significantly. It is a complete bed that only requires a mattress, so you can start using it. The bed platform is made with metal materials that guarantee its durability and has a white finishing to match with other furniture in the room. The bed measures 77.2 x 35.6 x 12.8 inches that fit well in small rooms.
Do you want to keep some items under the bed? Worry, not since this bed has an under space of 12.8 inches to fit a few essentials you may need to keep under the bed. The stability of the bed is fully guaranteed as it has six legs with two in the middle. This also ensures the bed does not sink in the middle while one is sleeping.
Special features
Assembling this bed is easy and takes about 30 minutes
The platform is vital to hold 220 pounds weight capacity
The bed also comes with a footboard
The bed has extra two legs for more stability
ZINUS Dori Upholstered Platform Bed Frame with Wingback Headboard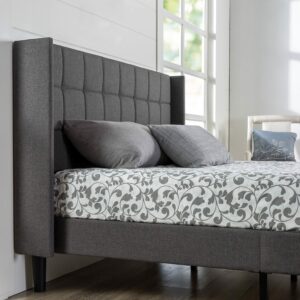 Grace your bedroom with this gorgeous bed platform from Zinus that also comes as a complete package. The bed consists of a super long wingback headboard that provides a comfortable space to lean on when reading a book or working. The frames of this bed consist of the most robust wood materials to offer ample support and stability. It is a large bed that can accommodate up to two adults.
The strong frames can hold a weight of up to 700 pounds. Not only is this bed platform stable and durable, but it is super comfortable to sleep on. The equipped dense foam padding guarantees total support. Another feature in this bed is the wooden slats that eliminate the need to get a spring mattress since it supports the mattress effortlessly.
Special features
• This bed platform comes with five years warranty
• Assembling the frames is easy and smooth
• The bed consist of padding for ample support
• This bed has a square stitched long headboard for support
WeeHom Platform Steel Bed Frame Twin Foundation Support with Headboard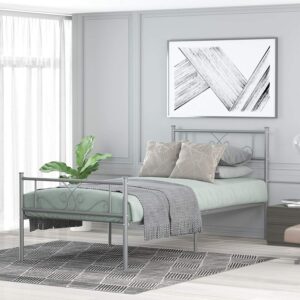 Although this bed frame is made of metal and tubing, the beautiful color finishing and design make your room look elegant as well. This is a comfortable bed you can buy for your kids to use at home or school. The bed features a compact size of 77.4 x 55.9 x 34.8 inches, so you can remain with ample space to organize other staff in the room. The package consists of a frame, headboard, footboard, and slats for supporting the mattress, so you don't sink while sleeping.
Special features
• This bed has a premium construction
• It has a beautiful finishing
• The bed is easy to assemble as it comes with a manual guide
• Has both metal and tubing construction
South Shore Gravity Padded Upholstered Platform Bed with Headboard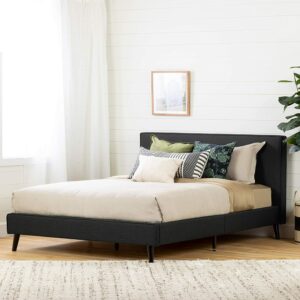 This cozy bed provides a comfortable resting space and a style to your bedroom. It is made with polyester materials cover and excellent padding on the inside to offer ample support. This bed platform comes with a headboard and slats, so you don't spend extra money to acquire these parts. You need to assemble it in your bedroom and begin to use it.
Special features
• This upholstery bed platform comes with a 1-year warranty
• The platform comes with seven days of customer care assistance
• This bed has slats for supporting the mattress
• The bed is easy to clean with a clean, dry cloth
Zinus Suzanne Metal and Wood Platform Bed with Headboard and Footboard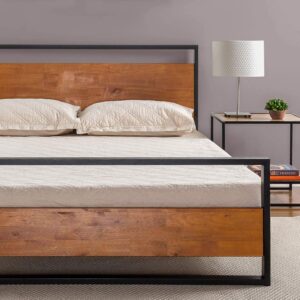 The bed features wood and metal materials that give it a unique style. So, if you like working with new and unique furniture styles, I bet this bed platform would work for you. The bed comes with all parts, including the headboard and footboard.
On top of that, it has Wooden slats that eliminate the need to buy a box spring. This also allows you to use the bed platform with any mattress of your choice. It is super strong such that it can hold a weight of 500 pounds.
Special features
This be platform ships with a 5-year warranty
Assembling it is easy with a manual guide
Has quality pine wood materials with coated metal construction
This bed is vital to hold heavyweights