Feeding a child is crucial for their overall health, whether you're a first-time parent or experienced in child-rearing. Baby food makers can make the task of homemade baby food preparation much easier. Choose the one that suits your needs from the above list to ensure your child gets the healthy food they need to grow strong and healthy. As a parent, you know that raising a baby involves several responsibilities such as changing diapers and lulling, and food preparation is among the most important ones. Baby food makers can help you save time while providing healthy and nutritious meals for your little one.
A List of Top 10 Best Baby Food Makers
Beaba Baby cook
Beaba is arguably one of the best baby food makers in the market. The machine comes with a multitasking unit and can be used to puree on one side and steam food on the other. Besides, it comes with an audio alert functionality which notifies you when the food is ready. Generally, the Beaba Baby food makers are known for its reliability, ease of use, and efficiency.
Steam cook, blend, reheat or defrost all in one
Easily accessible reservoir with large opening for easy cleaning
Glass bowl holds 5.2 cups of food
BPA, Lead & Phthalate free
Made in France
QOOC Mini Baby food maker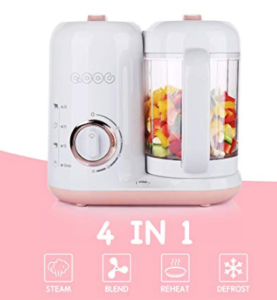 Despite being new in the global market, the QOOC is making big waves outdooring some giants. Due to its smaller size, this food maker is perfect for smaller batches or when cooking in a small capacity. One significant advantage of this unit is that it can steam, blend, reheat, and defrost. Last but not least, this machine allows you to set the cooking time based on the type of food you are cooking.
Prep blade and control button makes it fast and easy
Controls: Simple one-handed, single button controls
Design for one-button grinding of all types of food

Safe, professional-grade materials constructed from high-standard material

BPA, lead and phthalate free
Mumum Baby Food Maker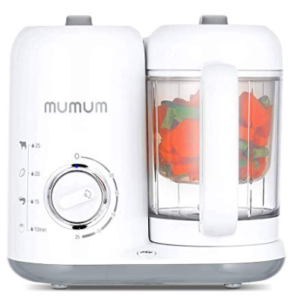 The mumum food baby maker is among the most versatile unit each parent should have. It comes with 4 in 1 functionality, i.e., blending, cooking, heating and defrosting. If that's not enough, the Mumum Baby Food Maker also has an incorporated timer that alerts you when the food is ready. The defrosting and heating function helps store food for your baby's future use.
Accessible water tank allows you to fill and clean water reservoir
Limits the possibility of any bacteria or rust buildups in the tank
Bonus measuring cup included, with measurements labeled according to specific foods.
A spatula to lift the steaming basket and pour foods
Homia Baby Food Maker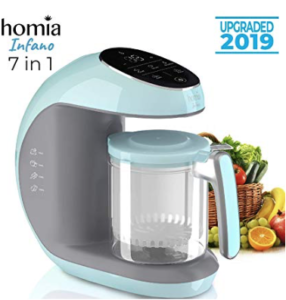 This device can perform nearly everything you need from a baby food maker. It has up to 7 different functionality. These include steaming, chopping, reheat, defrost, disinfection, cleaning, and steaming. Besides, using this device is usually easy and secure to operate. When the water goes below the recommended level, the device automatically shuts down. This prevents food from burning.
Very easy to use with Intuitive Touch Control Panel Interface
Stirring cup is made of Tritan Plastic: BPA, Phthalate and Lead Free, FDA Certified
Cuisinart Baby Food Maker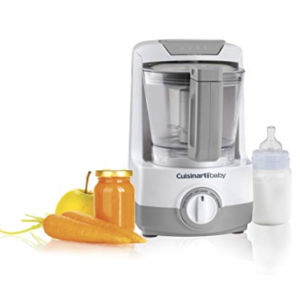 Making healthy, home-cooked baby food is sensational with Cuisinart. It contains blades which help distribute warmth throughout the unit. This leaves your fruits or veggies soft and properly steamed for your baby. In addition, it comes with speed settings to control the rate at which you want your food cooked. 6. Hamilton Beach This food processor is popular due to its ability to make different food textures and puree options. It also makes you customize baby's food as they grow. Hamilton Beach steam not only your food but also shreds, slices and chops them into desired shapes and sizes. Overally, you will love this device for its quality, durability, and ease of cleaning.
Patent-pending blade lock system holds the blade in place
Automatic shutoff safety feature – turns unit off when water has evaporated
Steam blade creates even steam distribution
Bowl seal to prevent spitting and improve steaming
Powerful motor for quick steaming and precise chopping
Rendio Steamer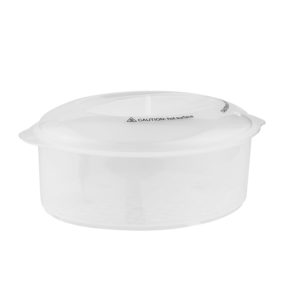 Rendio Steamer is a powerful baby food maker and works reasonably fast. Made using BPA plastic, this food processor can withstand high temperatures and pressure. It can be used to cook foods such as meat, fish, rice, eggs, among others. Also, it's triple-tiered hence can cover several meals at a go.
Magic Bullet Food Baby Maker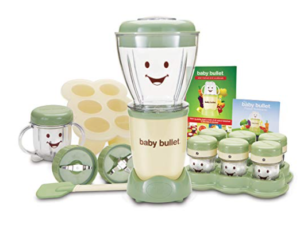 Just as the name goes, this food processor does magic to your baby's food. It prepares food that will last a whole week in less than 20 minutes. Also easy to clean and use, the products comes with several storage jars to ensure your baby's food stay fresh for long.
PA free. Non-toxic plastic, no phthalates
Includes power base, batch bowl, baby blend blade, milling blade, easy pop silicone batch tray
1 stay fresh resealable lid and tip proof tray, user manual and recipe book, pocket nutritionist
Baby Brezza Food Maker
If you are looking for a food simple food processor with a single bowl design, the Baby Brezza baby food maker will suit you just perfect. Its single bowl can help you whizz foods such as fish, meat, veggies, and fruits. Besides, the machine takes up minimal storage and counter space.
Steam tank can be opened completely for easy cleaning
Bowl and blade are dishwasher-safe
Includes easy to use control panel and removable water tank for easy filling
NUK Smoothie and Baby Food Maker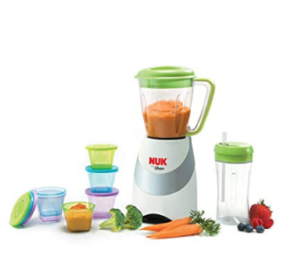 The NUK Smoothie and Baby Food Maker are great not only for the baby but also for the whole family. Besides making quality and healthy foods for your baby, this machine also makes the perfect smoothie. What's more, it comes with six storage jars with lids and large mixing bowls. This makes it easy and exciting to use.
The durable sippy cup and blender bowl are made of durable tritan plastic
Sippy cup reduces clean-up time by attaching directly to the blender