Have you ever struggled with how to properly use bed skirts and find the right one for your bed? Not all bed skirts are created equal and some may not be suitable for certain types of beds. For example, adjustable beds require specific bed skirts that can accommodate the bed's movement without tearing.
When it comes to choosing a bed skirt for an adjustable bed, the drop length and elasticity are crucial factors. A well-fitted bed skirt can save you time and effort when it comes to adjusting it to the bed's movements. It's also important to select a bed skirt that is long enough to hide anything stored under the bed, while also preventing dust from accumulating underneath. This is especially important to prevent allergies and keep the mattress free from dust.
A List of Top Best Bed Skirts for Adjustable Bed
MEILA Bed skirt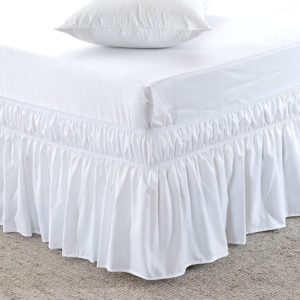 Match your bed with Meila 16 inch drop bed skirt to conceal any frames, box springs, platform, mattresses, or underneath storage. The elegant ruffled skirt fits all the bed sizes from king size, queen size, and California king beds since it is uniquely featured with an elastic side and three fabric sides that are smartly designed to fit either tightly or less likely to rip off or tear. The bed skirt also allows you to use push pins to hold the bed skirt firmly in place without damaging or tearing the bed skirt.
Meila bed skirt adjustable elastic band takes you the shortest time to quickly put on and put off effortlessly without lifting the mattress or needing an extra hand to put it on. The bed skirt is pretty easy to install due to its ability to adjust to the bed's size and the length of the bed by moving the elastic up around your mattress. The ruffled skirt is made of smooth microfiber polyester fabric ranging from multiple colors that will perfectly blend with your bed and other products, such as Duvet covers, fitted sheets, and pillows.
The smooth and smartly designed microfiber polyester fabric is also fade-resistant and more durable than cotton. Furthermore, before you install it around the bed, first, it is advisable to wash it and steam iron it on a low setting to make it more appealing and perfectly fit your bed. It is easy to maintain and care for the Meila bed skirt using a washing machine at a cold, gentle cycle without using bleaching agents and drying it on permanent press with a cooldown on low heat.
The Meila bed skirt's adjustability is perfectly suitable for people with severe and rheumatoid back complications due to the features that are easy to put, firmness, and able to support it using push pins. Hence, no need to wake up in the middle of the night to continually fix or adjust the skirt whenever you incline or tilt the bed.
Pros and Cons
Pros
It is adjustable.
The skirt is long enough to conceal the bed and whatever is underneath.
The ruffled skirt is aesthetic to your bedroom.
Cons
Not suitable for beds with footboard or post.
PureFit Wrap-Around Ruffled Bed Skirt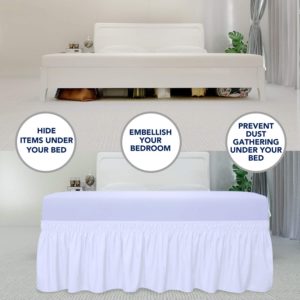 Purefit ruffled bed skirt dresses your bed merits with much care and consideration by adding a stylish and sophisticated finishing to any bedroom. The bed skirt measures 60″ by 80″ by 18″, perfectly suits around the four sides of California king size, king or a queen-size bed, and also available in multiple and fade-resistant colors. The skirt drops 18-inches generously to reach the floor quickly and hides anything stored under the bed, bed frames, bedposts, box springs, deflects dust, and particles collecting under your bed. It is featured with an in-built adjustable strap and a platform-free comfortable wrap that allows you to quickly put on and off this bed skirt in place by yourself effortlessly without lifting the mattress or in need of extra hand for support.
The purefit luxurious ruffled bed skirt for King and Queen is beautifully made from 100 percent silky satin-like microfiber that is softly shirred to give it a romantic look. Furthermore, the fabric is both dust and stain-resistant, wrinkle-free, extraordinarily soft, and smooth. The luxurious and romantic look adds an aesthetic advantage to your bedroom wall paint, duvet, and sheets and enhances a good mood and attitude before falling asleep.
The bed skirt is easy to maintain since it allows you to wash with the machine together with like colors at a gentle cycle below 30 degrees Celsius. The bed skirt is luxurious and adds an aesthetic look last longer by avoiding bleaching agents while washing, but only non-beaching detergents of fabric softener if needed. Finally, you can either tumble dry on low heat, no heat setting or iron it on low settings.
The purefit wrap bed skirt also works on the platform bed frame by attaching it to the frame or pinned to the mattress using a few safety pins that allows you to attach them to the fabric. But you do not need to cut the slits to make room for the extended footboard since it has an elastic and adjustable hem that allows you the bed skirt to be in place, hence no need of using pins to support in place.
Pros and cons
Pros
It is inexpensive.
Easy to wash and dry.
It has an adjustable and elastic hem, hence no need to cut or using a pin to make room for an extended footboard.
Cons
Requires push pin supports to work well with a platform bed frame.
Bed Maker's Tailored Wrap-Around Bed skirt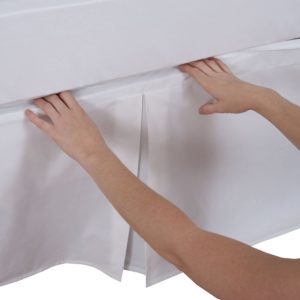 This tailored wrap around bed skirt is revolutionized with five box pleats to work perfectly well on any style of bed, headboards, adjustable beds, and more for a neat and contemporary look. The magic tailored skirt features mitered corners and a hidden fabric band and elastic strap at the head of the bed to eliminate the unsightly white platform for neat, no-sagging appearance and detached easily and quickly. The skirt drops 14 inches is designed to completely hide the box spring, bed frame, and bed legs to create a neat and reserved outlook in your bedroom. All these tailored features make it easier to put it on and off without lifting the mattress, overstretching your arms, and allowing you to enjoy your sleep at night with comfortable and peacefully whenever you constantly incline to tilt your bed.
The size of this tailored wrap around bed skirt measures 80 by 60inches with a 14-inch drop is perfectly recommendable for California King, King, and Queen Size bed. Furthermore, it is featured with extra twelve-bed skirt pins included if you want to make your bed skirt even more secure and hold in place tightly for extended periods. This tailored bed skirt is designed to coordinate with other bedding products, and it has multiple colors that you can choose the entirely one that will blend with the wall paints of your room. It also comes with manual instructions on how to install it.
The elegant styling bed skirt is sewn 100% with microfiber polyester fabric for smooth, fade-resistant and shrink-resistant, and hypoallergenic. The material is easy to care for by using machine wash on cold and tumble dry on low, but refrain from using bleaching agents; only fabric detergents are suitable to keep the color last longer and maintains its refined look.
Pros and cons.
Pros
The mitered and split corners allow accommodation of 4 poster beds or footboards and headboards.
It is wrinkle-resistant, pre-shrunk, and colorfast.
It comes with 12 push pins to hold the elastic in place.
It is hypoallergenic.
It has manual instructions on how to fit it.
Cons
Biscaynebay Wrap around Bed Skirts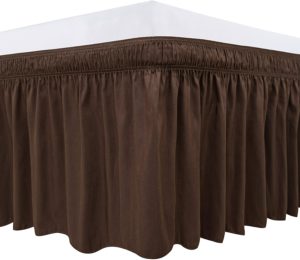 Biscaynebay bed skirt has a variety of drops for you to choose for your bed ranging from 15-21 inches drops with exceptional measurements ranging from 84″ " L by 72″ W and below that can perfectly fit California King, King, and Queen Size bed. It also comes with multiple colors that will suit your interior decoration and match up with your bedding products. The bed skirt drop is designed to conceal any frames, box springs, platforms, mattresses, or underneath storage and prevent the dust from being blown under the bed.
Biscaynebay bed skirt has an adjustable and two strong elastic bands on the side that makes the bed skirt firmly attached to the bed and less likely to reap or tear. Hence, there is no need to lift your heavy mattress by merely wrapping it around your bed and done. Furthermore, the elastic rubber firmness and its elasticity allow you to put it on and take it off effortlessly, thus saving energy and time. You can use upholstery pins to tack it to the box spring so that it won't slip. It can also work on a platform bed with no box spring by putting the skirt elastic band around the lower side of the mattress to hang down enough for the bed skirt to show.
The bed skirt is made from polyester material of a unique fabric with beautiful ruffles that are incredibly soft, silk looking with tiny slab to make it look more elegant, welcoming, and expressive. Additionally, the material is also fade-resistant and wrinkle-resistant for appealing and durability. It is easy to care for the fabric by washing it using a machine wash and drying it on low heat.
Pros and cons
Pros
Easy to maintain.
Its elastic rubber band is strong, firm, and adjustable.
Its material is wrinkle resistant and fades resistant.
Cons
It is not suitable for beds with footboards or post.
QSY Home Wrap Around Elastic Eyelet Bed Skirt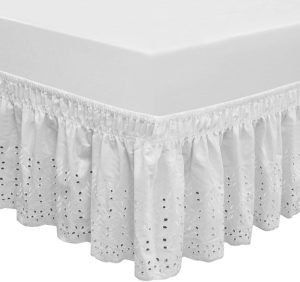 QSY bed skirt is made out of 75% polyester, and 25% cotton woven fabric is of high quality, soft and elegant in simple color design, wrinkle and fade resistant, and environmentally friendly. The bed skirt drops 14.5″ inch providing a perfect reserved space to store things under the bed, hides the box spring, and is also dust ruffle. The bed skirt is available in different sizes from twin-full: 75″ by 54″ and queen-king sizes: 80″ by 78″. The QSY home wrap has multiple colors that allows you to choose the best to blend with the walls' aesthetic paintings, bedding products, and the window curtains.
QSY home bed skirt is straightforward to install by placing the elastic band without moving the box spring or mattress. The bed skirt also features an adjustable band with a button and buttonhole, which backs up the elastic band. If it becomes loose, you can make the bed ruffle tighter by using the band's button. You can also tighten the elastic band by inserting the button into one of the perforations, creating a smaller length elastic band. These comfortable fittings and adjustable elastic trimmed ruffle wraps around the bed quickly and takes less time and energy to take it off. Hence, there is no need to lift the mattress and saves you from waking up frequently at night to adjust it. Furthermore, the bed skirt comes with a package of 10 upholstery twist pins that allows you to hold the bed skirt in place with the bed to keep it from drooping down the length of the bed.
The QSY home bed skirt is easy to maintain by using a machine wash in cold water with mild laundry detergent or non-chlorine bleach if needed at a gentle cycle and tumble dry at no heat. Avoid using bleaching agents and do not iron for the bed skirt color to last longer.
Pros and cons
Pros
It has flexible alternatives for keeping the bed skirt in position in case your preferred option fails.
It is eco-ecofriendly.
The drops are long enough to provide the privacy of storing things under the bed.
The bed skirt is made out of high-quality material.
It is also inexpensive.
Cons
Not available for California king size