Working from home in your DIY setup or going to an office and sitting in front of a desk for long hours can be strenuous. It does not take long before you start feeling the strain on your body. At this point, you realize it is about time you invest in an ergonomic office chair. And the sooner, the better, because you do not want to cause damage to your pain and have to suffer from continuous back and neck pain.
There is a wide range of ergonomic office chairs in the market today, all with your health in mind. They help you maintain a healthy posture while working, regardless of your personal preferences and body type. We have outlined five of the best and buying guide so you can easily make a decision.
Buying guide
Here are some of the factors you need to consider when looking for an ergonomic office chair.
Material used
Ergonomic office chairs are made with various materials, with the common ones being mesh, fabric, or leather. Each of the materials offers distinct pros and cons that you should consider. For instance, a mesh is conveniently breathable, and leather gives a luxurious and executive look.
Tilting and reclining backrest
Office chairs that can recline and tilt are essential as they help release tension from the lower back. You can quickly get the most comfortable position for whatever task you have at hand.
Seat depth adjustment
This feature ensures that your thighs are fully rested on the seat regardless of body size and torso length. This also helps you better your lower back against the backrest for better support and enhanced posture.
Dedicated headrest
Headrests are always handy to provide neck support and offer pain relief. Those that are height adjustable are even better as they ensure the back of your head is aligned correctly with your back.
Ergonomic chairs are a priority in any office setup. They go a long way in helping you sit up straight and comfortably while minimizing long-term damage to your body.
5 Best Affordable Ergonomic Office Chair
Herman Miller Aeron Chair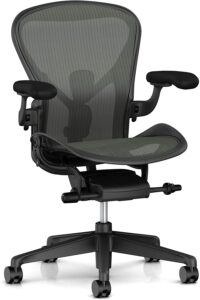 Herman Miller Aeron chair is reviewed as the best overall ergonomic office chair by its customers. It is regarded as a good office chair by its virtue of allowing you to maintain a neutral posture with your feet flat and knees slightly higher than your hips. This office chair comes with adjustable lumbar support for enhanced user-friendliness. The seat and armrests are also flexible to suit various user needs and comfort levels. It comes with three different size options to accommodate more body shapes and sizes.
Moreover, it is made of mesh material well-selected to adjust to temperature changes and provide full-body support. These features and more make this ergonomic office chair a worthy investment for your health and overall well-being. It is, however, on the expensive side.
Features & pros;
The tension control allows easy adjustment of the amount of effort needed to recline comfortably.
It is designed with seat angle adjustment from neutral to engaged
It is fitted with standard carpet casters for easy mobility
It comes with an adjustable PostureFit lumbar support
There are fully adjustable arms
Cons:
It is on the expensive side
Modway EEI-757-BLK Articulate Ergonomic Mesh Office chair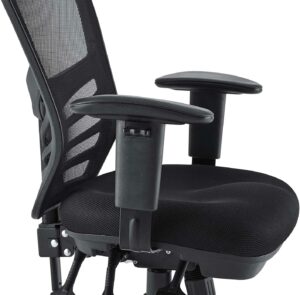 The Modway Articulate Ergonomic office chair guarantees no more discomfort, back and neck pains. This chair comes with a supportive and breathable mesh back that provides full-body support. Also, you can conveniently adjust the seat height and armrests for optimal comfort. It is fitted with lumbar support and a contoured and padded mesh seat cushion for a better experience.
This supportive and sturdy seat can support up to 331lbs and comes in a wide range of colors to chose from. Moreover, it offers flexible seating options to suit your different needs, such as chair height adjustment, tilt, and lock system, 360-degree swivel, and height-adjustable armrests. The best part is, it comes at an affordable price.
Features & pros:
The back height and seat depth are both easily adjustable
It is fitted with five dual caster wheels for easy movement
It features a breathable mesh back and plush vinyl seat
It is an affordable option
It is easy to assemble
Cons:
Lacks a headrest
It is not recommended for tall people
Office Star Deluxe Breathable ProGrid Folding Chair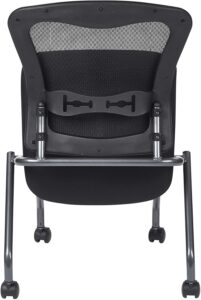 Office Star Deluxe Breathable ProGrid Folding Chair is designed with productivity and convenience in mind. It is the chair for those with small office spaces and those on a budget since the larger expensive options will be impractical. This space-saving option can be folded when not in use or for storage.
It comes with other convenient features such as a swivel option and good lumbar support. Furthermore, it is fitted with casters so you can quickly move around on carpeted floors without exertion. This ergonomic chair comes with a breathable pro grid back with built-in lumbar support and complete with a titanium finish frame for a great look.
Features & pros:
It is available in your choice of custom fabric
It comes with a titanium finish frame and dual wheel carpet casters
It features a breathable pro grid back with built-in lumbar support
This seat folds for horizontal nesting
Cons:
It does not have armrests
The seat height is not adjustable
La-Z-Boy Trafford Big And Tall Executive Office Chair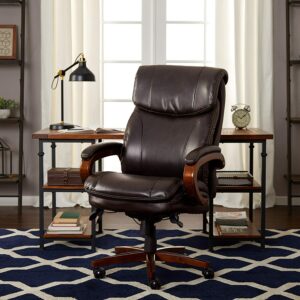 La-Z-Boy Trafford Executive office chair is highly comfortable and functional according to its customers. It is exclusively designed for bigger builds and taller heights, sturdy enough to support 400 pounds. This chair is designed with memory foam that is well selected to support the user's back and an elevated headrest for upper back and neck support.
The bonded leather material gives this office chair a luxurious look complementing any office space. Furthermore, this chair employs flexible air technology where the lumbar cushions pivot any time you move to support your back at any angle. It guarantees all-day comfort with fully adjustable height, tilt, and recline settings.
Features & pros:
It provides all-day comfort
It comes with an elevated headrest and padded armrests
Robust and stable chair base supported by smooth-rolling wheels
This chair is fitted with sturdy components
It is designed in an executive style
Cons:
It is on the expensive side
It is especially suited for more extensive and taller people.
Neo Chair Essential Office Chair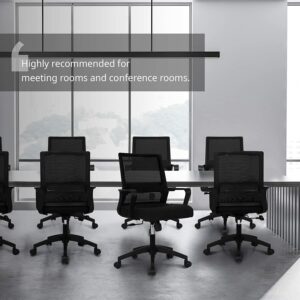 The Neo Chair Essential Office chair is ideal for those on a budget and with bigger builds. It is designed with broad lumbar support for maximum comfort and can support up to 300 pounds. Moreover, it features an adjustable mesh back as well as an adjustable seat height.
These ergonomic features make it suitable for maintaining a proper posture any time you are working. The mesh material is conveniently breathable and can easily adjust to temperature changes keeping you cool. The seat is fabric-covered and generously padded for added comfort.
Features & pros:
It is an affordable option
It can accommodate 300 pounds
It features a padded, fabric-covered seat
It comes with lumbar support and an adjustable mesh back.
Cons: