Give your Mom the best Christmas present she deserves this holiday season. Something personal and chosen with love, a gift that she can treasure for years to come and remember with fond memories. If you're finding it hard to pick the perfect gift, don't worry. We've done the work for you. Our list of "10 Best Christmas Gifts For Mom" is sure to have something that she'll love.
Gift Buying Tips:
When considering the gifts on this list, consider your Mom's:
Favorite colors
Personal preferences
Ring & shirt sizes
By keeping these factors in mind, you'll be better equipped to find the ideal present for your Mom.
Make your Mom feel loved this Christmas by giving her one of the "Best Christmas Gifts for Mom" on our list. Take your time, read through the options and customer reviews, and find the perfect fit for your Mom. Present her with a gift from the heart, she'll surely appreciate it.
A List Of Top 10 Best Christmas Gifts For Mom
Best Gifts for Mom | Picture Frames | Wood Wall Art or Table Decor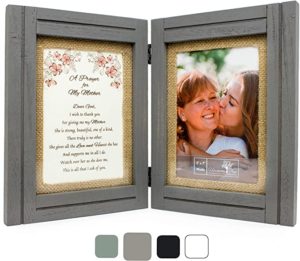 These Harmony Tree Collections 5×7 personalized picture frame is a unique Christmas gift! Every time your mom glances at the precious memento, it'll bring back fond memories of her loved ones. There is also a loving (Prayer for My Mother) poem printed onto the picture frame. Letting mom know how special she is and guaranteed to put a smile upon her face.
Key Features:
* Durable Paulownia Wood Picture Frame
* High-Quality Card Stock
* 100% Fully Refundable Love It Guarantee
Pros:
* Frame's multi-display design enables for table-top or wall hanging.
* The entire frame comes shipped in secure bubble wrapping to ensure it makes it to moms in A-1 condition.
* The attractive folding hinge frame design looks appealing on a mantel or bookshelf.
Cons:
* Other than the somewhat flimsy hinges, it is a beautiful picture frame.
Best Mom Gifts by The Only Gift Worth Giving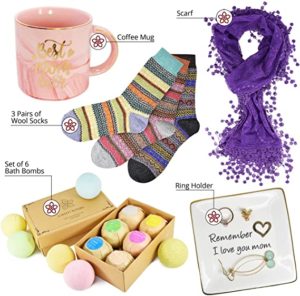 Pamper your mother this Christmas with the Best Gifts For Mom From Daughter Or Son Value Set! It comes equipped with a "Best Mom Ever" coffee mug that she can adore throughout the years. It also has a set of 6-3.5 ounce bath bombs to help mom relax after her long day.
Key Features:
* "Remember I love you mom" Jewelry Dish
* Set Of 3 Warm Knit Socks
* 100% Money Back Satisfaction Guarantee
Pros:
* The set comes with relaxation bath bombs to help relieve mom of any stress and/or strain.
* Any mom will fall in love with the intricate "BEST MOM EVER" coffee mug.
* Composed of 35% wool, 29% cotton, and 36% polyester, socks included in this set will keep mom's feet warm and comfy.
Cons:
* Gold paint on the coffee cup fades with time.
EFYTAL EFYTAL Mom Gifts, Sterling Silver Tree of Life Necklace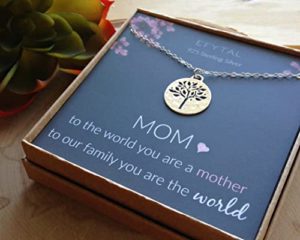 Nothing says "I Love You Mom" quite like this sterling silver (Tree of Life) Necklace! Made of 925 pure sterling silver, the chain, and pendant withstand the test of time. In fact, EFYTAL includes a 5-year money-back guarantee against tarnishing. Protecting her lovely neck as she wears for all to see.
Key Features:
* Constructed Of Nickel-Free & Hypoallergenic Materials
* Beautiful Handcrafted Design
Pros:
* The special card display allows mom to place on her bureau or tabletop.
* The pendant's intricate craftsmanship makes this a breathtaking adornment.
* Includes a pretty EFYTAL gift bag w/tissue paper and notecard to save you from wrapping.
PANDORA Pandora Mother Heart Rose Charm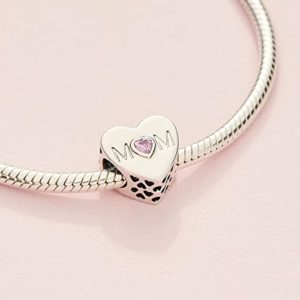 Known for their top of the line jewelry, this Pandora's Mother Heart Charm is the best Christmas gift for mom! With its hand-selected cubic zirconia stone, pendant sparkles and shines. Allowing mom to wear with love and pride around her delicate neck.
Key Features:
* Sterling Silver Consistency Of 92.5%
* Tender Pink Highlighted Stone
Pros:
* Precious metals used in the making of charm help to improve its durability.
* The heart-shaped pendant shows mom how much she's loved.
* It is the perfect addition to Pandora bracelets & necklaces.
Cons:
* The charm is not compatible with all chains and bracelets.
Cottage Garden Mom – Natural Taupe Jewelry Music Box Plays Wind Beneath My Wings by Cottage Garden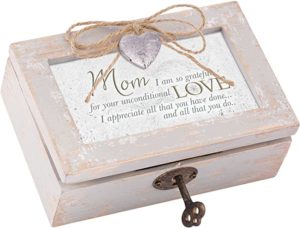 The Cottage Garden Taupe Musical Jewelry Box is an ideal Christmas gift for moms with a taste for jewels! Included is a photo insert to display pictures of kids and grandchildren. Guaranteed to smile on mom's face seeing her loving family.
Key Features:
* Sturdy Handcrafted Taupe Wood W/Taupe Finish
* Traditional Wind-Up Mechanism
* Metal Locket W/Photo Insert
Pros:
* The music box plays the tune of "Wind Beneath My Wings".
* Has a unique vintage turn-key lock design for mom's precious keepsakes.
* Comes shipped in sturdy packaging, ensuring mom's precious cargo doesn't get damaged.
Cons:
* Wind=up device wears down after time.
Tstars Best Mom Ever Hoodie Gift for Mom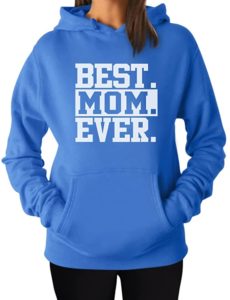 The "Best Mom Ever" Hoodie by Tstars is a great gift for mom's living in areas with cooler climates! Available in Black, Blue, Brown, Pink, and various other beautiful shades. Giving you the chance to present mom with an extra comfy shirt in her favorite color.
Key Features:
* 50% Cotton 50% Polyester Materials
* Machine Washable Design
Pros:
* The classic design of this shirt provides mom with a comfortable fit.
* Best Mom Ever imprinted message will show mom and others how much you care.
* The soft hooded top keeps mom's ears nice & warm.
Cons:
* Sleeves are somewhat long.
Biscotti Cookie Gift Basket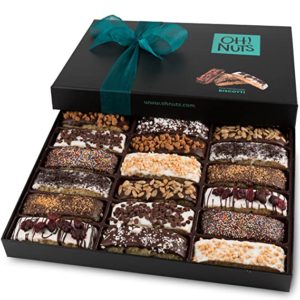 For those whose mom loves sweets, this Oh! Nuts 18-Count Biscotti Tray is sure to please! Dipped in premium creamy chocolate, guaranteed to please mom's sweet tooth. Produced using Kosher standards, these non-dairy biscotti are ideal for lactose intolerant moms.
Key Features:
* Top Quality Caramel Chocolate Chips
* Rainbow Non-Pareils
* Roasted Shelled Sunflower Seeds
* Candied Shredded Coconut
Pros:
* Biscotti gift set comes presented in a beautiful wrapped black box for mom.
* These tasty treats have a 100% money-back guarantee to ensure customer satisfaction.
* Delectable flavors linger on the taste buds and are enjoyable for the holiday season.
Cons:
* Dessert biscotti are so delicious, they would be even better in a larger quantity.
Christmas Apron Present For Mothers, Kitchen Linen Set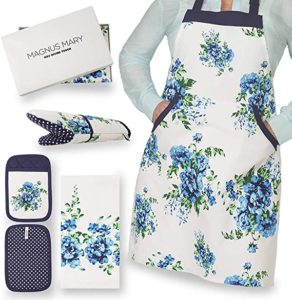 This Magnus Mary Apron Christmas Present For Mothers puts a smile on mom's face every time she cooks. It is something she can treasure throughout the years and will be of good use. Plus, the gift set's created by a woman-owned company that uses only the best materials.
Key Features:
* Durable Pot Holder (7 inches X 10 inches)
* Kitchen Towel (18 inches X 28 inches)
* Adjustable Bib Apron
* Extra-Long Waist Tie Straps
Pros:
* The fabric dyed material has a special finish that's stiff yet comfortable to the touch.
* The beautiful floral design symbolizes a mothers' purity and love.
* Bib apron included in the gift set enables mom to slip on and off with ease.
Cons:
* The bright floral pattern is somewhat blinding to the eyes.
A Mother's Heart Birthstone Charm Angel Figurine by The Bradford Editions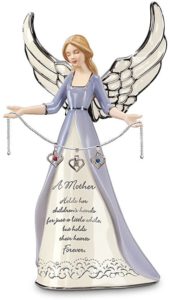 Imagine Mom's expression after receiving this Birthstone Charm Angel Figurine by Bradford Exchange! With delicate wings and butterfly design, she will hold it near and dear forever. The entire angel shimmers from head to toe when placed in lighted areas. Making the perfect addition to mom's living room or bedroom tabletop.
Key Features:
* 12-Glass Heart-Shaped Individual Birthstone Charms
* Handcrafted Heirloom Porcelain
* Bradford Exchange Letter Of Authenticity
Pros:
* The figurine has a beautiful inscription for mom to love & adore throughout the years.
* Endures a 95-day firing process, making the figurine nice and sturdy.
Cons:
* It would be better with extra photo charms to hold more pictures of kids & grandchildren.
Natural Himalayan Salt Lamp in Forest Design, Best Gift by HOMY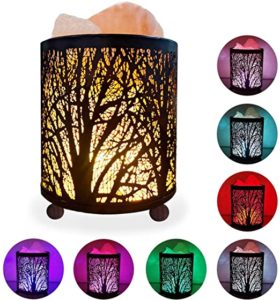 For moms into meditation and mindfulness, this HOMY Himalayan Salt Lamp promotes relaxation. Equipped with a retro forest pattern design, the lamp creates a calming atmosphere. Allowing mom to achieve inner peace and happiness. Unlike other items of its kind, this salt lamp has a 3 Watt LED bulb. Thus, ensuring the safety of both grandchildren and pets.
Key Features:
* 54-Inch Lamp Cord
* Two-Mode Options of Illumination
* 100% Himalayan Salt Rock
Pros:
* The salt lamp has a USB cord for easy and immediate access.
* The multi-color changing LED lighting provides mom with a tranquil atmosphere.
* Its nice compact design allows mom to place in any area.
Cons:
* HOMY salt lamp is a bit small in size.