Flip chairs can be an excellent solution for both homeowners with limited space and frequent hosts. These multi-functional pieces of furniture serve as a chair and a mattress, and in some cases, can even transform into other forms.
Best Bunk Beds for Small Rooms
A List of Top 10 Best Flip Chairs for Small Spaces
Milliard Tri-Fold Mattress and Sofa Bed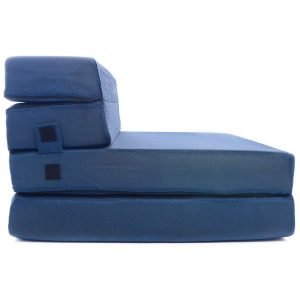 Made of durable materials, the Milliard Flip Chair is a great option for when you can't afford to accommodate a full-size sofa bed. We recommend this chair for people living in dorms, small apartments, and congested homes and it switches forms within seconds. You can also use it as a floor cushion for family-bonding activities like video, board, and card games.
Pros
Made from CertiPUR-US Certified high density foam
Very durable
Fold-able mattress
Comfortable
Cons
Very thin mattress
Need to spend more on a waterproof cover for the top sheet
D&D Futon Furniture Gray Sleeper Chair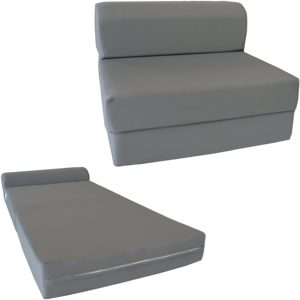 This flip chair has earned fans for being thicker than usual while remaining soft. Made of 100% polyester, it's easy to fold and unfold with only two Velcro straps. This USA-made model is also known to be very comfortable—whether as a chair, a sofa, or a bed.
Pros
Made in USA
High quality density foam
Great and comfortable
Cons
Your Zone Flip Chair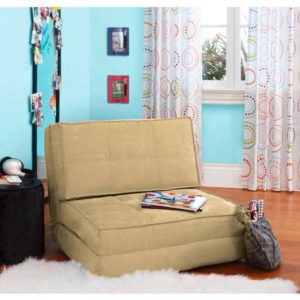 Boasting a unique and aesthetically-pleasing design, this flip chair is covered in luxe-looking suede fabric for extra comfort. It's also fairly lightweight. This makes it a promising prospect if you're planning to move it around different areas of the house.
Pros
Ultra suede material
No assembly required
Cons
Too small and narrow
Not ideal for adult guests
Giantex Fold Down Chair Lounger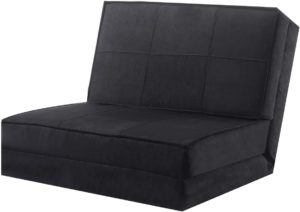 This flip chair has a modern design that makes it a great fit for sleek interiors. It also has a suede finish, which is complemented by clean lines. This flip chair conveniently folds down for easy storage, making it great for dorm rooms that only need extra lounge space when there are guests around.
Pros
Ergonomics design: 5 adjustable positions
Easy to transport
Cons
Not cheap
Hard: not quite comfortable
Magshion Sleeper Chair Folding Foam Bed Sized Single Size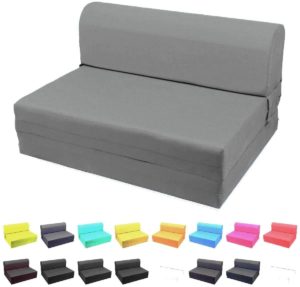 This baby transforms between being a sleeper and a chair within seconds. Its twin-size form makes It perfect for accommodating two people at the same time. Aside from being comfortable and portable, this flip chair is also known among consumers to be very durable—thanks to its well-made 100% polyester and high-quality foam construction.
Pros
Made in USA
Good quality and comfortable
Cons
Packaging for shipping: poor
Smell
Best Choice Products Convertible Flip Chair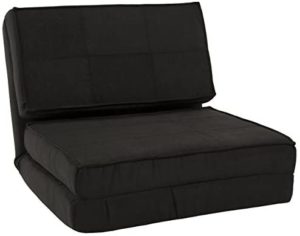 This flip chair strives to justify its brand name by providing a comfortable and convenient experience. Its high-density foam and suede materials lend it a premium feel, which also makes it a great match with other classy furniture. It also apparently maintains its form and density for a long time.
Pros
5 adjustable bed positions
Comfortable
High quality foam covered by black ultra-suede fabric
Cons
Urban Shop Corner Convertible Flip Chair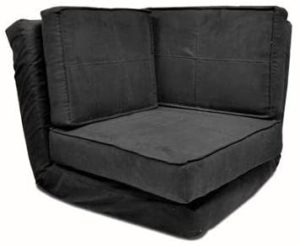 This multi-functional flip chair earns brownie points for its unique form, which is geared towards room corners. In spite of it being complicated looking, it's easy enough to assemble for the average homeowner. Its form enables it to be rearranged into the usual flat cushion, but it can also be formed into a two-seat flip chair, among others.
Pros
Soft Ultra Suede fabric and foam cushioning
No assembly required
Cons
Merax Adjustable Chaise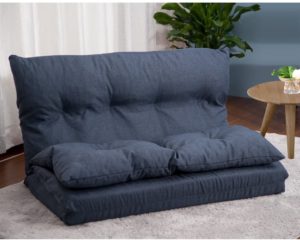 This chair features a five-level folding design that gives it added flexibility. It's also probably one of the most portable flip chairs on this list, which makes it ideal for travel.
Pros
Can be adjusted to be floor sofa
Comfortable and easy-to-clean
5 levels for adjustment
Cons
Not for heavy weight adults
Smelly
Big Joe Flip Lounger
Available in colors like Spicy Lime and Pink Passion, this flip chair screams personality. It's very comfortable for sleeping and lounging. It also boasts SmartMax fabric, which makes it water- and stain-resistant.
Pros
Refillable bean bag
Durable yet safe
Easy to use
Cons
Flattens with use pretty quickly
Too small for adults
Magshion TriFold Bed White Foam Floor Mats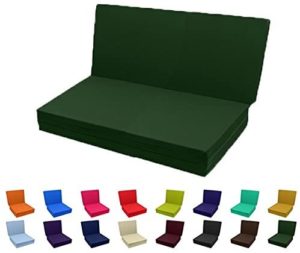 This model comes in a wide variety of colors, which means you'll definitely find one that suits your personality. It features a smooth surface and a firm body, which makes it a durable furniture. It's also worth noting that its size makes it ideal for one-person use only.
Pros
Fabric material: 100% polyester
Made in USA
Cons
Not easy to zip it up after washing