Air hockey turns out to be one of the best games when it comes to time pass options. The current foldable tables for air hockey take it a step further. It lets you carry the amusement along or store it compactly till you wish to bring it up. What's the best air hockey table today? Below are the top best folding air hockey tables in the present market.
Who makes the best air hockey table? These are some top rated air hockey tables you can find in the market. They are space savers with folding legs. Overall, it's the best solutions for game rooms with small space. Feel free to research more if wish to get more in depth info on the tables.
Top 10 Best Floating Wall Desks
A List of Top Best Air Hockey Tables
MD Sports Fold Up 48" Air Hockey Table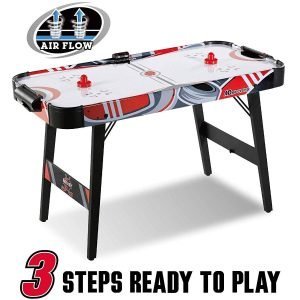 It is one of the choices you can find when looking for best foldable air hockey tables at cheap prices.
Main Features:
2 leg sets
Total weight of the board: approximately 36 pounds
The side of the table with mounted with system to electronic display of the scores.
With each goal, the player scores a back-up slider.
Though operated through wall outlet, 2 AAA batteries are required for the scorers.
Funmall Folding 4-in-1 Table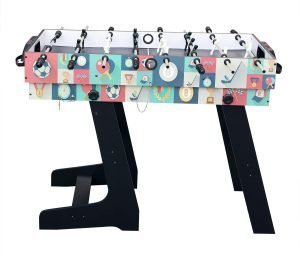 This table lets you enjoy 4 games in one table and can be one of the best gifts for kids.
Main Features:
Provided with legs with L design, one pair folds out while the other pair folds in thus providing the table with a greater stability.
Easy to store
Comes with tables for four separate games – air hockey, table tennis, foosball and pool.
Full size table dimensions are 48" X 24" X 32".
Requires no outlet (no blower for air hockey).
Lion Sports Folding Space Saver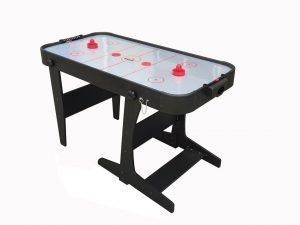 What makes this table special is the design of the legs. It can be stored both in a vertical as well as flat way.
Main features:
Aided with two pair of folding legs, the bigger one folds with while the shorter one folds out, increasing stability.
At full assembly, the table measures 48" X 24" X 30" while standing.
Comes with all necessary accessories in box.
Wall outlet connection for airflow.
Special leg design for vertical storage facilities.
Triumph Sports Foldaway Air Hockey Table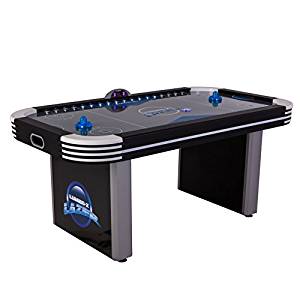 Known to manufacture both outdoor and indoor games, Triumph Sports is one of the most reliable options in the market.
Main features:
Comes with PVC rails that bring in faster bounce back for shots.
Provided with a powerful blower to blow air, confirms rapid progress of the game play.
Can be easily stored and moved in between close areas or rooms.
Built-in space
Full sized table dimensions while standing are 60" X 30" X 32"
Total weight of the table is around 64 lbs.
The Fat Cat by GLD products Aeroblast Air Powered Foldable Hockey Table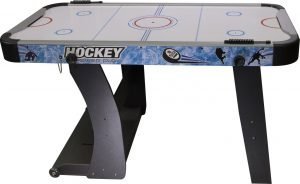 If you want to feel the rink of real ice hockey, this table can emulate it for you. This is one of the great tables for learners.
Main Features:
The folding technology used is patented by the company.
The legs are reinforced with supports to bring in increased stability and sturdiness.
Can be easily stored and can be carried on vacations.
Full size table dimensions when standing are 60" X 32" X 30".
The table weighs approximately around 63 lbs.