Gaming Laptops are portable gaming set-ups for users who want to experience high-end gaming such as graphic quality, frame rates, and high volume refresh rates, but all this hardware and software require high power consumption which leads to overheating issues on the unit. To solve this problem third-party manufacturers invented laptop cooling pads, these are cooling pads that came with different fan number and sizes which generally helps cool the laptop especially if being used for longer periods of time. Despite the good intentions and primary functions of these laptop cooling pads not all of them have the ability to lower the temperature of the unit which it is advisable to get from a reputable brand to ensure quality and safety.
Overall gaming cooling pads are great accessories to lessen the overheating issues of the laptop, especially during gaming sessions, which is why it is important to buy only from reputable brands to ensure the quality and safety of the user in the long run. All of these gaming cooling pads can be brought from Amazon for a good price.
A List of Top Best Gaming Laptop Cooling Pads
KOOTEK COOLER PAD CHILL MAT 5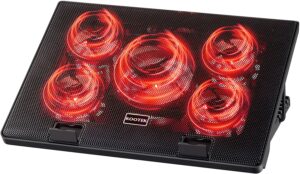 It's considered to be the best gaming laptop cooling pad, this laptop cooling pad has a buil-in 5 fans that will help in lowering the laptop's temperature, especially in gaming sessions and video editing wherein the laptop is forced to function at its highest setting. The cooling pad is also equipped with different levels of fan speeds and led lights that will automatically turn on when the cooling pad is in use. It can be used for different laptop sizes and dimensions capable of cooling any laptop whether gaming or simply an office laptop.
COOLER MASTER NOTEPAL XL
Perhaps be the quietest and most power-efficient cooling pad on the list because aside from being able to properly cool down a gaming laptop, the fan speed configuration remains quiet enough despite being in the highest setting making it less annoying to some gamers. Unlike other cooling pads when they reach their highest fan speed configuration they tend to become loud and annoying especially if being used for longer periods of hours. It comes with one giant fan capable enough to cool down the entire gaming laptop in a more stealthy way and comes with LED lights for added aesthetics to the gaming set-up.
THERMALTAKE MASSIVE 20 RGB
This smaller type of cooling is perfect for traveling along with the gaming laptop because of its unique size, but make no mistake it has a very powerful fan speed configuration that will help in the cooling process of the entire gaming laptop. It comes with one giant fan and it has the famous RGB lighting for added aesthetics, it also doubles up as a laptop stand that is durable enough to carry any size of laptop whether an office or gaming laptop. The lightweight design is just to be carried for travel purposes without the hassle of what size of the bag it would fit.
ENERMAX TWISTERODIO 16
The most unique laptop cooling pad on the list because it has a built speaker which is very unusual for a laptop cooling pad. The entire comes with small but powerful fans that are capable enough to cool down any laptop while being used for gaming or video editing, its metallic design is capable enough to carry any size laptop making it a stand also. The built-in speakers deliver high sound quality making it very useful for gamers who do not want to use any headphones. The simple design is good enough for minimalistic gaming set-ups.
TARGUS CHILL MAT
The cooling pad that has powerful fans and USB expansion slots making it very useful for users who wanted to attach more than one gaming attachment to their set-up, plus it is durable enough to elevate any laptop so that it can have a better airflow which helps in the cooling process without jeopardizing the entire structure of the colling pad. The pair of giant fans can reach speeds up to 2500 RPM making them powerful enough to cool down any laptop while being used in editing and gaming sessions.
TREE NEW BEE COOLING PAD
The gaming cooling pad that is aesthetically designed for gaming set-ups because of its unique structural design, it comes with 5 led fans that are powerful enough to cool down any kind of laptop making them one of the most favorite cooling pads on the market today.