When purchasing a TV stand, it's important to consider factors such as viewing height and style. A TV stand should provide comfort, so ensure the screen is at eye level. For affordable and stylish options, consider IKEA. The IKEA white cabinet TV stand is highly recommended for its functionality and design.
If you're interested in the IKEA Hemnes TV stand, it's important to determine whether you need just a stand or one with storage options.
A List of Top Best TV Stands by IKEA
IKEA bench stand unit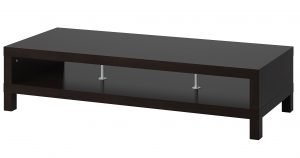 This is arguably one of the most popular IKEA TV stands; it currently gained its popularity due to the fact that it is durable and very stylish hence makes the living room to look beautiful. It comes in a black-brown color which is multipurpose, and you can place your TV along with other essential accessories. Its opening at the back allows you to easily gather and organize all wires.
Particleboard, Fiberboard, ABS plastic, Printed and embossed acrylic paint, Clear acrylic lacquer Filling material: Paper Leg: Fiberboard, Foil Tube: Steel, Epoxy/polyester powder coating
Pros
It weighs 52.4 pounds
It can hold your TV just in the right ways
Easier to clean with any damp cloth to wipe out the dust
Cons
Poor packaging (may be damaged when shipping)
IKEA Expedit Center TV stands up to 55''Flat screen TVs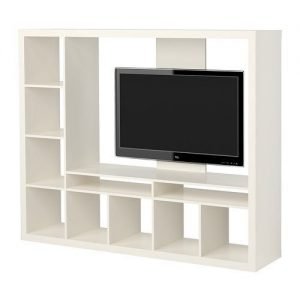 This is another excellent TV stand for TV whose screen is 55. It is made of the best materials, and therefore it has gained so much popularity among its users.
The IKEA shelves can be placed to the left or right. You can choose the placement that suits you best. Its back panel can hold a flat screen TV. Also, there are 2 open compartments for a DVD-player and more. We really like the opening at the back, which allows us to easily gather and organize all wires.
Pros
It comes in shelves. Therefore, one can use the other shelves to put photo frames, different handicrafts and other accessories
It is big enough to hold lots of things along with your big sized TV.
2 open compartments for a DVD-player
Cons
IKEA Expedit Bookcase TV stand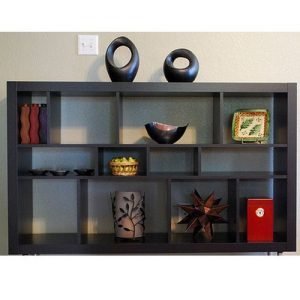 This Ikea product comes in a black, brown color where it is not special for putting the TV only, but you can also use it as a bookshelf and other essential accessories. It can as well be of use as a room divider since it looks perfect from every angle. It is made in a way that you can place it anyhow you want, either horizontally, or physically depending on your preference according to the room.
Pros
It weighs about 83 pounds
Hold a TV of any weight and a lot of other accessories
Strong, gorgeous and sturdy
Cons
IKEA 902.432.97 Lack TV Stand, Black 35-3/8 inches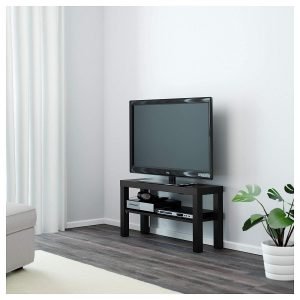 This IKEA TV stand has managed to attract a lot of customers, and it has managed to reach the second place in the market. It has an opening at the back which is a unique feature that makes it more alluring. The rest of its shelves are laminated with a melanin foil, which makes it easier to clean and wipe dust particles.
Pros
It weighs 14.4 pounds
Works very well for all kinds of TV
Easy to organize wires
Cons
Not ideal if you don't want to drill the wall for attachment
IKEA white cabinet TV Stand Multi-Use Lockable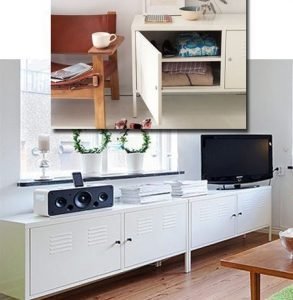 This is the IKEA TV that is regarded as the best TV stand to date. Therefore it makes customers prefer and love it than the rest of the stands. It has cable outlet. Thus, every cord can be gathered all at once and still get organized. It also has a lock that makes your belongings safe inside. This cabinet will last forever.
Pros
It weighs 49.6 pounds and a height of 15 inches
Easy to install
Door is lockable
Strong and sturdy
Cons
Fragile during shipping and assembly