If you're struggling with back pain, investing in a high-quality mattress pad can be a game changer. A mattress pad is a layer of plush material that sits on top of your existing mattress and provides extra support for your spine. Not all mattress pads are created equal, so it's important to choose one that offers the best value for money. The mattress pads reviewed in this article are designed to alleviate or prevent back pain, giving you a better night's sleep.
A List of Top 5 Best Mattress Pads for Back Pain
ViscoSoft 4 Inch Pillow Top Gel Memory Foam Mattress Topper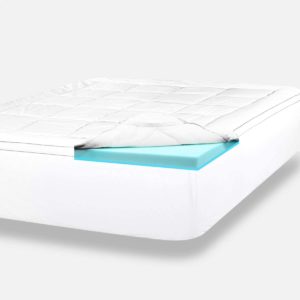 Experience a refreshing night of sleep after getting ViscoSoft 4 Inch Memory Foam. Using it, you can get relief from back pain, hip pain, and the general soreness associated with a firm mattress. The mattress pad includes a mattress topper. The topper provides an extra layer between your body and memory foam for a cool night of sleep. Still, the top cover can provide a balance between softness and support for pressure-relieving comfort.
Additional features and benefits:
This is a 4" high-density mattress pad. It comprises 2.5" of gel memory foam and 1.5" of fluffy down alternative. The high-quality memory foam provides a soft and conforming feel for optimal support of the body curves, neck, and back. Adding to that, the memory foam is breathable to protect you from overheating for a cool night of sleep. The dual-layer pad is tested at a level of five washings of shrinkage for long-lasting durability.
Most users have complained about mattress pads that feature a "new car" smell after purchasing low-quality mattress pads. With the ViscoSoft 4 Inch Memory Foam, you do not have to worry about this. The mattress pad is made using a formula that doesn't incorporate annoying smells so that you will never have to endure them. Furthermore, the materials are CertiPUR-US certified to guarantee safety to the user.
The mattress pad highlights straps on each corner of the inside cover. The strong elastic strap goes around the entire mattress. As a result, you can attach the mattress pad to the mattress to protect it from shifting or sliding while sleeping.
COONP King Mattress Topper, Extra Thick Mattress Pad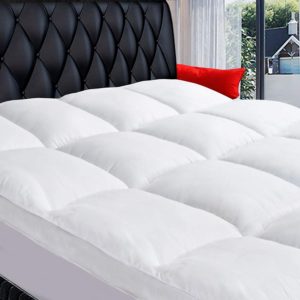 An excellent choice for those who want to improve their sleeping conditions without purchasing a high-cost mattress is Coonp King Mattress Topper. It features an elastic deep pocket. The pocket wraps the mattress leaving it to act like a fitted sheet. This allows you to relax on a cloud of comfort without worrying about tossing and turning on the bed.
Additional features and benefits:
Extra thick and luxury comfort
This is one of the best choices for a mattress pad that will let you sleep soundly and wake up without back pain. It is filled with supportive 3D snow down alternative fill. This material distributes weight evenly so that it can alleviate pressure points and give you the plushness that will hug your body for the best support. Thus, the mattress pad is an ideal choice for users who need to rejuvenate a hard mattress or an old mattress that lost its support.
Still, the mattress pad has a 400TC combed top surface. The surface offers good ventilation so that it can distribute heat and regulate temperatures to keep you cool and comfortable. Also, the surface wicks away sweat for a cooling effect that will keep you cool and dry.
Finally, the Coonp King Mattress Topper is easy to maintain. It is easy to wash in a commercial washing machine to get rid of sweat and stains. After washing, you can tumble dry it on low heat before use to fluff up the fibers.
ELuxurySupply Double Thick Rayon Bamboo Mattress Topper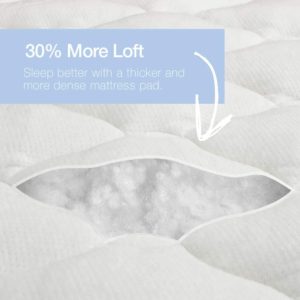 The ELuxurySupply is a 60" x 80" mattress topper. It is laboratory tested and certified safe based on the Consumer Product Safety Commission 16 CFR Part 1632. This means that it is made without using flame retardant chemicals to ensure user safety. Furthermore, the mattress topper features an ultra-soft bamboo top fabric. This fabric is over 60% more effective in transferring away heat for a cool sleeping experience.
Additional features and benefits:
This mattress topper is an excellent choice for those who need a soft, comfortable, and breathable mattress pad. The rayon cover features bamboo that delivers a soft, cooling touch. Its underside backing is made of 30% cotton and 70% polyester. The skirt features 76% polyester, 16% nylon, and 8% spandex. These materials compare to a cloud resulting in unbeatable comfort and gentle support.
Another advantage of the mattress pad is the 100% hypoallergenic fiber. This means that it is safe to use by kids and people who suffer from allergens. Also, the mattress pad has a 160 thread count cover. The cover highlights a double-needle baffle switch to prevent the fill from moving and shifting.
Revoloft down alternative
Also, the mattress pad has a high-quality fiberfill. The fill offers the feel of authentic goose and duck down without poking, feathers, or allergies. This results in a smooth and cozy feel under the skin for silent protection that won't disturb your sleep.
LUCID 2 Inch 5 Zone Lavender Memory Foam Mattress Topper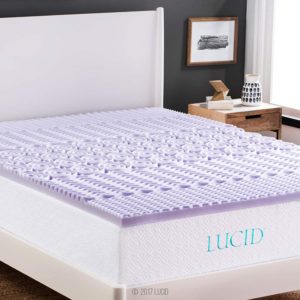 Improve your comfort for a good night of sleep after purchasing this 2" mattress topper. The 2" foam softens the surfaces of a firm mattress. This allows you to add pressure-relieving comfort to let you get the support and bounce familiar to that of a traditional spring mattress.
Additional features and benefits:
This mattress topper features memory foam material. The memory foam distributes heat evenly while conforming to the body curves to create an experience that aligns to the spine. Also, the memory foam is airy, plush, and responsive to create a feeling that eliminates the pressure points at the knees, hips, feet, and shoulders.
The mattress topper features five body zones. The zones optimize comfort to help reduce pressure points for uninterrupted sleep. Also, there are textured zones. These can improve breathability for a comfortable sleeping experience. Also, the zones prevent tossing and turning for a comfortable sleeping experience.
Infused with essential oils
The memory foam mattress topper is infused with a lavender scent. The calming lavender creates a calming and relaxing atmosphere to enhance your sleeping experience.
CHOKIT Extra Thick Queen Size Mattress Topper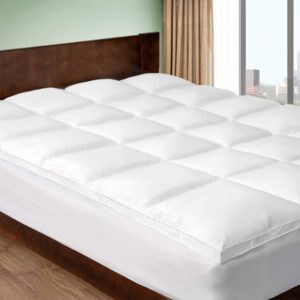 If you want to restore the support of a too-firm foam mattress or old foam mattress, I would recommend that you purchase the Chokit Mattress Topper. It is 70% thicker than a normal mattress pad for extra thick and ultra-soft support. The pad provides a plushness that hugs the body for a time-tested comfort.
Additional features and benefits:
This mattress topper is an excellent choice for a mattress pad that is easy to maintain. It is machine washable so that you can wash it in cold water and tumble dry it on the low setting. Besides that, the pad doesn't generate heat or chemical smell, making it suitable for people with allergies.
The mattress topper is made of 100% 400TC cotton. This material adopts the CDN cooling technology. The technology facilitates more effective airflow to diminish overheating for a restful and refreshing relaxation experience.
Finally, the mattress topper has a deep elastic pocket. It allows you to attach the topper to the mattress to protect it from shifting during the night for consistent comfort. While compared to fragile and loose bands, this elastic pocket can hold high profile and low profile mattresses.