Sitting outdoors and feeling the cool breeze of a fan is incredibly relaxing. An air circulator fan can make a huge difference in enhancing airflow and keeping you cool on hot days. With so many options on the market, it can be challenging to determine which one is ideal for you. We have done the research and compiled a list of the top 5 best outdoor air circulator fans. These fans are powerful and can deliver great airflow both indoors and outdoors. Additionally, their lightweight designs make them easy to transport anywhere you go.
A List of Best Outdoor Air Circulators
Vornado 630 Whole Room Mid-Size Air Circulator Fan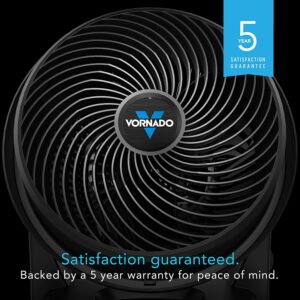 For quiet operation, this Air Circulator Fan by Vornado is something that you never want to miss. It features 3-speed manual control making it easy to use and you can dial it with comfort. Ideally, this fan is equipped with an inlet guide cone paired with deep-pitched blades that helps to move air up to 70 ft.
This fan has a sturdy base that ensures stability when it is placed on the desktop or floor. Its energy-efficient motor allows it to run without consuming much power. This multidirectional air Circulator Fan will direct the air to the place where it is needed most.
With its adjustable speed, you can achieve what you need. Another thing, it has a handle that allows you to conveniently carry it anywhere you want. You can use it in the classroom, office, or library among other places. This product has been safety-tested, certified, and warrantied for use.
Key features
Allows multi-directional airflow
Move air up to 70 ft.
3-speed manual control
Removable grill for easy cleaning
XPOWER P-26AR 1300 CFM Industrial Axial Air Mover, Blue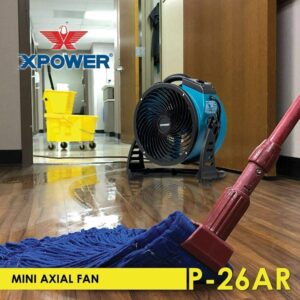 Here is another energy-efficient Air Mover that will greatly save power usage. It is one of the most durable, energy-efficient, and compact axial fans you can find on the market. This multipurpose Air Mover allows you to control climate, ventilate, and quickly dry your room. Ideally, this air mover has two built-in power outlets and a full 360-degree drying capacity to ensure that your room is cool all the time.
This air moving machine is rated at 1100 CFM and only draws 0. 6 amps. Moreover, it has four-speed and will ensure that you can set the right speed according to your needs. This device runs at low noise and will not disturb your sleep.
It comes fully assembled and you can use the fan irrespective of where you are to bring that fresh air that you need. Another thing, it is portable and lightweight at any given place.
Key features
Full 360º multidirectional airflow
Compact and stackable for easy transportation
Energy-efficient air mover
Has 4-speed settings
XPOWER X-34AR Sealed Motor Variable Speed Industrial Axial Air Mover, Blue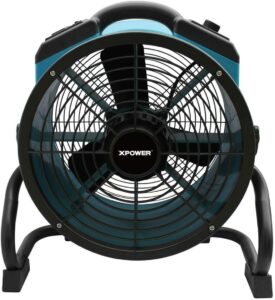 Are you looking for a powerful outdoor air circulator for your office, room, or outdoor? This is a great and powerful fan that is designed to offer a lot of airflows. First, it is made from durable and lightweight ABS plastic materials and will serve you for a long time. In addition to that, it allows full 360-degree multidirectional airflow hence it will ensure that your room will be cool in all directions.
This device has a built-in power outlet with dual thermal protection to ensure that it is safe to use. Besides that, it has a Grab-N-Go handle that ensures that you can transport it from one place to another easily. The motor is well sealed protecting it from water damage and contaminants.
Ideally, this unit has a variable speed control making it efficient to dry floors, carpets walls, and large areas. It is also included with 20 Feet power cord that you can wrap around the Air Mover.
Key features
Energy-efficient and rated at 1720 cfm
Etl/cetl safety certified
Allows full 360-degree multidirectional airflow
Comes with 20 feet. Power cord
Variable speed control
OOPOR Floor Fan 3500CFM Battery Operated Outdoor Fan with Light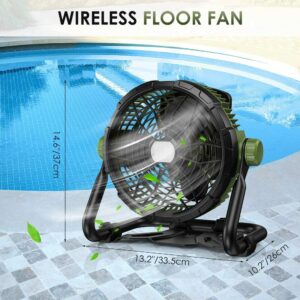 When looking for a durable and powerful circulator fan, OOPOR Floor Fan is the best choice. It comes with a 14400mAh large capacity battery that lasts for about 4.5 to 15 hours when fully charged. What's more, this cordless fan is lightweight and you can easily carry it around and you it anywhere. It also has a hanging hook that allows you to hang it conveniently to ensure a better cooling experience.
This Outdoor Fan features a 1000lumen LED light that features 3 brightness levels. This makes it ideal to use in the barbecue, warehouse, construction site, fishing, camping, and other outdoor activities. Another thing, this Battery Operated Floor fan can be used as a power bank for charging laptops and cellphones.
The unit has a maximum airflow of 3500CFM hence it will provide you with the refreshing sensation and cooling breeze that you need during hot summer days. The 4 battery indicator lights show you the remaining power.
Features
Has 1000 Lumen LED light
14400mAh large capacity rechargeable battery
4 battery indicator lights
Has maximum airflow of 3500CFM
Vornado 293 Large Air Circulator Heavy Duty Shop Fan, Yellow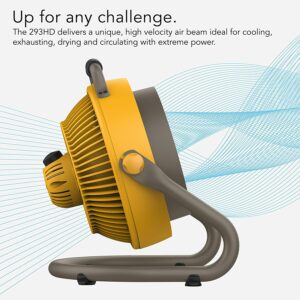 This is another great Air Circulator that will help you to keep your room comfortable all the time. It features high-impact case stands that make it durable and will withstand the rigors of the job site. What's more, this Shop Fan comes with a powerful IP54 rated motor that has been well protected against debris and dust.
The device has non-slip feet and a stable steel base that ensure that it remains stable all the time. Another thing, it comes with a 10-foot grounded power cord that ensures that it easily reaches the nearby power socket.
The grill is removable to ensure easy cleaning. What's more, this product meets OSHA safety standards hence it is safe to use.
Features
10-foot grounded power cord
Moving air up to 100 feet
Comes with powerful ip54 rated motor
Easy-clean removable grill
Comes with non-slip feet