Finding a comfortable and portable travel bed for babies and toddlers is a major challenge for parents when traveling. Having a suitable travel bed can make a significant difference in the quality of the stay during vacations. It is important to note that not all portable baby beds are created equal.
A List of Top 10 Best Portable Baby Beds
Lotus Travel Crib – Backpack Portable, Lightweight, Easy to Pack Play-Yard with Comfortable Mattress – Certified Baby Safe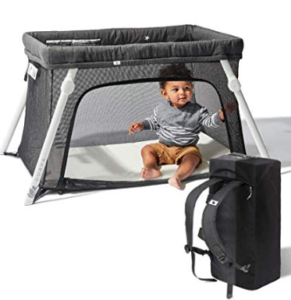 Lotus products believe in making a parent's life easier, which is evident with their Backpack Portable Play-Yard! This lightweight travel crib folds up in less than one minute and has a unique secret zippered door that securely closes transforming it into a safe place for baby to rest his/her head. Its art-inspired graphics and neutral color make it ideal for both girls and boys.
Product Specifications:
Removable Crib Cover That's Machine Washable
PBE, PBDE Flame Retardant, & Lead-Free
Updated Thick Foam Padding
Backpack Carrying Case
Flisko 2 in 1 Travel Crib & Bassinet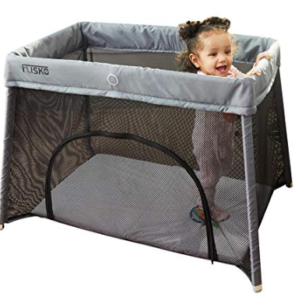 Perfect for traveling, the Flisko 2-in-1 portable crib provides an effective solution for any trip. This collapsible travel crib is easy to put together and store away. It has a firm mattress, providing your child with stable support during sleep and play. Made of only the softest materials to protect baby's delicate skin while cuddling up at naptime.
Product Specifications:
Sturdy Design That's Safe & Supportive
Multifunctional, Transforming Into A Crib, Bassinet, and Playpen
Easy Access Crawl-Through Zipper Door
Breathable Mesh Fabric Providing Healthy Air-Flow
BABY JOY Baby Playpen, Ultra-Light Aluminum Portable Travel Crib with Comfy Mattress & Oxford Carry Bag, Dark Gray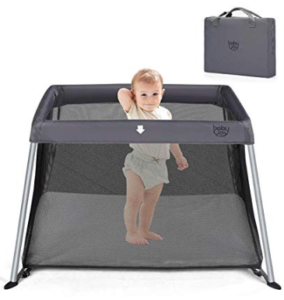 The BABY JOY Travel Crib is a must-have item for any parent. Compact in size with just enough room for baby to move around, allowing a little one to play with their toys or have a small friend join them! Plus, the lightweight and foldable design make it great to take anywhere including to family outings to grandma and grandpa's house.
Product Specifications:
Aluminum Pipe Netting
Peek-A-Boo See Through Mesh Sides
Removable Washing Machine Safe Mattress
Oxford Carry Bag
BABY JOY Portable Baby Playard, Removable Bassinet and Changer, Newborn Napper with Cute Toys, Wheels & Brake, Oxford Carry Bag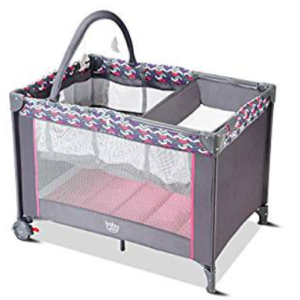 Another BABY JOY product worth checking out, ideal for those traveling with infants and small babies. Providing your precious little one with a safe, comfy place to sleep that can easily be moved from room to room. It transforms from a bassinet, into a baby changer, and portable Playard within minutes.
Product Specifications:
Open-View Clear Mesh Net Guard
Easy Assembly Set-Up & Foldable Design
Special Convenient Storage Bag
2 Side-Wheels For Easy Transport
Costzon Baby Playard, 3 in 1 Multifunction Foldable Reversible Napper and Changer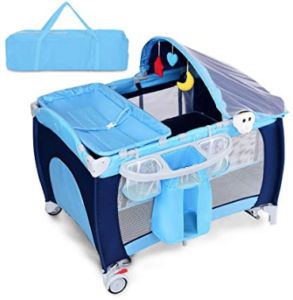 The Costzon 3-in-1 Multifunctional Baby Playard is highly durable and only weighs 31 pounds, making it ideal for taking on vacation or traveling. With a convenient foldable design, giving the user an ability to take it anywhere. Plus, the folding bassinet fits perfectly into its carry back for quick and easy storage.
Product Specifications:
Reversible Baby Changer, Napper, & Playard
Musical Bassinet
Increased Double Safety Wheels W/Brakes
Whirligig With 3 Adorable Baby Toys
Portable Playard, Sturdy Play Yard with Comfortable Mattress and Changing Station (Sky Blue)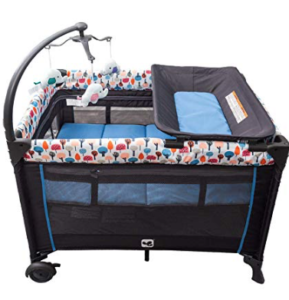 This Kidsry Portable Playard is super easy to move and has locking wheels for added safety. Allowing parents to rest at ease and get some much-needed rest. The Playard includes 2 plush stuffed animals guaranteed to entertain baby, putting a smile upon his/her little face.
Product Specifications:
Easy One-Hand Locking Mechanism
Comfortable Baby Changer & Removable Bassinet
A Safe and Secure Place For Baby to Sleep
4moms Breeze Plus Portable Playard with Removable Bassinet and Changing Station – Easy one Push Open, one Pull Close, from The Makers of The mamaRoo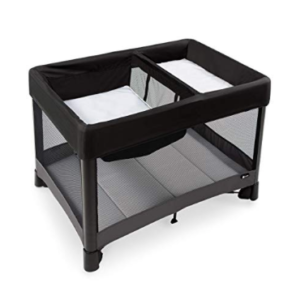 Unlike other portable bassinets, the 4moms Breeze Plus Portable Playard opens and closes in one easy step. Simply push down upon its center hub to open and pull up for quick closure. From newborn to toddler, it is designed to grow with your child. Not only does this Breeze Plus all-in-one care station include a removable bassinet and changing station, but a convenient carry bag as well.
Product Specifications:
Easy to Clean Mattress
Convenient Travel Bag
Quick Set-Up
Popup Mini Cribs Tent
Known for their top-of-the-line products, Aussie has outdone themselves with this Pack N Play Popup Mini Crib Tent! One of the safest portable baby beds which is available today. It is ready to use while on vacation and helps traveling parents have a more enjoyable time. Although it's not cheap, the bed is very well and built to last.
Product Specifications:
Escape-Free Safety Net
Manufactured Using Strong, Durable Materials
Custom Made See Through Black (Starry Night) Breathable Mesh Netting
Auto-Lock Safety Zippers
90-Day Product Warranty
Travel Crib For Baby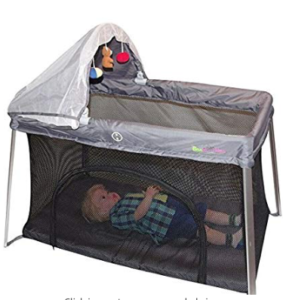 The ElanBambino Portable Travel Crib is exactly what you need for your next vacation, picnic, or family gathering! Weighing in at only 11 1/2 pounds, it's easy to move indoors as well as outside. With exterior measurements of 49″ wide x 29.5″ deep x 27″ high, this portable travel crib takes up very little space. The padding on the bottom is thick and more comfortable. Overall, it's one of the best travel cribs.
Product Specifications:
Easy Access Front Zipper
Removable Insect Net
Sunshade Canopy
Three Hanging Toys
Thick Comfortable Foam Mattress
Graco Travel Lite Crib | Travel Crib Converts from Bassinet to Playard, Manor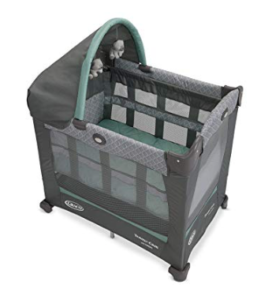 Perfect for parents that want to have their sleeping babes close to their side, Graco's Travel Lite Crib is equipped with a removable bassinet. Making it ideal for your next motel stay or family gathering! The soft quilted mattress pad allows your baby to have a peaceful nap time. You can ignore other bassinets and side cribs and just get this Graco's Travel Lite Crib baby bed.
Best Bassinets For Breastfeeding
Product Specifications:
Adjustable Bassinet for Growing Babies
Lightweight Design
Compact Portable Folding Crib
Versatile Travel Crib & Portable Playard