There are various pacifiers available for breastfeeding and soothing babies, differing in material, design, and cost. When selecting a pacifier, consider which features will best meet your baby's needs. The top 10 pacifiers for breastfed babies listed are among the best options to consider. A pacifier, also known as a dummy, is a silicone or rubber nipple that offers comfort to young children by allowing them to suck when not hungry, reducing the likelihood of crying. It provides a similar comfort to that of breastfeeding.
Best Pregnancy Pillows for Hip Pain
A List of Top 10 Best Pacifier for Breastfed Babies
1) Philips Avent Soothie pacifier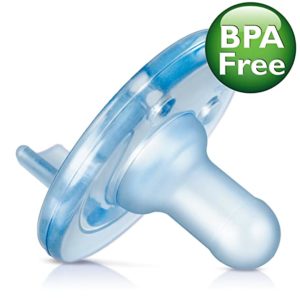 This pacifier is one of the best products and used in many pediatric hospitals across the world. Made from a latex-free silicone, it observes hospital-grading.
Pros
These pacifiers do not produce any odor.
Durable and robust nipple resists any misshapen.
Calm and soothe infants.
Easy to sterile.
Cons
The baby quickly drops this pacifier on the floor.
Prolonged and improper use of this pacifier may lead to dental issues.
Introducing this pacifier early to the child, it may lead to nipple confusion. Thus it's recommended that parents should breastfeed their infants for a month before introducing a pacifier.
2) Playtex Binky Silicone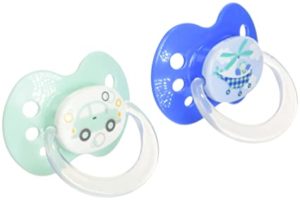 This pacifier is for parents who need traditional pacifiers. This pacifier has a round nipple that gives an infant a natural sucking instinct.
Pros
Playtex binky silicone pacifiers resemble a mother's nipple. It gives it a natural look.
The design is comfortable and durable when the infant is using it.
Easy to clean and sanitize.
The use of different bright colors makes this pacifier fun for babies.
Cons
It can cause nipple confusion when used early.
Storage case opens easily, thus making it easy for the same pacifiers to fall.
3) Tommee Tippee Closer to Nature Pacifiers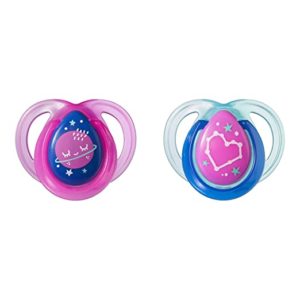 Tommee Tippee is one of the best pacifiers for breastfed babies. It is a breast-like shape nipple that is BPA free. This pacifier is usually used by parents who like pacifiers that are very close to nature.
Pros
These pacifiers are naturally and orthodontic safe.
The materials used curves away from the face of the baby, giving him good airflow. The content is also more skin-like. This property makes it stretch and flex natural, making this pacifier ideal for babies who feed using bottles.
Cons
The design of these pacifiers wears off when used several times.
Not all babies can use these pacifiers. They recommended (6- 18) months babies.
4) MAM Night Pacifier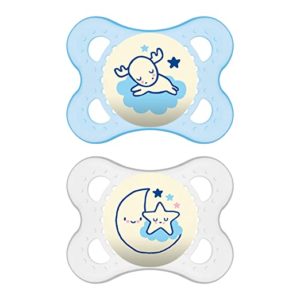 This pacifier glows in the dark and uses a double carrying case as a sterilizer. Its recommended to babies who quickly lose their pacifiers at night or in the dark.
Pros
The design is well functional and comfortable with babies. It comes with a curved shield that has a small opening that allows the infant skin to breathe, thus making the baby more comfortable.
Easy to sterilize and clean. All you need is freshwater and a microwave and you are good to go.
This pacifier glows in the dark, making it easy to locate when the baby loses it at night.
This pacifier has anti-slip features that keep it intact in the baby's mouth.
Cons
Easy to destroy and requires proper care to keep it intact.
Never let your pacifier hang in direct sunlight.
5) NUK Orthodontic Pacifier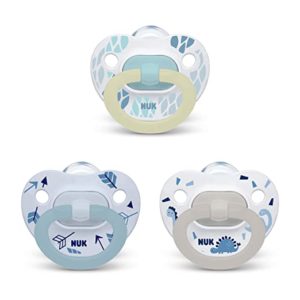 This pacifier is recommended by the American Academy of Pediatrics.
Pros
It has an orthodontic nipple that is well designed and shaped to fit the mouth of the baby.
This pacifier has a shield with the shape of a heart that makes the infant breathe correctly.
This pacifier is suitable for your oral development, and it's recommendable.
Cons
They slightly make a squeaking noise when babies sack on them.
They are heavy, and some babies may not like it.
6) RaZbaby Raz-Berry Silicone Teether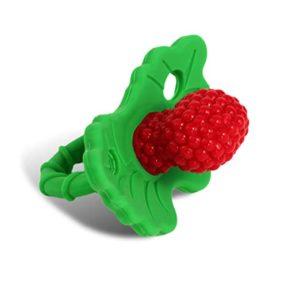 This pacifier is highly rated among the best for babies who are teething. Its nipple size is big and resembles a raspberry-berry both in texture and looks.
Pros
It has a Berry bumps texture that gives your baby relief for the swollen gums.
The silicone is free from BPA and non-toxic.
The product is nature-inspired and soothes tender gums.
Cons
It stays cold only for a short time.
They recommended when the child can hold the Teether well.
7) Wubba Nub pacifier-Giraffe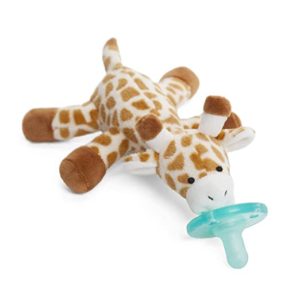 Wubba Nub pacifier is for babies who are tongue-tied and lucks the ability to suck. When in this condition, the baby cannot keep a pacifier for long in the mouth.
Pros
This pacifier is phthalate and BPA free.
Easy to clean and machine washable.
When not in use, a pacifier can be replaced with a teething and still hold its characteristics.
The sewing together of pacifiers and plushies makes them un-detachable.
Cons
The child's age is limited to 0-6 months.
It is not advisable for a child with teeth.
Damaged pacifiers are not replaceable.
8) Brown's Happy Paci 100% Silicone Pacifier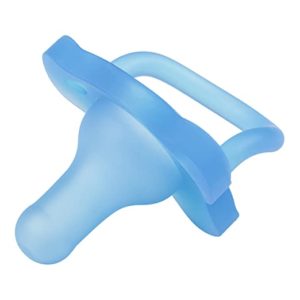 For parents who want to introduce their infants to pacifiers, then this is a product to consider.
Pros
It is a one-piece product that many parents admire.
Very soft and lightweight.
Sterilize and easy to clean.
The butterfly shape designed is a shield to the nose and cheeks curves.
Cons
· The new design does not work well with many children and keeps falling.
9) Ryan and Rose Cutie PAT Pacifier Grey Stage 1 and stage 2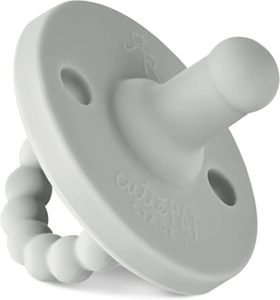 Stage 1 pacifier is for children with no teeth while stage 2 pacifiers are for children with teeth.
Pro
Very safe for your child
100% medical grade.
Very soft nipple that is an excellent mimic of natural breastfeeding.
Sterilize and very easy to clean
Durable and dishwasher safe.
Cons
· This pacifier is only limited to babies who have no teeth.
10) Nanobebe Pacifiers 0-3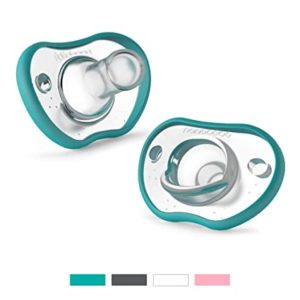 This award-winning pacifier is for infants who are less than three years. The nipple stays in the child's mouth for long.
Pros
It is useful in soothing your baby to sleep.
Its design ensures that your baby does not get nipple confusion.
It is well-shaped and fit in your baby mouth, promoting healthy oral gums.
It is safe and sound for an infant and does not pose any hazardous properties.
Cons
It has a shorter nipple in consideration with other pacifiers, and some babies do not accept it.