Using a steam sauna offers numerous advantages such as weight loss, stress reduction, muscle relief, detoxification, and anxiety reduction. However, spa treatments can be costly and require significant time commitments. To overcome these challenges, investing in a high-quality portable sauna is a smart choice. With a portable sauna, you can experience the benefits of spa treatments wherever you are, without the need to allocate a lot of time or money.
[ How to Sleep Well at Night Naturally ]
A List of Top 5 Best Portable Steam Sauna
SereneLife SLISAU35BK Full-Size Portable Steam Sauna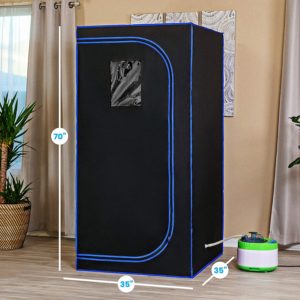 The best portable steam sauna when you need to relax and detoxify is SereneLife SLISAU35BK. It is a portable sauna that radiates heat to soothe muscles and assist with stress relief, weight loss, and detoxifying. And as a bonus, the sauna comes with a foldable and comfortable chair for the best value for money.
Additional features and benefits
• Easy-access design
This sauna is easy to access. It highlights an easy-access sit-in design to facilitate smooth entry and exit. Additionally, there are hand access zippers that make it easy for you to access a phone or read a magazine or book.
• Portable
What's more, this is one of the best choices for a portable steam sauna. It can fold conveniently after use to a compact size of 35. 4" L x35. 4″ W x70. 9″ H. Thus, you can carry it from one room to another for user convenience.
• Energy efficient
The SereneLife SLISAU35BK is an energy-efficient sauna. It features a 1600-watt high-power heating element. As a result, it can reach a maximum temperature up to 122°F/50°C within a short time. Additionally, the sauna comes with a wired controller. The controller facilitates the effortless set up of the heat setting and timer to guarantee easy operation.
Durasage Oversized Portable Steam Sauna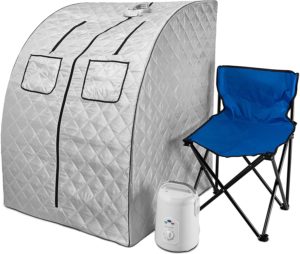 The Durasage is an oversized portable steam sauna. It features a detachable frame that allows you to disassemble it for compact storage. Furthermore, the sauna comes with everything that is required to set it up for effortless assembly. The sauna is designed with tough materials for durability. Also, it is large at 33″ x 31.5″ x 41″ enabling it to accommodate users who need extra space.
Additional features and benefits
• Powerful steam generator
The 1.8L steam sauna integrates a powerful steam generator. The 800watt generator can be set up to 60 minutes using an adjustable timer for a customized steaming experience. Additionally, the generator enables the ceramic heating element to vaporize the water at about 212F° (100 C°) for an internal temperature ranging from 110°F -115°F.
• Zippered openings and dual pockets
The steam sauna features dual pockets and zippered openings. The two zippered openings allow you to use a device or read a book to keep yourself busy when inside. Also, there are dual pockets. The front pockets provide room to store a TV remote, phone, and small book for quick access.
• Easy to set up
If you need a portable steam sauna that is easy to set up, you might want to get this product. The sauna features an easy setup inside frame design that requires minutes to set up. Plus, it comes with an attached diagram to provide guidance for fast and effortless assembly.
SEAAN Portable Personal Steam Sauna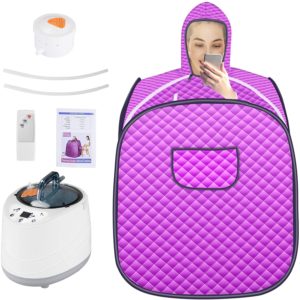 From seaan is a personal steam sauna. It releases steam to promote blood circulation, improve the skin tone, promote metabolism, and relieve stiffness. The steam sauna features a bag-style design to enhance portability. Also, it features a double-sided zipper for easy access and exit.
Additional features and benefits
• High-quality construction
This steam sauna highlights a high-quality construction. It features thick cotton material to safeguard against heat loss. What's more, there is a high-strength stainless steel bracket to enhance strength. A silver-coated inner layer is another plus that makes the sauna waterproof and easy to clean. Plus, the 304 stainless steel steamer inner liner and bottom hot air glue leak-proof treatment can safeguard against corrosion and leakage.
• Powerful heating element
The Seaan portable steam sauna offers a 1000watts steam supply. This enables it to heat the 2liters of water fast and efficiently. Also, there is a 10minutes to 60 minutes timer to let you customize the heating time. The steam sauna offers nine levels of adjustability for smooth control of the steam delivery.
• Rapid heating
Finally, the steam sauna can generate the required steam in a few minutes. It requires 10 minutes to preheat the steamer pot and enable the steam to rise to 122°F within a few minutes. Supplied with a remote control, you can adjust the heating time and temperature fast and effortlessly.
OppsDecor Portable Steam Sauna Spa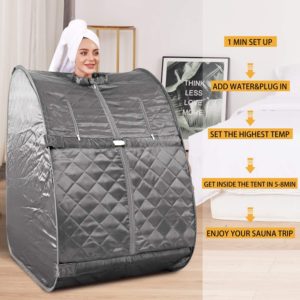 On the fourth position is OppsDecor Portable Steam Sauna. It comes with everything that is required to put it up for fast and effortless setup. Using the sauna offers a variety of health benefits including reducing stress, aiding with weight loss, improvement of the skin tone, and enhancement of the energy levels.
Additional features and benefits
• Easy to operate
This steam sauna is easy to operate. It comes with a handheld remote control. Using the remote, you can choose among six timer options so that you can be in control of the time the sauna will stay on. Also, the handheld remote controls a 9-level temperature control. Thus, you can determine the amount of heat that is right for you.
• Powerful heating element
Another benefit of the sauna is the powerful heating element. Rated at 800watts, the element enables the steamer to reach maximum temperatures of up to 65°. The sauna can heat fast, thanks to the fact that it requires 7-10 minutes for it to heat up. Besides, the sauna is made of satin and polyester to protect it from heat loss.
• Personal and portable design
If you need the best steam sauna for limited spaces, the OppsDecor Portable Steam Sauna is an excellent choice. After use, you can fold it down to a compact size for easy storage. Better, the sauna has a carrying handle that makes it easy to lift and carry.
KKTECT Portable Sauna Tent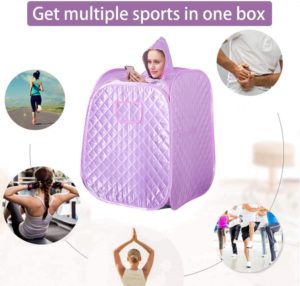 Finally, comes in the KKTECT Portable Sauna. It is easy to store and carry, thanks to the foldable design that allows you to store it in a storage bag. The steam sauna is made of waterproof PVC. This material is easy to clean and designed to maintain the steam inside for the best user experience.
Additional features and benefits
• 2-person use
The KKTECT Portable Sauna is best suited for use by two people. It highlights two steaming foot holes. The foot holes are suitable for single body steaming, single foot steaming, or double steaming to enhance versatility.
• Intelligent remote
What's more, the steam sauna is easy to operate. It comes with a wireless remote control. Using it, you can operate the temperature control to customize the steam temperatures. Also, you can operate the timer to adjust the time the sauna will generate the heat.
• Double-sided zipper
Finally, the steam sauna adopts a double-sided zipper. This design enhances convenience for a single-person operation. Also, the zipper can prevent steam leakage and enhance the effectiveness of fumigation.