If you're looking for a generator to power your home during power outages or to take with you on camping trips, a quiet generator is a must-have. Traditional generators can be very loud and can cause noise complaints from neighbors or the need for ear protection. Fortunately, you can avoid these issues with a quiet generator.
Portable generators provide a convenient source of power wherever you go. Whether you need to charge your devices or power your tools during a power outage, you don't have to worry about the noise disruption with a quiet generator. With advancements in technology, inverter generators allow you to get the best of both worlds: reliable power with minimum noise. The list mentioned above can help you choose the best quiet generator for your needs.
Quiet generators provide the same level of power as traditional generators and can be used in more situations because of their low noise output. Other benefits of quiet generators include improved fuel efficiency, cleaner electricity with less distortion, lighter weight, and a more compact design.
A List of Top Best Quiet Generators
CHAMPION 3100-WATT RV READY PORTABLE INVERTER GENERATOR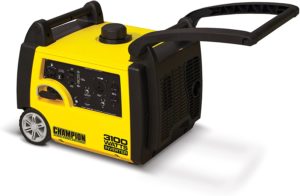 The Champion inverter generator features 3100 starting watts and 2800 running watts as well as ultra-quiet operations and up to 8 hours of run time. This generator has a quick touch panel that allows you to access all your controls in one spot. The smart economy mode featured in the Champion inverter generator reduces the electric load, providing extended engine life, quieter operations, and better fuel economy.
HONDA EU 7000 IAT PORTABLE INVERTER GENERATOR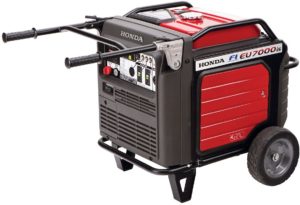 The Honda inverter generator features an electronic fuel injection technology that improves fuel efficiency and eliminates choke problems. The exclusive inverter technology allows the generator to charge automotive-type batteries as well as provide stable power to sensitive components. This Honda generator is fitted with an exclusive Eco-Throttle system which allows the generator to offer great fuel efficiency and run for 6-18 hours on a single tank. An iMonitor tracks wattage, hours, RPM, and battery volts.
FIRMAN W030823300/3000 WATT PORTABLE GENERATOR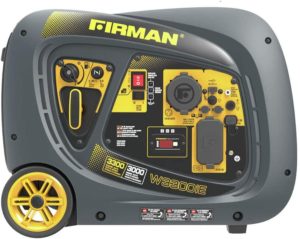 The Firman portable generator comes with 3300 starting watts & 3000 running watts, a 1.8-gallon tank, and up to 9hours run time. This generator also comes with top-of-the-line features including a push-button electric start, power stream alternator, reliable recoil, fuel-efficient economy tank, and volt lock automatic voltage regulator. The Firman generator is equipped with built-in tuff-stuff handle & wheels for easy portability and convenience. This generator comes with accessories that include; oil, shipping bracket wrenches, funnel, spark plug wrench, and manual.
SUAOKI PORTABLE POWER STATION
The Suaokiportable power station is designed for outdoor activities' power supply. This generator only measures 7.3*4.3*4.7 and weighs 2.9lbs. The Suaoki comes with a lithium backup battery pack equipped with 150Wh capacity, a variety of charging ports and three different ways of recharging it. The Suaoki generator also features a built-in emergency flashlight to keep you lit in an outdoor environment. 5 LED lights on top of the power station for showing battery life status, and user-friendly handle designs for easy portability. The Suaoki package comes with a portable charging station, a car charger adapter cable, a cigarette lighter adapter and a user manual.
RYOBI BLUETOOTH DIGITAL INVERTER GENERATOR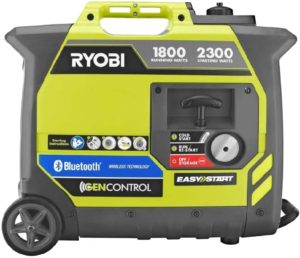 The Ryobi digital generator is safe for sensitive electronics and is whisper quiet with 2,300 starting watts and 1,800 running watts. A GENcontrol app on your phone allows convenient power, consumption, and fuel level monitoring, as well as checking the remaining run time and remote shutoff. The Idle-Down technology equipped in this generator allows increased fuel efficiency. The Ryobi generator comes parallel capable, meaning you can link two Ryobi inverter generators together for twice the power. This generator is also fitted with extending handles and rear wheels for easy transportation.
PULSAR G2319N PORTABLE INVERTER GENERATOR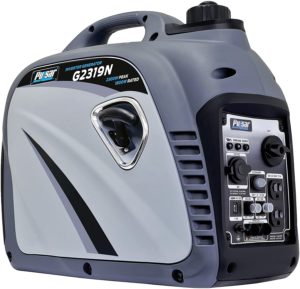 The Pulsar inverter generator comes with 2,300 peak watts and 1,800 running watts. The 1.18 gallon of fuel allows up to 6 hours of operation at half load. This generator has a quiet operation (59dB), making it virtually silent from just 10 feet away. A stable sine wave technology provides safe, pure electrical power for charging electronic devices and powering. The Pulsar inverter generator comes with multiple charging outlets allowing you to charge and power multiple devices simultaneously. This generator also has parallel capabilities making you able to connect two Pulsar generators for increased power output.
BRIGGS & STRATTON 30675 Q6500 INVERTER GENERATOR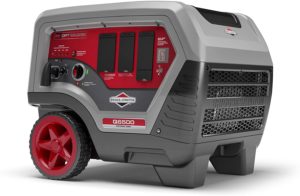 The Briggs & Stratton inverter generator features 6,500 starting watts. Quiet power series inverter technology and noise reducing shells give you all the power you need at the lowest noise output levels. The construction design of this generator makes it 30% lighter and 34% more compact than the standard portable generator. This generator has a highly-efficient 306cc integrated engine which provides up to 14 hours of operation at 25% load. Different charging outlets are also featured to allow charging of multiple devices at once. The RV adapter in the twist lock outlet provides up to 2500W of continuous power when in use.
GENERAC 7117 GP2200I PORTABLE INVERTER GENERATOR
The Generac portable inverter generator comes with an Ac maximum of 2200 starting watts and 1700 running watts. The 1.2-gallon fuel tank in the generator allows up to 10.75 hours of run time at 25% load. The Generac inverter generator features true power technology which provides stable, clean power perfect for sensitive electronics. The LED lights alert you when you are on low-oil, low-power or overloading, while the economy mode provides excellent fuel economy and noise reduction. The integrated RUN/OFF/CHOKE knob simplifies startup processes. The Generac inverter generator is parallel ready and allows you to connect two inverters for added power.
CHAMPION RV READY OPEN FRAME INVERTER GENERATOR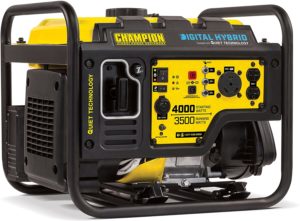 The Champion inverter generator has advanced open frame inverter design, which makes it 20% lighter and 50% quieter than traditional generators. AN economy mode is included for extended engine life and fuel saving. With the 4000 starting watts, 3500 running watts, 17 hours run time, and quiet technology, the Champion generator is well suited for tailgating, RV's, and camping. This generator provides clean electricity for sensitive electronics and has multiple charging outlets. The Champion inverter generator allows you to double your power output by connecting two champion inverter generator.
ROCKPALS SUPER QUIET INVERTER GENERATOR
The Rockpals inverter generator comes with 2000 peak watts and 1800 rated watts. Super quiet inverter technology makes this generator virtually silent, while the "ECO Mode" allows for maximum fuel efficiency. This generator produces clean power for the safe operation of sensitive devices. This Rockpals inverter generator is parallel capable, meaning you can connect two inverters for added power output. This generator only weighs 47lbs, making it suitable for tailgates, camping and more. The Rockpals generators come equipped with two three-prong 120v receptacles, two 5v USB ports, and one 12v DC receptacle.