Kettlebells are a highly versatile piece of fitness equipment. They are named after their appearance, which resembles a kettle with a top handle for carrying their weight. They are ideal for a wide range of workouts including strength training, core training, cardio, and ballistic exercises. You can find different types of kettlebells for sale in sports shops and online.
For those who want multiple weights without having to purchase multiple pieces of equipment, adjustable kettlebells are a great solution. They come in sets that include multiple kettlebells with varying weights. Alternatively, single kettlebells can have different weights added to them.
The ideal kettlebells should provide ample support for weight, have a user-friendly design, not damage surfaces, and be durable. They are great for both gym and home workouts.
When shopping for adjustable kettlebells, there are a few factors to consider such as the user's fitness level, the design and comfort of the kettlebell, and the cost.
A List of Top Best Adjustable Kettlebells
Apex Adjustable Kettlebell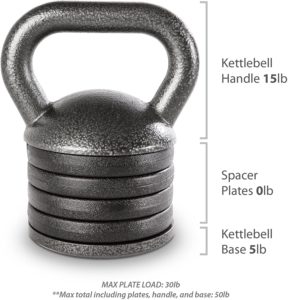 An ideal home and gym piece of equipment is the Apex adjustable kettlebell, a highly efficient muscle training tool. It is the best adjustable kettlebell suited for impressive performance and unbeaten durability. It is made from cast iron with an extra powder coating layer on top that offers a smooth finish and is easy on the hands. It is a great choice for weight training enthusiasts.
Pros
Sturdy heavy-duty solid design
Enhanced grip from U-design handle
Comes with a complete weight set, non-weight discs, and bottom plate
Flexible training sets suitable for different people.
Suitable for wholesome many workouts, muscle gain, and weight lifting
Cons
Limited to 10lb weight plates only
The plates are spacer discs with no weight; weighted plates have to be bought separately.
Yes4All Adjustable Dumbbells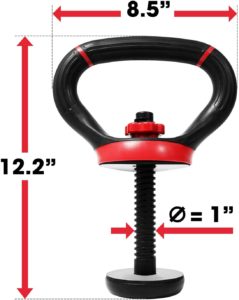 The name might be deceptive, and yes, this weight functions both as a dumbbell and kettlebell, transitioning between the two in seconds. This unique feature is what makes it rank among the best adjustable kettlebells in the market. It is highly affordable as its net cost is lower than some dumbbells or kettlebells sold separately. It is also heavy-duty in nature as the kettlebell handle offers support of up to 100lbs and can be used with 1 and 2-inch weight plates. It is a good startup item for persons looking to start a home gym as it reduces the total number of equipment to buy while fulfilling all the objectives of dumbbells and kettlebells.
Pros
Offers two functions in one, kettlebell and dumbbell
Great for traveling as it is easily dismantled to smaller parts that are more portable
High-quality handle with good grip and large enough to fit both hands.
Adjustable handle supporting up to 100lbs
Saves money
The screw-in clamp provides a secure hold of weight plates.
Cons
Does not come with its own weight plates
End weights may wobble a little as the hold is secure but not perfect.
Mural Wall Art Kettlebell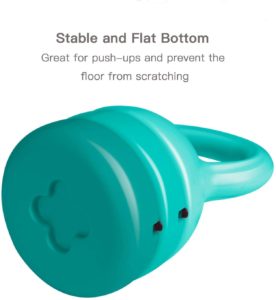 This kettlebell combines style and function in one great workout tool. It's adjustable from 5lbs up and is efficient up to 12lbs. The smooth exterior makes a great surface that prevents scratching or other damages should the kettlebell fall or hit a surface. It is one of the recommended best adjustable kettlebells because its simplistic design makes storage much easier than a full kettlebell set.
Pros
Wide curved handle with ergonomic design.
Soft and polished exterior prevents blisters and cramping of the hands.
Smooth flat bottom preventing floor damage by scratching.
Versatile choices from 5lbs to 12lbs.
Portable due to its small size.
Bright color choices with a choice between teal and pink.
It can be taken apart for easier packaging while on the move.
Enables one-handed and two-handed hold.
Cons
It supports limited weight and may be inadequate for heavy lifters.
Bibowa Adjustable Kettlebell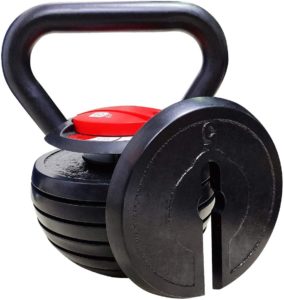 The Bibowa kettlebell is one of the superior kettlebells available in the market. It offers great versatility for use at the gym, home workouts, and caters to both lightweight and heavy lifting needs. It is a reliable set useful for the strength and core training of its users. It offers practicality that allows users to adjust weights conveniently depending on their fitness and training program level. The stackable weight plates ensure that weight is distributed evenly, making it more efficient to control. The lower weight plates help with simpler cardio exercises, whereas the heavier ones help with strength training.
Pros
Great durability as it's made from cast iron.
Offers superior grip with large handle design.
Saves storage space and money.
Stylish and appealing unisex design.
Offers more adjustability than others.
Cons
Quite heavy and bulky, offering limited portability.
Weight plates can be a bit noisy.
Expensive compared to other adjustable kettlebells.
Bionic Body Soft Kettlebell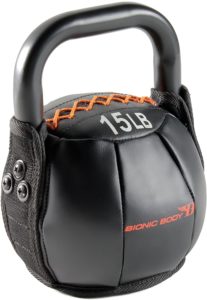 The Bionic Body Soft Kettlebell series is a heavy-duty kettlebell with a soft exterior. The soft fabric prevents damage without compromising its heavy-duty quality, making it great for weight lifting, toning, and other workouts. There are various sizes to it, from 10lbs to 40lbs, that makes it a great addition to individuals on their fitness journey.
Pros
Soft material prevents injuries and damage to surfaces.
Comes in different varieties up to 30lb variety weights
Big comfortable handle for ease of use
A sturdy handle keeps weight in place, preventing wobbling.
Compact design that saves storage space
Comes with varying weights for custom workouts
Clever design
Cons
Limited maximum weight choice of 30lbs
Distance between ball and handle is limited and affects form during workouts.