If you're looking to create a cozy and comfortable outdoor space to spend time with friends and family, an outdoor umbrella is a must-have. However, to ensure your umbrella is sturdy and stable, it's crucial to choose the right base to support it. That's where umbrella bases with wheels come in handy. Not only do they allow for easy movement and positioning of the umbrella, but they also come in different styles to fit your aesthetic needs.
Buying Guide for the Best Umbrella Base with Wheels
Weight when filled
The weight capacity of the base when filled is crucial in determining its ability to provide ample support for your umbrella.
Compatibility with size
The compatibility of the base with different sizes of umbrella poles is an important factor to consider when making your purchase. Opt for a base with a high level of compatibility in case you wish to switch up your umbrella in the future.
A List of Top 5 Best Umbrella Bases with Wheels
Shademobile Outdoor Umbrella Stand w/ Easy Rolling Base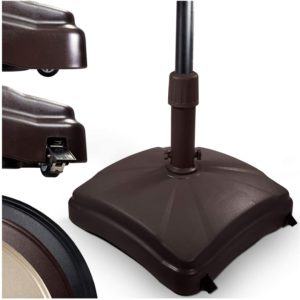 This is a recommendable umbrella base that suits commercial areas or any area you need to install large-sized umbrellas. The base can support a weight of up to 125 pounds, which means you can comfortably use it with outdoor umbrellas. Moving this umbrella base around is easy as it has smooth wheels at the base. Note that the wheels of this base are hidden. It is a versatile base that you can add fillings of your choice.
It is compatible with sand, bricks, or pebbles, to name a few. The wheels on this umbrella base are crafted to lock firmly to the ground, so you don't have to worry about the umbrella rolling off the floor. For umbrella compatibility, this base is compatible with umbrella poles size of 1-3/8-inch to 2-1/16-inch diameter.
Pros
• The wheels are hidden to give the base a silhouette view
• It is relatively stable to support large umbrellas
• The base is compatible with varying types of fillings
• It is quite stable
Cons
• The brakes of this base are quite stiff. It cannot quickly move with the umbrella pole inserted on the base.
California Umbrella 75 lbs. Round Concrete Steel Umbrella Base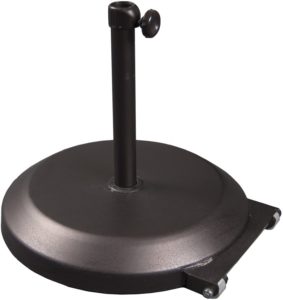 An umbrella base that you can leave outdoors throughout the year is always a great choice. This umbrella base is excellent for people who need to set up umbrella shades for their business or patio and home pool area. The entire base unit is made of weighted and powder-coated steel materials that guarantee durability.
In this case, this is a safe umbrella base that you can use even during the extreme rain seasons since it cannot rust from water contact. This base is compatible with all outdoor umbrellas with a pole size of 1.75 inches round for easy connection purposes. You are not limited to set your umbrella in one place alone.
Meaning, if you want to shift your umbrella to different areas, all you need to do is roll the base around. It has wheels at the base that easily maneuvers on multiple surfaces.
Pros
• This is compatible with all California outdoor umbrellas with 1.25 inches diameter
• It firmly holds umbrellas with 7 to 9 feet high poles
• The base can hold a weight of up to 75 pounds
• It has powder-coated steel material construction
Cons
• Some customers have complained about the wheels being too small. So, it may be hard to move your umbrella on grass surfaces.
Baser Patio 66 lbs Umbrella Base with fillable sandbags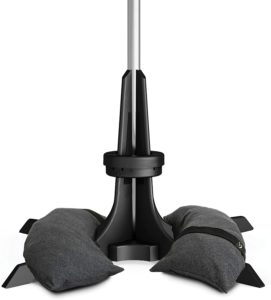 All you need is to fill the provided sand sucks with sand to support your patio umbrella with this base. Thye umbrella base has wheels for easy moving it around when setting up. The base comes with an extension pole made of stainless steel material for durability even when it comes to contact with wetness or high UV rays.
Assembling this umbrella base is easy since it only takes five simple steps to get it up. So, it is a DIY project you can do. The base fills with sand of up to 66 pounds to make sure the umbrella stands firmly even during the extreme windy areas.
However, it is crucial to know that this base is not compatible with the cantilever or side locking umbrellas. You have to use it with table umbrellas to ensure maximum stability when set up.
Pros
• This umbrella has high pole size compatibility
• Setting it up is easy and quick
• The base holds a pole of up to 9 feet high
• It is an affordable model
Cons
• The fact that this base pole does not have a cantilever removes the umbrella pole difficult.
PURPLE LEAF Offset Patio Umbrella Base with Wheels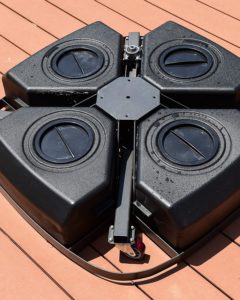 This umbrella base may cost you more than 200 bucks, but it is worth investing in if you need a futureproof umbrella base. It is the right choice for areas that require large outdoor umbrellas since it can hold heavyweights. This base is compatible with either sand or water fillings and can take up to 333 pounds of weight for stability.
No need to struggle to move the base around when setting up the umbrella as it has wheels for maneuvering it around. It is made of premium PP plastic materials well sealed to prevent leakage. Still, the materials are resistant to outdoor weather damages. Meaning, it is a quality umbrella you can leave outdoors.
Pros
• This base is easy to move around
• The base rotates at 360 degrees for easy umbrella installation and removal
• The base has a beautiful and unique design
• This base supports heavyweights
Cons
• This is a pricy umbrella base
Christopher Knight Home Louise Outdoor Concrete Circular 80lb Base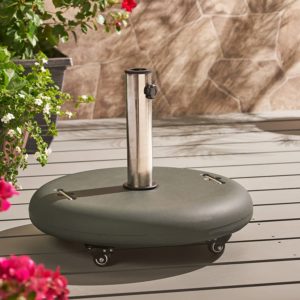 create some shade on your home outdoors by equipping a durable umbrella on this base. It is designed to accommodate people who prefer sitting on multiple areas since it has base wheels to smooth the umbrella around. This umbrella base is made of quality materials with a weather-resistant design so that you can leave it on outdoors.
Equipping the umbrella pole on this base is relatively easy since it has a locking knob on the side. Another feature I love about this umbrella base is the green color that blends well with nature outdoors.
It is an excellent base for supporting garden umbrellas, poolside umbrellas, or even patio umbrellas. This base is compatible with umbrella poles with a diameter of 1. 6 to 2. 2 inches, and it can support a tall pole of up to 11 feet high.
Pros
• This umbrella pole supports a weight of 80 pounds
• Connecting it to the umbrella pole is easy and quick
• It has a rust-resistant umbrella pole holder
• This umbrella base has a neutral finish for a perfect outdoor blend
Cons
• Some customers have complained about the wheels getting stuck when moving the umbrella.