As more people struggle with stress and anxiety, it's not uncommon for them to experience sleep problems, especially the elderly. To address these issues, various natural remedies have been suggested, including the use of weighted blankets, also known as gravity blankets, which are heavier than regular comforters and offer a sense of comfort that helps people stay asleep throughout the night.
When selecting a weighted blanket, it's essential to find one that meets your needs and provides the calming benefits of deep pressure therapy. If you're looking to combat anxiety and alleviate sleep troubles, a cooling weighted blanket may be the right choice for you. It can help calm an agitated body and make it easier to fall asleep. By taking good care of yourself and opting for a weighted blanket that suits your needs, you can better navigate the challenges of the current pandemic.
[ Best Outdoor Throw Blankets ]
A List of Top Best Weighted Blankets for Anxiety
Quillity weighted blanket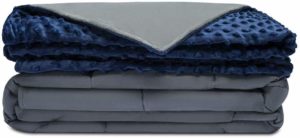 This is one of the best choice weighted blankets with a lot of positive online reviews. Designed with a total of 7 layers of comfort, it has a breathable interior part with 100% cotton lined with polyester. Encased in two extra layers of polyester, the micro glass beads control temperature and prevent leakage.
This brand comes with a Micky duvet for extra warmth. You have a choice to choose blankets that weigh from just 5 pounds to 30 pounds. It is a fantastic choice.
Ultra-breathable, 100%-cotton outer layer
Optimal temperature control
Removable minky duvet cover: soft-to-the-touch, super-comfy
Army garden weighted blankets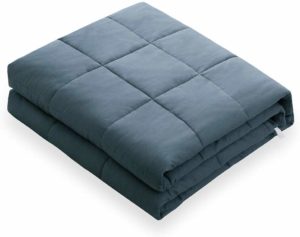 This blanket offers the best value for your money. If you are suffering from anxiety and you want to have a deep sleep, then you have to consider it. It has 7 layers also for comfort and warmth. It has 3 layers on both sides around the beads. Two layers made from thick and breathable materials, the 3rd layer is soft fiber. We have 10 colors to choose from.
Made of 3 layers each side around the beads
More glass beads and less fiber fill design
Better weight and temperature control
YnM cooling weighted blankets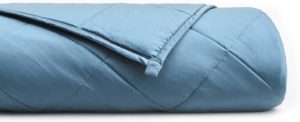 If you are a hot sleeper, then this an excellent choice for you, these weighted blankets use breathable, moisture winking bamboo viscose to help your body to stay calm as you sleep. It has two thin layers between the cotton fabric and polyfill to prevent glass beads from leaking after washing for some time.
Ultra soft
Skin friendly
Cool to the touch bamboo fabric and glass beads
Features high specific heat capacity
Calmforter blanket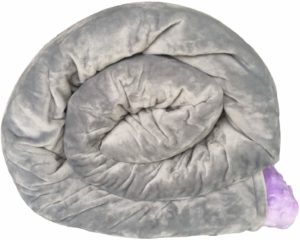 This is the best reversible weighted blanket in the market right now. It has many uses for relieving anxiety. On one side, if this blanket has textured dots to keep those people with fidgety hands to be calm. It the other side of the comforter blanket has a smooth finish to keep your body warm. This blanket comes in a variety of color combinations, and its outer cover can be zipped out to make it easy to wash.
Outer cover is silky soft on one side
Completely reversible
The outer cover easily zips apart for fast, easy washing and quick drying
Casper weighted blankets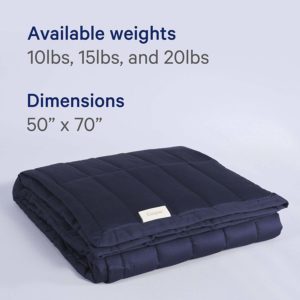 This brand is available in various weights, 10, 15, and 20. It is the latest addition to the famous Casper premium bedding. It is easy to fold but bulky; it can be fit into a duvet cover easily. Its lining is made up of 100 percent polyester. Made from soft, breathable, the outer cover is durable cotton. Its outer shell has 205 thread counts, which prevents your body from overheating at night.
100% cotton
The micro bead fill evenly distributed to hug your body better
Batting fill – 100% Polyester, 6 denier, 90gsm
Inner liner – 100% Polyester, Twill construction, 140 thread count, 60gsm