If you're looking to boost your endurance and muscle definition, incorporating weights into your cardio workouts can be a game-changer. Even a small amount of weight, such as a few pounds on each arm, can significantly increase your strength and endurance during the workout. Selecting the best wrist weights can be a challenge, but some top choices include.
These wrist weights are user-friendly and can handle any workout regimen you have.
When it comes to wrist weights to enhance your workouts, you have numerous options. However, not all of them are of high quality or built to last. Consider some of the options mentioned above to see which ones will elevate your workout performance.
A List of Best Wrist Weights for Walking
FILA Accessories Wrist Weights Set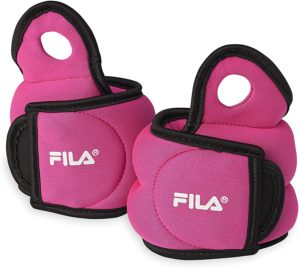 These two-pound per arm wrist weight set is the perfect addition to any workout plan you have. They secure tightly to your wrist with Velcro and the no-slide design allows them to not slip around as they stay attached to your thumb, even if you are moving around and completing intense cardio. Power up your walks and other cardio workouts while enjoying the durable and soft fabric, making workout more enjoyable each day.
The Benefits
Comes with a thumb lock design to help keep the weight in place.
Soft and comfortable to wear.
2 pounds on each arm makes it the perfect weight for most people starting out.
The Negatives
These weights need taken care of. They break easily and the sand will leak quicky without proper care.
The Verdict
While these may not be as durable as some of the other wrist weights out there, these are soft and will give the perfect boost to any workout you choose to do.
Boveker Wrist and Ankle Weights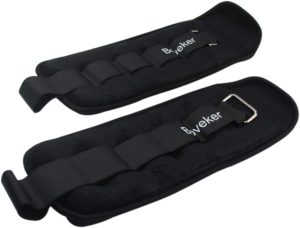 These weights are made for men, women, and kids making them perfect for anyone who wants to add some resistance training to your workout. You can choose between several different weights, from two pounds a pair up to eight pounds, so you can increase your resistance based on your needs. You can also choose to wear them on your ankles or your wrists, increasing endurance on any part of the body you would like.
The Benefits
They stay in place and are easy to wear.
Work as ankle and wrist weights so you can tone the whole body
Different weight choices to fit your needs.
The Negatives
It takes some time to adjust them to the right position.
The Verdict
These weights make it easy for anyone to workout. With the easy adjustability, you will find that anyone of any size can wear these to increase their endurance and enjoy a better workout each time.
SPRI Wrist Weights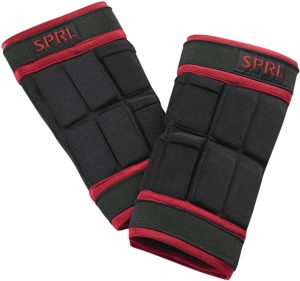 The SPRI wrist weights are the perfect way to build muscle tone and definition, even during your cardio workouts. You can choose between two and four pound weights to get the exact amount of resistance that you would like. And these provide a secure fit so the weights will stay in place while making them easy to take on and off when you are all done. These are simple and easy to use, making them easy to add to any workout you would like.
The Benefits
Two choices in weights to use.
Comfortable and will stay in place without being uncomfortable.
The Negatives
The hole for the thumb to keep things in place is pretty small for most hands.
Some customers experienced issues with the sand leaking out over time.
The Verdict
These weights are simple and easy to use. They don't have a lot of features and you may find that the thumb hole is going to be too small for your hand, but they are easy to secure in place and can help make your workout more efficient.
j./fit Non-Adjustable Wrist and Ankle Weights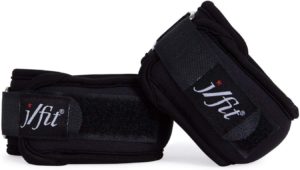 If you are looking for something that is simple and easy to work with, then this is the best option. They are comfortable and non-adjustable so you don't need to waste time getting them on and off. The neoprene construction will help them last longer while being comfortable. These are designed to fit small and medium hands and wrists. These are just one pound per pair, giving you just a little bit extra resistance while you finish your workout without overdoing it.
The Benefits
Comfortable and strong so they will last a long time.
You do not need to adjust them at all so they are easy to put on and off.
Only one pound per arm to add just a little bit of resistance.
The Negatives
They will not work well if your wrists are bigger.
The Verdict
If you need a simple pair of wrist weights to help you get your workout done, then these from j/Fit are perfect. They are comfortable and secure to make your workout a little bit better for you.
Henkelion Adjustable Weights for Men, Women, and Children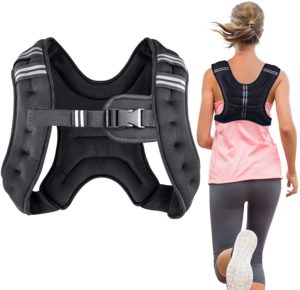 These weights offer different sizes for each person to use, from 2 to 10 pounds so you can add on the resistance that you want for your workout. These work out perfectly for ankles and wrists, with a comfortable cotton material so you can wear them each day without rubbing or chaffing. These weights are also adjustable so you can choose how big or small you need them for your own body. They are designed to be tough, making them the perfect option no matter what type of workout you plan to do.
The Benefits
Lots of weights to choose from. You can have a whole collection and enjoy how much resistance you get.
Easy to adjust for everyone who wants to use them in the family.
Durable and comfortable for all your workouts.
The Negatives
Some customers complained about the smell of these when they first received the weights.