If you have a toddler at home, I believe that you agree with me that these are curious beings who love to explore. In fact, keeping a toddler in one place isn't easy. Why? The reason you will want to get a means to keep them in one location without boring them. You can them sit and with plenty of toys. But this might not be the best decision. Some chairs are hard and uncomfortable to sit on. While others risk the sitting posture of your toddler. As such, I would recommend buying the best toddler chair. Such chairs are customized for kids to help them stay in one place without getting bored or tired.
Whether you are looking for a place to sit while eating, studying, playing, or relaxing. So, buy one of these chairs to provide a positive influence on the mood of your toddler.
A List of Top 10 Best Chairs for Toddlers
Marshmallow Furniture, Children's 2 in 1 Flip Open Foam Sofa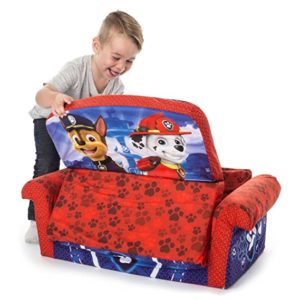 Perfectly sized for kids, the chair is best for reading, eating, watching TV, or playing. Better, it features a soft foam seat. This offenoughient comfort, making it ideal for extended seating sessions. The sofa has a polyester fabric slipcover with a safety zipper for easy maintenance. Asides that, its foam is lightweight so that kids can move it from one room to the next without any help.
KEET Roundy Rocking Kid's Chair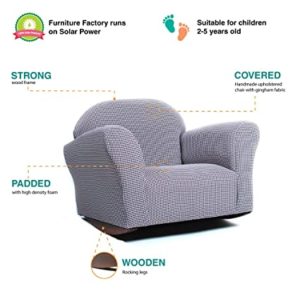 An excellent choice for the best toddler chair for kids aged 2 to 5 is Keet Rocking Kid's Chair. It features a beautiful Gingham fabric that attracts kids' attention. Moreover, the chair includes a strong wooden frame to enhance durability. The high-density foam is another addition designed to offer added user comfort.
Costzon Children Sofa with Footstool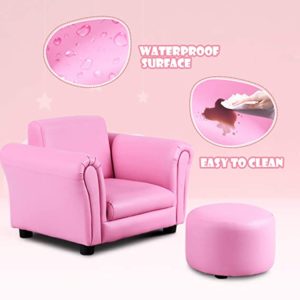 Responding to the need for a stylish, durable, and safe toddler chair is Costzon Children Sofa. Easy to clean, it features a leather-like material that wipes clean using a damp cloth. Besides that, the chair comes with an ergonomic backrest, superior sponge with a density of 20. As a result, you can get it when looking for a children's chair that is comfortable to sit on. Featuring a durable wood frame, the chair can bear a load up to 100lbs. Asides that, it is lightweight, so suitable when you need a chair that kids will easily move around.
Sesame Street Elmo Upholstered Chair by Delta Children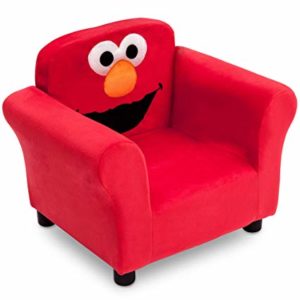 This chair is suitable when used by ages 3-6. It holds a weight of up to 100lbs because of the sturdy hardwood frame. The chair includes a padded seat to guarantee comfort. Asides that, it meets or exceeds all CPSC safety standards to ensure ds' safety.
Marshmallow Furniture, Children's Foam Comfy Chair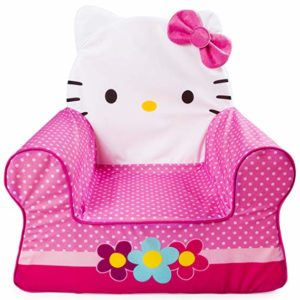 Durable and easy to maintain, I recommend Marshmallow Furniture, Children's Foam Comfy Chair. It is made using 100% polyester and 100% PU foam. The materials are covered in a removable and machine-washable slipcover for easy maintenance. Additionally, the chair features soft foam. As such, it is a perfect choice when looking for the best chair for toddlers. It's comfortable for extended hours of sitting. The chair comes in shapes that resemble kids' favorite characters. So that they can easily get interested in sitting in it.
Delta Children Upholstered Chair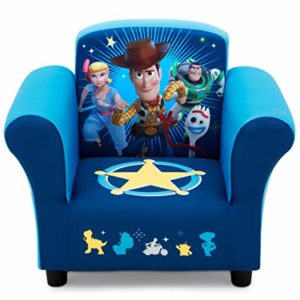 A must-have toddler chair is the best for kids who love toys is Delta Children Upholstered Chair. It comes in vibrant and fun graphics to arouse a kid's interest in using it. Asides that, the chair features faux leather and hardwood frame. This enhances strength enabling it to support weights up to 100lbs. The chair meets or exceeds the standards set by CPSC to guarantee safety. Asides that, it wipes clean using water and mild soap, which assures you of easy maintenance.
Animal Adventure Children's Plush Chair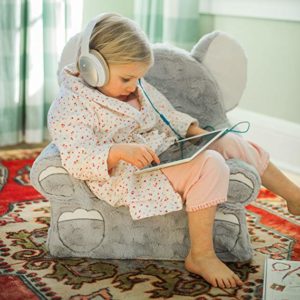 Suitable for kids aged 18 months and above, this a lightweight toddler chair that is easy to move around. The chair features a removable and machine washable plush slipcover for easy maintenance. Also, it includes a zipper closure featuring a child-safe design so that it is safe when used by kids.
Kid Sofa Chair, Children 2 in 1 Flip Open Foam Sofa Bed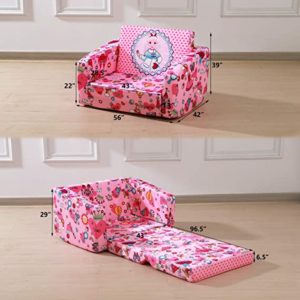 A perfect combination for a multi-functional and durable toddler chair is this 2 in 1 Flip Open Foam Sofa Bed. Kids can use the chair as a seat, playing surface, or bed. A seat made from high-density foam, the chair is comfortable when used for prolonged hours. Moreover, it features a pattern printed cover. The printing doesn't fade easily to enhance durability. The chair's frame is lightweight, making it easy to carry. The sofa bed includes a removable and washable cover to guarantee easy maintenance.
Dream Tree Toddler Table and Chair Set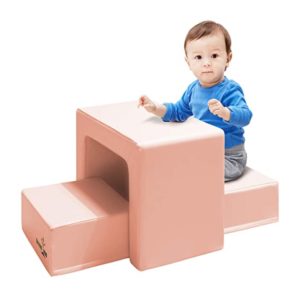 A toddler chair suitable for use in daycare, and preschools is Dream Tree Toddler Table and Chair Set. CPSIA compliant, you can get it with an assurance that it is safe to use. Better, the chair features faux leather and PU foam. These materials are comfortable and safe for use by kids. The soft foam and rounded edges are other features. The would cut the worry of bruises as a result of sharp corners and edges.
Trend Lab Kids Plush Character Chair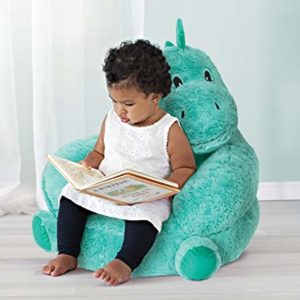 This is a portable plush chair. It is suitable for use by kids aged 12 months and above. The chair features a cuddly design suitable for snuggling, reading, and relaxing. The green plush fur plus the contoured support make it ideal during seating sessions. Also, the head turns to the side so that the child can rest comfortably against the animal.