It is desirable to invest in fabulous dining set with a perfect balance of style and function to make your dining setup unique. Budget-friendly excellent dining set brings the right ambiance to your home's sanctuary.
There are hundreds and thousands of best outdoor bistro set in the market today. An outdoor lounge provides a perfect spot for morning coffee or summer barbecues and a chatting spot while catching up with your friends or a family meetup. In this article, we have a review of the 5 best and stylish picks which should blend perfectly with your décor style and offer a comfortable, sturdy, and simple design.
How to Select the Best Outdoor Bistro Sets
We have invested time in research and review of the most attractive, durable, and comfortable bistro sets with varying seating styles and options. We have considered customer service ratings, ease of setup, and quality standards. Before selecting any of these dining sets, consider these factors.
Your outdoor space. How ample is your outdoor space? Most sets have a circular, square, rectangular, or square table. Choose a shape that complements the size of your outdoor space. Allow additional area for guests to move around.
Consider the material. Depending on your location, certain materials might be more considerate than others. A rainy area, for instance, would preferably work best with steel sets. Salty conditions on the other end would not auger well with metals. Extreme sun and heat may, on the other hand, damage certain fabrics without UV protection.
Match your style. Before purchasing an outdoor dining set, match the aesthetics of your outdoor space. If you intend to host small gatherings, you might consider a set with a long rectangular table. Smaller bistro sets will give you a fantastic intimate setting.
Is comfort your key goal? Comfort is a key concern in the bistro dining set. If you are spending more hours outdoors, you may want to invest in ergonomic dining chairs with supportive backs. For sleek chairs, choose ones with a hammock-like sling for back protection.
Top 5 Outdoor Dining Sets
Flamaker 3-Piece Wicker Patio Set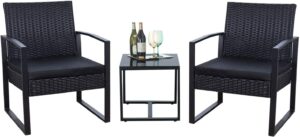 Flamaker patio set is a top Amazon bestseller in the outdoor bistro. The set has two armchairs and a bistro table. These chairs are roomy and are inclusive of one cushion, each with attached armrests. It is a comfortable type to chat, wine, and dine any time of day while enjoying the outdoor breeze.
Each armchair supports over 250 pounds, inclusive of the soft padded cushions. If you wonder about the outdoor dust and debris, there's a removable cover for each cushion for better cleaning. If two seats are not enough for you, there is an option available for four chairs which is a big boost for a big family.
Wisteria Lane Outdoor 5-Piece Wicker Patio Set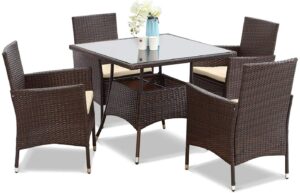 Wisteria offers you a lounge in style. It's a pretty patio set from Wisteria, which comes with four wicker seats, each with a cushion and a cushion cover for easier laundry, and a table with a tempered glass top. The set comes with a removable glass top giving it a fantastic upscale look. It's much easier to clear bread crumbs and spills from tabletops.
To withstand wear and tear, the set is reinforced with a galvanized steel frame which is all-weather wicker. One astounding fact about wisteria lane outdoor sets is that the wickers are made by hand. They are handwoven from synthetic polyethylene rattan and offer a weather-resistant finish while still maintaining the fabulous classy look. The seats are wide with a curved back, a full armrest and come with cushions with a zippered and washable cushion cover.
Alpine Corporation MSY100A-BL Patio Setting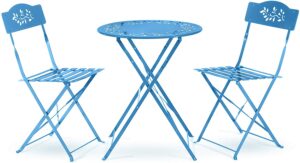 Alpine's patio set is a bright, vibrant coloured 3-piece bistro steel set with two foldable chairs and a table. The set offers an additional pop colour to your outdoor space. Each piece is lightweight and skillfully crafted from robust and long-lasting steel. The alpine patio set has a slatted chair and table design to avoid any water pooling. They have easy maintenance and a resilient steel nature which has a unique shiny paint finishing. Clean the chair with mild soap with water, and it looks as good as new.
If you want a durable outdoor dining set, this set will offer a long-lasting perfect choice. The durable set with the best floral cut-out details is easy to wipe and maintain a fantastic patio set.
Grand Patio Folding Table and Chairs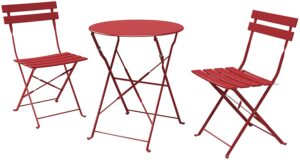 Grand patio is a perfect choice for a compact and vibrant patio best for any small yard and balconies. The Grand patio is available in different set colours and has vibrant colours that stand out perfectly. The set is available in several different colours in the bistro market. The available options are sunset yellow, aqua blue, and the addition of other bright colours. They add the flare of a summer collection, adding life to your outdoor space. The set is a perfect choice if you are looking forward to economizing on space that will fit in tight spots like shared apartments or small balconies.
The Grand patio is a set of two foldable seats and a table. It has a reinforcement of powder-coated steel frame, which is rust-resistant and is portable for easy storage. It's an easy-to-clean set with colours that offer brightness with blue, hot pink, yellow, white, and classic black colours.
PHI VILLA 5 Piece Patio Dining Set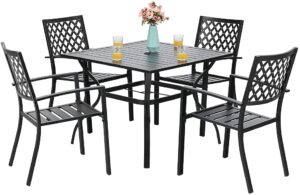 Appearing fifth in our top five bistro dining sets review is the PHI VILLA set. The set prioritizes your seating comfort. It has four ergonomic design chairs with 360-degree swivels. The set is perfect for a large family morning coffee as it comes with four seats and a table. It has a square table made from black powdered and coated with steel to form a sleek all-weather durability contemporary look.
The set focuses on high-end comfort with breathable Textilene fabric and a quick-drying olefin sling backrest seat. You don't have to worry about much exposure to the sun as the seats have a UV-resistant and supportive seat. In addition to the added comfort features, they have curved armrests with a sturdy round base.