As your child grow from infant to toddler, they tend to try and pull themselves up onto furniture. When this begins to happen, you know its time to get a baby walker. Thus, motivating him/her to start walking on their own.
A good baby walker should have several features to ensure the safety and well-being of the baby. These features include:
Adjustable height: The walker should have the ability to adjust to the baby's height as they grow taller.
Safety brakes: The walker should have a braking system that prevents it from going too fast or going down stairs.
Sturdy frame: The walker should have a sturdy frame to provide stability and support for the baby as they learn to walk.
Wide base: The walker should have a wide base to prevent it from tipping over.
Comfortable seat: The walker should have a comfortable seat with a padded backrest and a safety harness to keep the baby secure.
Educational features: Some walkers come with educational features such as toys, sounds and lights that are designed to help the baby learn and develop.
Easy to clean: The walker should be easy to clean, in order to keep it hygienic for the baby.
Foldable and easy to store: The walker should be easy to fold and store, to save space when not in use.
A List of Top 10 Best Baby Walkers For Carpeted Floors
Baby Trend Trend 2.0 Activity Walker, Blue Sprinkles, Blue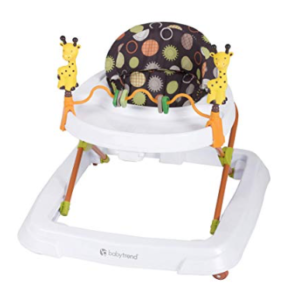 With multi-directional wheels, the Baby Trend Trend 2.0 Activity Walker glides across carpeting. The extra-wide base helps provide your toddler with excellent support and stability. Ensuring him/her with a safe enjoyable time while learning to walk. What we really like most about this product is: lightweight and easy to use.
Product Specifications:
Large Tray With Plenty of Room
3-Position Adjustable Height
Compact Folding Travel Frame
Removable Toy Bar W/Toys
High-Back Padded Seat
Easy to Clean Seat Pad
Disney Winnie The Pooh Music and Lights Walker, Bees Knees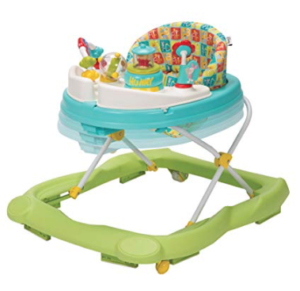 There's nothing more adorable than Winnie The Pooh. And this Music & Lights Walker will entertain your little one for hours. It has twelve different songs that children oh so love dancing to. Parents will appreciate the convenient swing-open snack tray. It's ideal for your toddler's favorite snacks and toys. One thing we like is the pop-out rubber stoppers for ease of carpet movement.
Product Specifications:
Two Swing Open Activity Trays W/Four Winnie-The-Pooh Themed Toys & Twelve Songs
Machine-Washable Padded Seat
Sturdy Wheels With Better Traction on Floors & Carpeting
Adjustable 3-Position Height
Kolcraft Tiny Steps 2-in-1 Activity Toddler and Baby Walker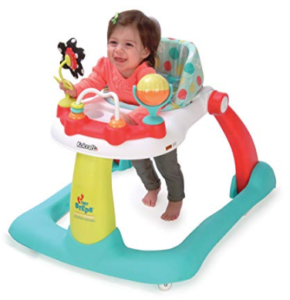 Easily convertible, the Kolcraft's Tiny Baby Walker help your child learn as they grow. It features many developmental toys and activities to keep baby entertained. Your kid will love running around the house with it.
Product specifications:
Adjustable Seat Pad Height
High Foam Seat Back For Comfort & Support
Unique 2-IN-1 Design Converting From Seated Activity Walker To Walk-Behind Device
Easy Folding Compact Design For Flat Storage
Independent Front Swivel Wheels For Easy Maneuvering
Foldable Activity Baby Walker for Boys and Girls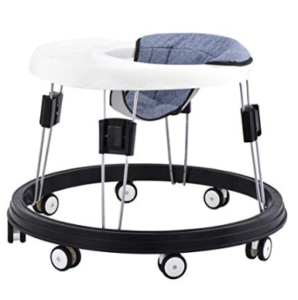 The ICUBY Folding Activity Baby Walker is voted #1 for its anti-rollover design. Helping parents to relax just knowing their baby is safe and sound. Unlike other walkers, this one has 7 adjustable height positions of 16.5"-17.3"-18" and 9"-10.1"-11.2"-12.3". Growing with your child as they transition from baby to toddler! Not surprisingly, the eight wheels makes it easier for kids to get around. And you can ingest the hype really easy.
Product Specifications:
Tool-Free Foldable Design
Eco-Friendly BPA Free PP Plastic
Easy-To-Clean Removable Backrest
8 Anti-Rolling Universal Wheels
Delta Children Lil' Play Station 3-in-1 Activity Walker, Blue/Green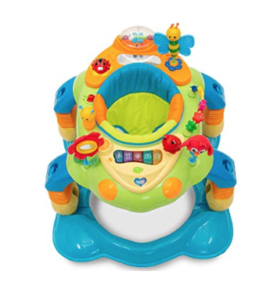 The Delta Children Activity Walker encourages toddlers to use their imagination. Promoting early childhood development with its bouncing/jumping action and 360-degree spinning seat. Encouraging your child to reach, stretch, and sit up. Also, the design of the walker makes it easy to rotate around the house with hard floor.
Product Specifications:
JPMA Certified, Exceeding All Safety Standards
Easy-To-Clean Washing Machine Safe Removable Seat Pad
3-IN-1 Activity Center Converting From Baby Walker to Rocker, Stationary
Activity Center, and Bouncer
Upgraded Version Baby Walker, Baby 6-24Months Baby Multi-Function Anti-Rollover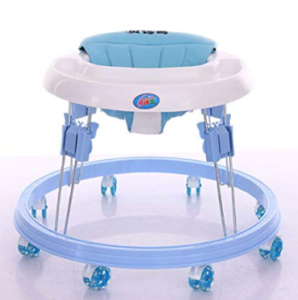 Available in black, pink, and blue, this Upgraded Baby Walker is best for babies between the ages of 6 and 24 months! Its large BPA free feeding tray allows your baby to happily snack while sitting or walking. Like having an accessible dining room table right in front of them.
Product Specifications:
Skid-Resistant Friction Pads on Base
Easy-To-Fold Compact Design For Quick Storage
8 High-Quality Non-Scratching Crystal Wheels, Protecting Baby From Rollovers
Spoon Walker, Baby Trend Walker Easy to Fold, Adjustable Seat Height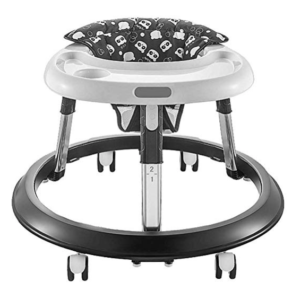 Make your baby's first steps a bit easier with the Easy-To-Fold Spoon Walker! Along with having an extra-wide base, that's safe and stable. It also features 3 different height settings which support up to sixty pounds. Ensuring your baby a safe time while playfully strolling around.
Product Specifications:
3 Different Height Settings
2.0 Developmental Activity Tray
Easy-To-Clean Removable Seat Pad
Baby Einstein Sea & Explore Walker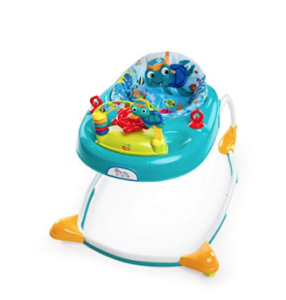 Great minds start with Little Einsteins and the Sea & Explore Walker will have your baby walking upon the sea bottom. Super sturdy and durable, this walker is a must-have for any parent! With everything a baby could dream of including activity lights and ocean sounds.
Product Specifications:
Removable Light & Sound Toy Station
High Back Seating For Additional Support
Easy-To-Clean Seat Pad
3 Adjustable Seating Positions
Tiny Love Meadow Days Here I Grow 4-in-1 Baby Walker and Mobile Activity Center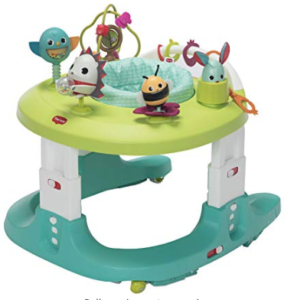 The Tiny Love Meadow Days 4-IN-1 Baby Walker is an award-winning global baby product. Helping your dear little angel as he/she starts to develop and grow. Unlike others, this walker has a 28 fun-filled activities to keep them occupied for hours.
Product Specifications:
Safety Lock Wheels For Stationary Play
4-IN-1 Design Converting From Baby Walker to Push-Along, Jumper, and
Stationary Activity Chair
360-Degree Rotating Seat
Adjustable Height Option For Growing Babes
BABY JOY Baby Walker, Foldable Activity Walker Helper with Adjustable Height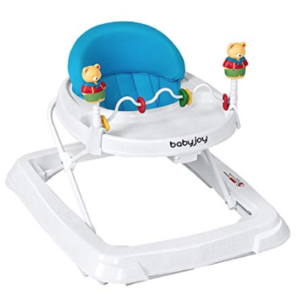 Baby Walker is ready for your little one to buckle and have an enjoyable time. It has a wide variety of features and removable toys which makes him/her have tons of entertainment. Plus, the removable easy to clean seat is every parent's dream.
Product Specifications:
Four Sturdy Wheels For Good Carpet & Floor Traction
Extra-Wide Base For Superior Stability
Convenient Foldable Design
Breathable Seat Pad Made of 100% Polyester Batting