Knowing the weather is very important as it helps you to plan your temperature control schedule. The best analog outdoor thermometer will help you track the environmental temperature conditions in and around your home. These thermometers offer accurate readings and are so essential to the modern yard, hunting blind, deck, or shed.
These are some of the best analog outdoor thermometers you can find for monitoring temperature and humidity. Not only does it provide a high degree of accuracy, but it is also easy to use. They provide great information at a glance and they come at a reasonable price. Moreover, it features high-quality construction for durability. We hope this review helped you get the right outdoor thermometer for you.
There are so many different kinds of analog thermometers out there. To help you find the best thermometer for you, we cover the top 5 best analog outdoor thermometers in 2021. Let's get started!
A List of Top Best Analog Outdoor Thermometers
Taylor Precision Products 18-Inch Patio Thermometer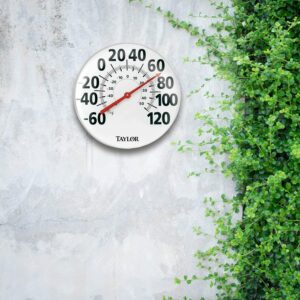 The Taylor Patio thermometer is our top recommendation if you are looking for an affordable digital thermometer. It features bold black numbers large enough for reading from a distance. In addition, this thermometer has a wide temperature range from -50 ° C to 50 ° C which makes it ideal for places with variable climates, for example, the Arizona desert and the Alaska tundra. Its shatterproof lens and weatherproof metal construction allow you to use it without worrying about damage.
This 18 " extra-large dial thermometer has a 2 " number track and is large enough to allow you to read across the yard. It has two built-in hangers that make it easy to install anywhere. They are offered with a 1-year manufacture warranty. For best results, do not place this thermometer in direct sunlight.
Brands Store Indoor Outdoor Waterproof Thermometer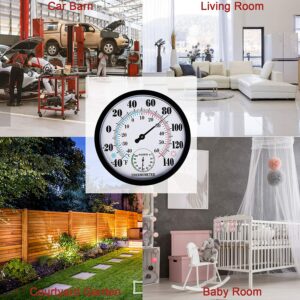 This Indoor Outdoor Thermometer has a sleek and modern design without compromising on functionality. It has a temperature range from -40 to 140℉ making it ideal for all climates. Typically, this thermometer features a large 10-inch black bold lettering that allows the user to easily read the humidity and temperature levels. This thermometer's waterproof and weather resistance can be applied to the decoration of yards, offices, homes, garages, etc.
This Thermometer has an environmentally friendly design and does not require batteries. What's more, it only takes less than 3 hours for this thermometer to automatically match with the local temperature.
Springfield Bold and Big Low Profile 13.25-Inch Outdoor Thermometer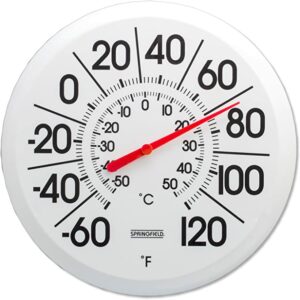 Watch the temperatures fall and rise with the season with the Springfield patio Thermometer. It is a 13-inch analog thermometer that will give trustworthy temperature readings and add classic style to your outdoor space. Typically, this thermometer has high-impact resin construction for durability and comes with a clear view protective lens that enables you to easily take temperature readings. Its UV-fade-resistant and quality graphics withstand harsh outdoor elements.
There is a bright white background that makes the black lettering legible. You can read the temperature in both Celsius and Fahrenheit. What's more, this thermometer is lightweight making it easy to carry from one place to another. Finally, the thermometer is weather and Shatter-resistant and will serve you for a long time.
MARATHON BA030001 Vertical Outdoor Thermometer

This 16-inch Outdoor Thermometer by MARATHON features a simple design with bold and big letters for easy and quick readings. It has a wide temperature range from -40°F to 120°F. In addition to that, this thermometer is mercury-free making it environmentally safe and non-toxic. Ideally, its easy-to-read numbers allow you to know the temperatures at a glance. Moreover, it is easy to operate and it does not require instructions.
The Holes on the bottom and top allow you to hang it up versatility with the nails or screws. The screws are also included for easy installation. What's more, this thermometer features weather-resistant construction for a climate such as rain, snow, etc.
MIKSUS 12 inches Premium Indoor-Outdoor Steel Decorative Thermometer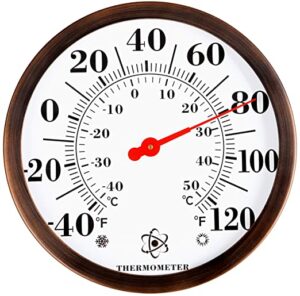 If you are a gardener and have a greenhouse or you are a person who loves temperature data, this indoor-outdoor thermometer is for you. It features a 12-inch diameter with a white dial face and a high-definition thermometer for easy taking of the temperature value. Plus, this thermometer has a stylish red indicator and bold black numbers, so you can perfectly see the temperature reading from a distance.
It is easy to take the temperature reading in Celsius and Fahrenheit. Moreover, it has a temperature range of -40 and 120 Fahrenheit to accommodate moisture changes and all general temperatures. Another thing, this thermometer can be used everywhere including in the garden, yard, home, office building, swimming pool, room, shops, school, hotels, etc.