When purchasing a crib mattress, comfort and safety should be the primary considerations. With numerous styles to choose from, including various thicknesses, the task of finding the right crib mattress for your baby can be overwhelming. To simplify the process, we've compiled a list of the top 10 most affordable and high-quality crib mattresses for you.
A List of Top 10 Best Affordable Crib Mattresses
Newton Baby Crib Mattress and Toddler Bed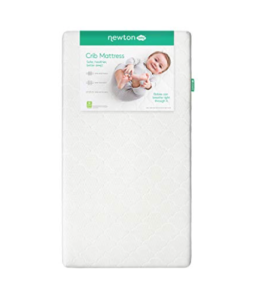 The Newton Baby Crib Mattress is right for you! This is the very first totally breathable crib mattress which is washable. And it has a 3-dimensional spacer material. Allowing air to flow right through, helping to keep baby cool and comfy. Breathable and firm, this product is just perfect for most babies.
Product Specifications:
Greenguard Gold Certified
Durable & Easy to Wash
Safety Approved
Hypoallergenic and Pediatrician Recommended
Colgate Eco Classica III Dual Firmness Orthopedic Style Crib Mattress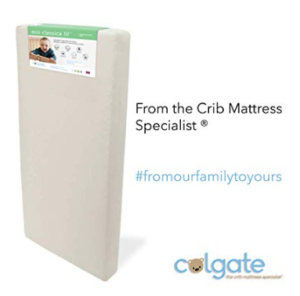 Make the Colgate Eco Classica III your baby's next crib mattress. Colgate specifically designed this mattress to be both safe and comfortable. The super firm side is to provide babies and infants with the proper support. Why we feature this product? Well, the crib mattress is wrapped snugly inside an ultra-soft certified organic cotton cover. It's waterproof-backed to ensure the mattress stays dry. With this mattress, the baby's skin remains closest to organic cotton.
Product Specifications:
Manufactured With Eco-Friendly Materials
6 Inch Orthopedic Lightweight Mattress
Super Soft Waterproof Crib Mattress Cover
Fits Most Cribs & Toddler Beds
Official Amazon Exclusive NapYou Dual Comfort Crib Mattress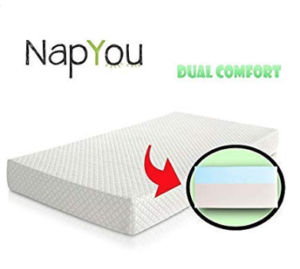 The Exclusive Nap Crib Mattress provides babies with soft or firm support. Whether you have a baby or toddler, it is suitable for both cribs and toddler beds! Unlike typical crib mattresses, this one comes free of any coils or soybean fillers. Giving your sweet babe a comfy place for him/her to sleep.
Product Specifications
Composed of CERTIFIED CertiPUR-US FOAM
100% Waterproof Organic Cotton Blend Crib Mattress Cover
Dimensions of 52 x 27 1/2 x 5.5 Inches, Fitting Both Standard Cribs & Toddler Beds
Dourxi Crib and Toddler Mattress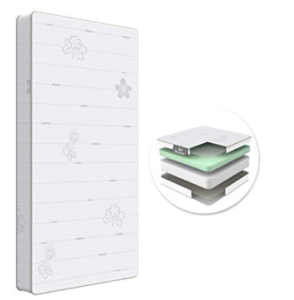 For a crib mattress that is firm, yet soft and cushiony, look no further than the Dourxi Crib & Toddler Mattress! Guaranteed to have your precious little one sleeping throughout the night. Plus, it comes with a 10-year warranty in the event of a manufacturer's defect.
Product Specifications:
Easy to Clean Removable Mattress Cover W/Safe Sewn Seams
Breathable Polyurethane Foam Mattress Core
Fits Most Standard Cribs & Toddler Beds
Comes Delivered in a Lightweight Easy-To-Carry Box
Milliard Premium Memory Foam Hypoallergenic Toddler Bed and Next Stage Baby Crib Mattress
The Millard Premium Memory Foam Crib Mattress will help your baby sleeping in no time! It comes with an ultra-soft bamboo mattress cover as extra layers of plush softness. Allowing them to have a restful nights slumber and peaceful nap time.
Product Specifications:
High-Quality Memory Foam Mattress
Manufactured Using Certi-Pur Certified Foam
Washing Machine Safe Removable Extra Soft Bamboo Cover
Guaranteed Not to Lose Its Shape
Breathable Design for More Regulated Sleep Temperature
Sealy Baby Firm Rest Waterproof Toddler & Baby Crib Mattress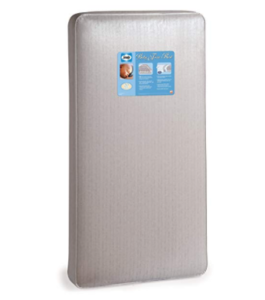 Sealy's Baby Baby Crib Mattress is comfortable. Interwoven steel coil system, the baby gets firmness and posture support. Its anti-sagging design to evenly distribute the baby's weight for a good sleep.
Product Specifications:
Hospital-Grade Waterproof Surface & Binding
Greenguard Gold Certified for Indoor Air Quality
Safety & Quality Tested and Approved
Flame Retardant Chemical Free
Naturepedic Organic Crib Mattress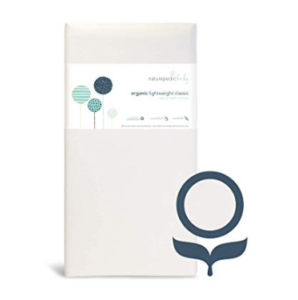 Your precious little angel will be sleeping with the Naturepedic Organic Crib Mattress! Made from 100% organic cotton, the lightweight mattress is quite durable. Plus, its convenient design makes it easy to change crib sheets and bedding. Helping tobetween back in between changings.
Product Specifications:
360-Degree Easy to Clean Waterproof Mattress
Free of Harmful Chemicals, Flame Retardants, Latex, PU Foam, Soy, Vinyl/PVC, Phthalates, and Formaldehyde
Naturepedic Safety Approved
Emily Crib Mattress, GOTS Organic Cotton and Natural Eco-Wool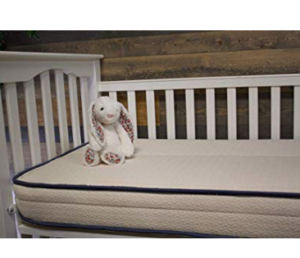 The My Green Emily Crib Mattress is handcrafted of the finest certified organic cotton. Its two-sided design allows parents to flip it over in the event of an accident. Ensuring a sturdy product which will hold up while your baby grows.
Product Specifications:
Heavy-Duty 150 Coil Innerspring
Oeko-Tex Certified Eco-Wool Quilted Mattress Cover
Lead-Free By UL Laboratories & Naturally Flame Retardant
L.A. Baby Natural I Two in One 5.75″ Crib Mattress with Coconut Fiber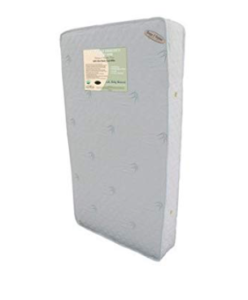 The L.A. Baby Natural 2-in-1 Crib Mattress is so soft and comfy that your baby will feel sleeping on a pile of feathers. It provides them with a safe hypo-allergenic sleeping environment. Ensuring them to have a more enjoyable rest.
Product Specifications:
Manufactured Using Deluxe Waterproof Fabrics
100% Quilted Bamboo Cover
Waterproof Backing
Equipped With A Dust Mite Barrier
Essentials VI Natural Bamboo Cover 5.75″ Crib Mattress with Natural Coconut Fiber & Organic Cotton Layer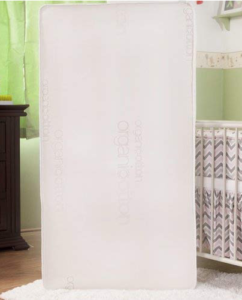 The Essentials Bamboo Crib Mattress has the BEST materials for the healthy of baby! Made up of all-natural coconut fibers, it is a mattress to last throughout the years. Your baby is going to have a peaceful nap time on this 100% USDA certified organic cotton mattress!
Product Specifications:
Thicker Guage Border Rods For Added Support
15.5 Guage Steel Coiling For Maximum Durability
Extra Firm & Supportive