A bassinet is a safer alternative to co-sleeping with your baby. When placing it by your bed, the height should match your bed mattress. After 6 months, when your baby can sit up or roll over, it's recommended to move them to their own bassinet in the same room. Look for a bassinet with vertical, air-permeable sides (such as mesh) for better safety, instead of air-impermeable sides.
A List of Top 10 Best Bassinets For Breastfeeding
Milliard Side Sleeper Bedside Bassinet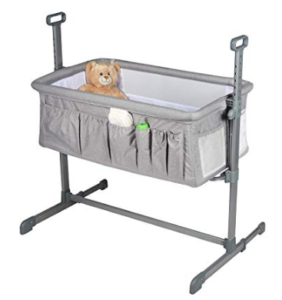 Millard's Side Sleeper Bassinet was specifically designed for infants up to twenty pounds and fits perfectly beside a parent's bedside! Lab-tested and US certified this bedside bassinet meets all of the safety requirements. Ensuring your baby will be safe and sound while napping.
Product Specifications:
Multiple Storage Pockets
Waterproof Mattress Cover & Washable Sheet
Slightly Inclined to Prevent Reflux
Travel Bassinet for Baby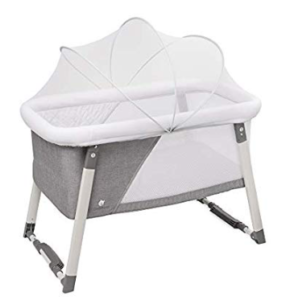 The Travel Bassinet By ComfyBumpy is equipped with a high-quality rocking cradle to provide your precious little one with an amazing nights sleep. You simply can't go wrong with the ComfyBumpy Bassinet, with its sturdy steel frame and breathable mesh walls. Guaranteed to last until your next baby comes along!
Product Specifications:
Extra-Soft Mattress
Portable & Lightweight W/Additional Carry Bag
Automatic Rocking Mode
Mika Micky Bedside Sleeper Easy Folding Portable Crib, Grey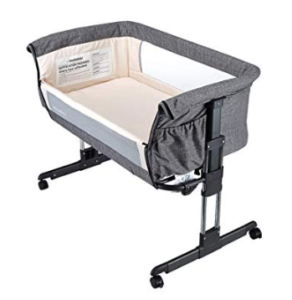 Perfect for breastfeeding moms, the Mika Micky Bedside Portable Crib can fit right beside your bed! Helping to give you and hubby a peaceful nights sleep. It is suitable for baby's 5 months of age who cannot yet pull themselves into an upright position and weigh under thirty-three pounds.
Product Specifications:
7 Adjustable Height Positions
Easy-To-Open Side Panel
Stable Support Bottom W/Sleeping Board
Unilove Hugme Plus, Bedside Sleeper & Portable Bassinet Includes Travel Bag, and Mattress, Shadow Grey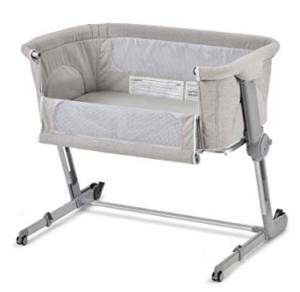 Just as its name suggests, the Unilove Hug Me Plus Bassinet allows your precious baby to be safe by your bedside! Soft and gentle, the soft padded sides and double-sided mesh windows keep air circulating to keep babe cool. It also gives you a birds-eye view of him/her while they sleep.
Product Specifications:
Easy-To-Adjust 6 Position Incline
4 Anti-Locking Wheel Brakes
Secure Attachable Frame Hooks For Better Stability * 3-IN-1 Design, Transforming From a Standalone Crib, Co-Sleeping Cot, and Travel Cot
Dourxi 2-in-1 Stationary&Rocking Bassinet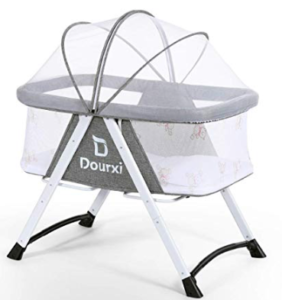 Newborn babes sleep up to 17 hours a day, but most won't stay asleep for more than a couple of hours. The Dourxi 2-in-1 Stationary/Rocking Bassinet is guaranteed to provide him/her with regular sleeping patterns! Plus, its quick-pull-up collapsible design is great for traveling parents.
Product Specifications:
Breathable Mesh Side Panels
Detachable Mesh Insect Canopy
Optional 2-IN-1 Rocking & Stationary Bassinet
Side Zipper Opening For Easy Breastfeeding
Uenjoy Automatic Baby Basket Electric Rocking Multifunction Baby Swing Cradle Bed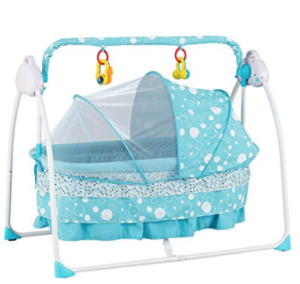 The Uenjoy Automatic Baby Basket is every mother's dream! Equipped with all the bells and whistles including a 5-speed adjustable swing frequency. It even has a USB connection for downloading your favorite lullabies for your sweet angels listening enjoyment.
Product Specifications:
Built-IN Calming Music Device
3 Timing Settings of 15, 30, and 45 minutes * Remote Control
Adjustable Bed Pillow
Detachable Toy Set
WBPINE Baby Cradle Swing, Automatic Baby Bassinets Swing Crib for Baby Boy and Girls with Music (Brown)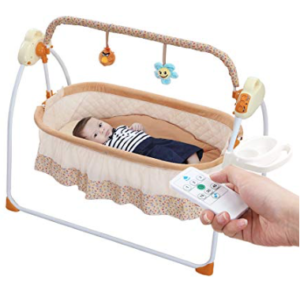 The WBPINE Baby Cradle Swing is unlike any other product available today! Equipped with a fastening seat belt, allowing mom and dad to step away without any worries. Not to mention the thick steel pipes for added durability and support, which guarantees this baby bassinet to last throughout the years.
Product Specifications:
12 Soothing Songs and USB Flash Drive Interface
Remote Controlled Cradle Swing
Multi-Power Mode Via USB or 4 AA Batteries
CBBAY Electric Cradle Baby Swing Bed Automatic Bassinet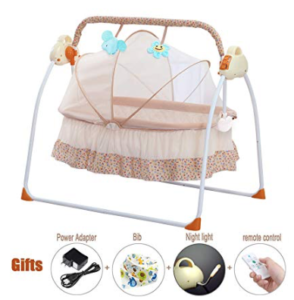 Available in blue, pink, or camel colorations, making the CBBAY Electric Cradle Swing Bed an awesome baby shower gift! This is a sure fired parent's helper that's easy to install and take apart without the use of any tools. It also cleans up quickly, which is great for those unexpected baby bottle leaks.
Product Specifications:
3-Point Clasping Seat Belt
Soft Firm Mattress
Easy-To-Clean & Remove
5 Meter Capable Remote Control
U-Shaped Baby Bed Pillow
Graco DreamGlider Gliding Baby Swing, Percy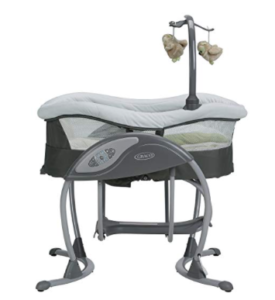 Just as its name suggests, the Graco DreamGlider Gliding Baby Swing will have your baby sleeping on CLOUD 9! The easy one-hand recline lever allows you to lower the seat without disturbing your precious little one from his/her slumber. With a wide selection of soothing sounds for their listening enjoyment, you can even opt for a unique nature sounds environment.
Product Specifications:
2-Speed Gentle Vibration Settings
Comfy Seat W/Plush Body Support & 3 Position Recline
6-Speed Swinging Options
Simmons Kids Classic Silent Auto Gliding Bassinet, Emerson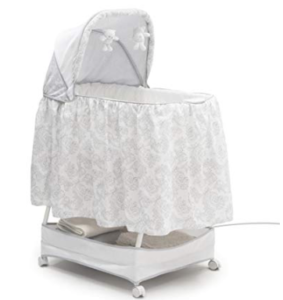 Lull your infant to sleep with the oh so relaxing Simmons Kids Classic Silent Auto-Gliding Bassinet! Not only does it have mesmerizing toys and sounds, but also features a soft glowing nightlight as well. Making this a popular bassinet for loving parents to have. Why we recommend this product? Well, it's adjustable and removable canopy with 2 mesmerizing overhead toys, which will entertain your baby if they wake up.
Product Specifications:
Silent Auto-Glide Motion
Removable Canopy Parents Can Adjust
AC Adapter Operable or W/4 AA Batteries
Spacious Storage Basket * Easy-To-Clean Removable Toys
One Inch Thick Soft Plush Mattress
Locking Wheel Casters For Easy Room-To-Room Mobility