An electric, adjustable standing desk powered by active linear motor drives offers ease of use with just a press of a button to change height. Compared to manual tables, these desks offer convenience, speed, and improved performance. This type of desk helps mitigate the negative effects of prolonged sitting on the body.
[ The Best Electric Standing Desk Converters ]
The market is flooded with various standing electric desks, making it difficult to find a reliable, functional, and dependable one without guidance. This comprehensive guide makes the shopping process easier by presenting the best and trustworthy products. Without a helpful guide, it can be easy to make a mistake, especially if it's your first time shopping for an electric standing desk.
A List of The Best Electric Standing Desks
Fezibo best electric standing desk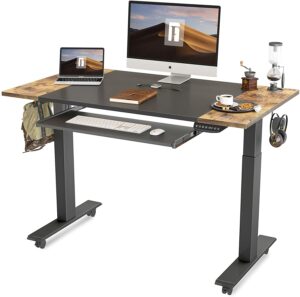 Specs
(a) Desktop size – 24*63*27.6 inches
(b) Item mass- 83.6 pounds
(c) Model- motorized
This desk is perfect for users who might need more space for their devices, folders, monitors, and papers. The model of this product is made from superior and durable materials assuring the user it's long-lasting. Besides, this desk material and style are customizable and look decent, adaptable enough to even work in small rooms or massive studios.
In essence, this desk is built with lower and upper crossbars, which increase its lateral stability and also offering it ample space. Overall this desk will provide you with a fantastic transformation of your current working station to a multipurpose zone to eventually handle your businesses, enjoy lunch and be creative.
Pros
(a) Durable components
(b) Silent gear and motors
(c) Adjust the height and ease to use
(d) Embraces ergonomic
(e) Increase stability
Cons
(a) Does not have colors accessible for workstation
ApexDes elite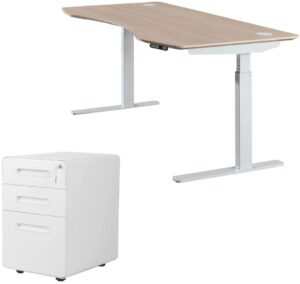 Specs
(a) Desktop size 60 -71 crawls*33-crawls
(b) Model – motorized
(c) Height range – 49- inches – 29 inches
If you need a standing electric table that will still leave ample space for your monitors and other related peripherals, this is the best. It is built with a double-motor system and features, albeit smooth a little slow when it comes to the lifting mechanism.
Further, the lifting capacity is more than 100 kg making sure that the user puts plenty of his/her hardware on the top. Besides, this table is built with a center beam offering more remarkable stability even without a crossbar underneath. Additionally, the table is also built with superior quality materials to serve the user for an extended period.
Pros
(a) Competitive pricing
(b) Superior –quality build
(c) Lifting capacity above 100 kg
(d) Massive desktop surface area
Cons
(a) Come with a bit slow lifting mechanism
Flexispot EN1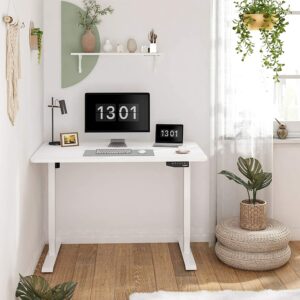 Specs
(a) Height range – 48.6 crawls – 29 crawls
(b) Type – motorized
(c) Desktop size – 30inches * 48 inches
This is among the best and affordable standing tables you own recently in the market. You will love its quiet motor lift, which comes with a keypad for allowing three heights presents which can get customized. Further, it is delivered with a programmable alarm for allowing the user to know the correct time of changing from sitting to standing or vice versa is correct.
Besides, its frame is manufactured with durable dual-steel pretty and tubing solid for serving for a long duration. Additionally, the table also comes with a five-year active warranty meaning the producer's company is sure of the durability of this product.
Pros
(a) Three height presets
(b) Affordable
(c) Come with a quiet motor lift
(d) Durable with a five-year active warranty
Cons
(a) Not that much stable when it full height
Uplift V2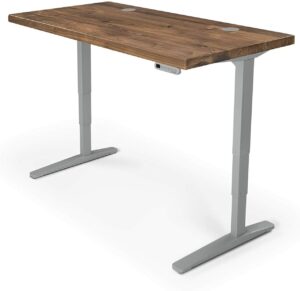 Specs
(a) Desktop size – 30*42 inches and up to 30*80 inches
(b) Model – motorized
(c) Height range – 51.1-22.5 inches
Uplift is rated among the best standing electric desk, which benefits from its superior quality and its stability. The uplift is decently stable thanks to the complete built-in and durable braces used to make them. Besides, the double-motors mean that this desk is designed to change the height rapidly, with a quiet and smooth action.
And the anti-collision tech is helpful since if your desk hits something when lowering, it stops. There are different and attractive selections of this desktop when it comes to color and sizes, and admirably, it is backed with a seven-year active warranty. Additionally, the uplift is accessible in commercial and standard standing desk versions that offer more stability.
Pros
(a) Different and attractive color and size selections
(b) Outstanding build quality
(c) Quiet and smooth motors
(d) Many mounting points for users accessories
Cons
(a) It is a bit expensive compared to others related
Fully Jarvis Bamboo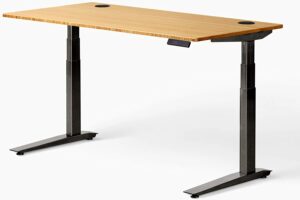 Specs
(a) Desktop size 27*30 inches up to 30*78 inches
(b) Model – motorized
(c) Height range – 45.75- 26.5 inches
This bamboo electric standing desk is environmentally friendly due to its tough polyurethane coating. Besides, you will love how this desk can support more than 150 kg and ith wholly extension appropriate for users who are tall as six and seven inches. This desk is designed as a sturdy one and moves in different positions quietly and smoothly. The adjustments created using a simple down and up control panel to set various heights of your comfort.
Further, the user can also get different selections with this product, such as drawers, desk lamps, and desk shelves for the monitor. Additionally, this desk is manufactured with superior quality material and a limited warranty to give the client peace of mind.
Pros
(a) Programmable handset
(b) Manufactured from sustainable and long-lasting bamboo
(c) Support more than 150 kg of weight
(d) Full-extension for individuals with about six and seven feet
(e) Durable
Cons
(a) The free trial are a bit limited
(b) Come with higher price compared to others related