A baby bunting bag is a practical solution for keeping your baby warm and cozy, no matter the weather conditions. Unlike blankets or other products that may pose a choking hazard while the baby is sleeping, the bunting bag fully covers the baby, leaving only the face exposed. This versatile accessory can be used in a stroller or car seat, making it a convenient choice for parents on the go.
Investing in the best baby bunting bag is a smart choice for those who want to ensure their baby's comfort and safety. With a top-quality bunting bag, you can keep your little one warm and snug all day long, regardless of the weather outside.
A List of Top 10 Best Bunting Bags for Babies
wonbye Newborn Infant Baby Bunting Bag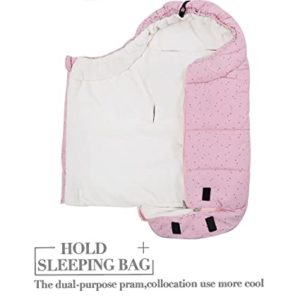 Replace loose blankets for a comfy fit with the help of Wonbye Newborn Infant Baby Bunting Bag. Made using 100% high-quality cotton, the bag is super soft to enhance comfort. Another benefit is that it offers two ways of wearing. You choose to have your baby wear it like a vest or a long sleeve. For easy diaper changes, the bag has an inverted zipper.
JJ Cole – Urban Bundleme, Canopy Style Bunting Bag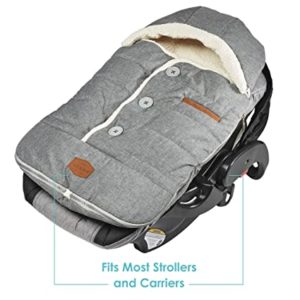 You keep your baby warm without the need for blankets once you get JJ Cole – Urban Bundleme. It is suitable for infants aged 0-12 months. The bag features a thermal plush interior and quilted nylon exterior. The exterior shields him/her from the rain while the interior wraps your baby in warmth. Also, it features a removable top and detachable hood. You can remove the top and hood during hot weather and attach them back during cold weather.
The removable back panel is another addition that allows your baby's back to rest on the car's seat. Also, integrated safety straps rest directly on the child to keep him safe. Machine-washable, this is the best for a bunting bag for babies that is easy to maintain. Besides that, this product comes in many colors and patterns..
Waterproof Extendable Baby Bunting Bag by funlife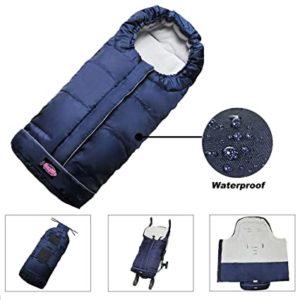 Want to boost the safety of your little one after putting her or him in a bunting bag? Well, I would recommend getting this product. With five harness slots, it can keep your baby protected at all times. Also, it features bright reflective strips to for your baby's visibility in the dark. Antislip materials are an addition to maintain your baby in place with movement. Better, the bag incorporates two straps that allow you to attach it onto the baby carriage.
The bunting bag is for use during three seasons. Thanks to the Oxford exterior and soft fleece lining would shield the baby from the snow, wind, and rain. Also, it features a 3-way zipper for easy wearing and removal. Two bottom zippers are easy to extend and to control the wearing for temperature control.
Aurelius Stroller Bunting Bags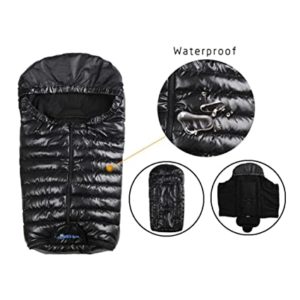 This is a premium-quality bunting bag. It is made using soft fabric with a cotton lining to enhance the comfort of your little one. The bag includes a 5-point harness feature. This helps to keep your little contained to enhance safety. For fast diaper changes, it features a zipper pull design that can be unzipped from top to bottom. Also, a generously-sized foot pouch opens up to help your baby maintain warm and cozy feet. The bunting bag is easy to wash.
Lemonda Winter Outdoor Tour Waterproof Baby Infant Stroller Sleeping Bag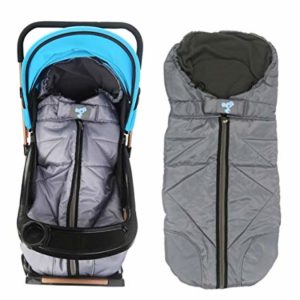 Next, we have a high-quality sleeping bunting bag from Lemonda. Using waterproof cloth and fleece, the interior makes the baby's comfort and safety. Asides that, a middle zipper surrounds it to hold the baby into it to guarantee safety. 7 positioned notches are another addition for 3-point or 5-point seat belt strollers. There is a backrest and a double shoulder strap perforation for the safety of the baby.
PER Baby Warm Stroller Bunting Bag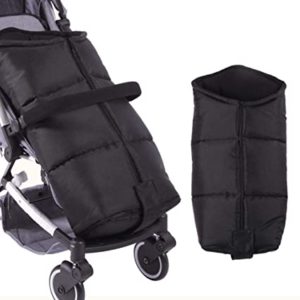 For cold weather use, this bunting bag is best when traveling during the winter and autumn. Made using high-quality Oxford fabric and a fleece lining, it the best to maintain a warm baby. Moreover, the bag includes a removable bottom. This helps kids to expose their feet when the weather is warmer for a comfortable experience. A 3-point safety hole is another plus designed to keep the baby safe in all instances.
Diagtree Baby Bunting Bag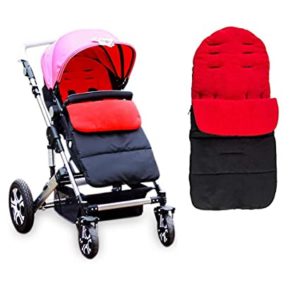 Featuring a 3-in-1 design, this product acts as a foot cover, quilt, or bunting bag. It features environment-friendly materials. The fabrics are water-resistant and cold-proof. The bunting bag is suitable for cold weather use. Also, the bag is hand-washable and machine-washable for easy maintenance. With quality double zippers, you can zip it up from the bottom or detach the front part directly.
Orzbow Warm Bunting Bag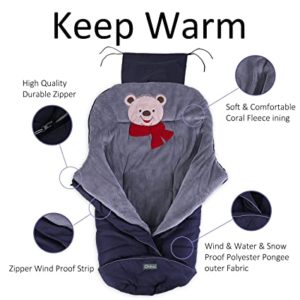 The Orzbow Warm Bunting Bag is a environment-friendly bunting bag for stroller. It features a polyester pongee outer to protect your baby from the wind, snow, and water. In the interior, it features a soft premium coral velvet lining to keep the baby warm and comfortable. Featuring anti-slip materials, the bunting bag can stay in place with intense movement.
Better, it includes two straps for secure attachment to the baby's carrier. Equipped with a middle zipper, you can be sure to gain instant access to the baby. Also, a footmuff bottom is zippable for easy temperature regulation. The five harness slots are other features that help to keep the baby safe. The bunting bag includes a 3-or-5-point belt that makes it adaptable to most strollers.
SYSOV Design Baby Stroller Bunting Bag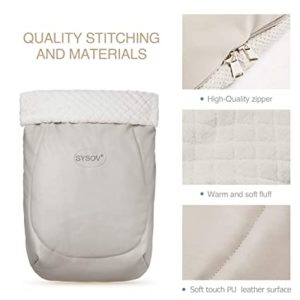 Made using high-quality and soft PU leather, this is one of the best choices for a durable bunting bag. The inner fabric is warm and soft to enhance the baby's comfort. On the other side, both sides incorporate zippers for easy access to the baby. The bunting bag is good for warm and cold weather conditions, thanks to the detachable hood. Better, it attaches to 3-point or 5-point seat belts in a stroller.
ZIIIW Baby Stroller Sleeping Bag Universal Bunting Bag
ZIIIW Baby Stroller Sleeping Bag is great as a sleeping bag, baby quilt, and baby stroller bag. Made from the finest artificial fleece lining, the bunting bag can keep the baby warm in bad weather. How? Because it's moisture-proof and cold-proof fabrics.
Lightweight and portable design, the product is best for outdoor activities and camping. The back features anti-slip material for the baby's safety. Additionally, you can attach the footmuff to the baby carriage to safeguard the baby.