The best electric standing desk converters are necessary for several reasons:
Health Benefits: Prolonged sitting can lead to various health issues such as back pain, poor posture, and reduced circulation. Standing desks allow users to alternate between sitting and standing, promoting better posture and reducing the risks associated with prolonged sitting.
Improved Focus and Energy: Standing while working can increase energy levels and improve focus, reducing fatigue and increasing productivity.
Versatility: Electric standing desk converters can be easily adjusted to different heights, allowing users to switch between standing and sitting positions with ease.
Space-saving: Standing desk converters can be placed on top of an existing desk, saving valuable floor space in a home or office.
Aesthetics: A standing desk can also enhance the look of a workspace, adding style and modernity to the work environment.
In conclusion, the best electric standing desk converters provide numerous health, productivity, and aesthetic benefits, making them an essential tool for modern workspaces.
[ The Best Electric Standing Desks ]
[ The Best Computer Desks for Small Spaces ]
A List of Best Electric Standing Desk Converters
Victor Electric Dual Monitor Standing Desk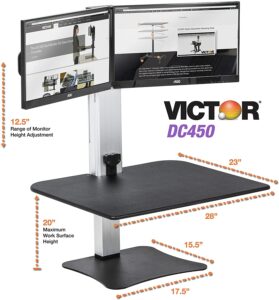 Transform your sit-down desk into a sitting or standing desk using the Victor Electric Dual Monitor Standing Desk. This desk features a 28" wide by 23" deep surface for the ergonomic placement of a keyboard, mouse, monitor, telephone, or paper. Additionally, the standing desk incorporates an electric motor design. Using the included button, you can press it once to activate the motor and raise the desk to the standing position or lower it to the seated position.
The Victor Electric Dual Monitor Standing Desk features a durable construction comprising an aluminum rear tower, metal bracket, and a steel base plate. The steel base integrates felt base pads to protect the furniture the standing desk is placed on and to protect the desk from slipping away from the furniture. Easy to set up, no mounting, clamping, or bolting is necessary with this standing desk. Plus, the desk includes a safety sensor that detects when the desk contacts an object when lowering for guaranteed safety.
Pros
Sturdy steel base prevents tipping.
Scratch-resistant laminate coating guarantees durability.
A safety sensor can detect objects underneath the work surface.
The monitor heights can be set independently.
Cons
The motor is quite noisy when lowering the height.
AVLT Dual 32″ Monitor Electric Standing Desk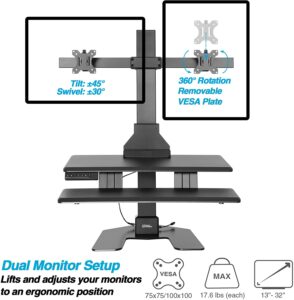 Improve your health by assuming the right posture while working using the AVLT Dual 32″ Monitor Electric Standing Desk. This desk uses a powerful motor that raises the working surface and monitors from 3.9" to 23.6". Better, the electric lifting system features a memory function. This function can store up to three programmable ideal heights for easy setup depending on your needs.
An included timer is another worth feature. Setting it up informs you when it is time to stand up for better ergonomics. The standing desk features a 28.3" x 15.7" working surface plus a 28.3" x 8.7" keyboard tray to provide adequate room for your computer accessories. Still, the desk integrates a cable management system for easy organization of the cables.
Pros
The standing desk supports a dual monitor setup.
The desk features a stable and sturdy construction.
It can support office supplies with a weight of up to 55lbs.
The distance between your viewing and typing position is customizable.
Cons
The keyboard tray isn't adjustable.
FEZIBO Dual Motor Height Adjustable Electric Standing Desk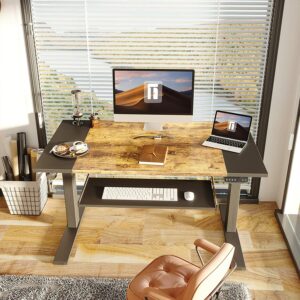 If you need an electric standing desk for use from the floor surface, I would recommend the Fezibo Electric Standing Desk. This desk integrates swivel casters that rotate up to 360 degrees. Using them you can transport the desk wherever it is needed quietly and smoothly. Adding to that, there is a desk cable management rack. This rack offers adequate space suitable for organizing cables and power strips.
The standing desk features a solid construction for lasting reliability. Also, it features a large 48" x 24" work surface to provide adequate space for a monitor and its accessories. Designed to support the sitting and standing positions, the desk's height is adjustable from 27.6" to 47.3" using three preset buttons. Finally, the desk integrates a powerful and smooth dual motor lift system for easy adjustment of the desk's height.
Pros
The pull-out keyboard tray frees up the desk space.
Sturdy steel construction guarantees durability.
An anti-collision system protects the table from bumps and scratches.
The swivel caster wheels are lockable.
Cons
Time-consuming to assemble.
Stand Steady Techtonic | Electric 2 Arm Monitor Mount Standing Desk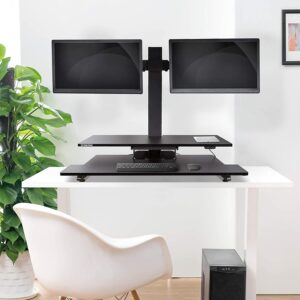 The Stand Steady Techtonic is a dual mount electric standing desk. It adopts a power lift technology that allows you to raise and lower it with a lot of ease. Adding to that, the desk integrates a virtually silent motor. Because of this, you will never disrupt your coworkers as you transition from the sitting to the standing position.
The mount can hold two VESA-compatible monitors and swivel them up to 240°, spin them up to 360°, or tilt them up to 15°. Designed for long-lasting performance, the standing desk features a durable metal base. Additionally, the desk highlights a compact footprint of 31.25" x 20" for easy setup on different workspaces.
Pros
Leveling feet adjust to fit uneven desk surfaces.
Cable management clips facilitate the easy organization of the cables.
The standing desk fits screens ranging from 13" to 24".
Spacious desktop and keyboard shelf free up a lot of space.
Cons
·Poor assembly instructions.
VersaDesk Power Pro USA Manufactured | Electric Height-Adjustable Desk Riser Standing Desk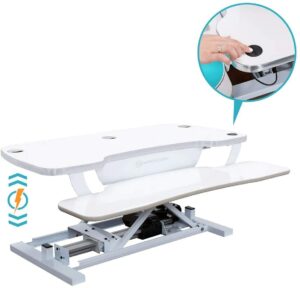 The VersaDesk Power Pro Desk Riser is a high-quality electric standing desk. It features a quality carbon steel frame for durability and stability. Additionally, there are sealed ball-bearing roller glider wheels to provide a smooth and quiet movement. The desk integrates an electric lift system that provides a smooth height adjustment up to 20".
Additionally, it features a whiteboard surface finish that provides you with a chance to write on it using a dry erase marker. The desk stands on a 12-gauge powder-coated steel base fitted with felt pads to protect it from slipping on the desktop surface. Plus, it is fitted with three grommet holes for the organization of the computer cables easily.
Pros
The desk remains stable on all height settings.
A push-button control allows for the effortless adjustment of the desk's height.
An LED light strip illuminates the keyboard.
The desk has a spacious keyboard tray.
Cons
Limited colors to pick from.