Weighted sleep masks are specifically designed for individuals who struggle to fall asleep quickly. These masks feature small beads that apply pressure to the eyes to block light and relax the head and eyes. They can be used either cold or warm, depending on the desired effect. In addition to improving sleep, they also effectively alleviate headaches and migraines caused by stress or anxiety.
Here are the top five best weighted sleep masks available in the market. Made with pressure-providing beads, these masks offer effective treatment for improved sleep, reduced migraines and headaches, and diminished puffiness around the eyes. Most of the masks we reviewed offer both cold and warm treatment options.
[ The Best Sleeper Recliner Lift Chairs ]
A List of Best Weighted Sleep Masks
Weighted Sleep Mask Pain Relief Mask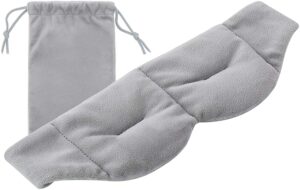 If you always experience pain in your head, migraine, or puffy eyes, I recommend getting this weighted sleep mask. It is a mask that provides cold and warm pressure treatment to eliminate these issues and more. Also, if you suffer from insomnia or disrupted sleep patterns, the mask helps to soothe your nerves to reduce stress and other symptoms causing insomnia. The weighted sleep mask features tiny massage beads stitched on a pad to provide a soothing effect around the eyes area. The fact that the weighted cover provides either cold or warm pressure treatment accommodates different users.
What we like
· This mask helps to improve sleep, relieve head pains and eliminate eye problems
· You can acquire both cold and warm pressure treatment using this weighted mask.
· The mask conforms to the eyes for a great fit, plus has back fastening straps to hold it.
What we don't like
· The mask feels a bit rough and maybe uncomfortable to people with sensitive skin
BARMY Weighted Sleep Mask for Women and Men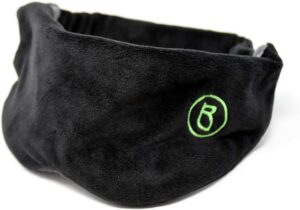 This is a flexible weighted sleep mask ideal for both men and women. with a weight of around 0. 8. Oz, this mask is relatively light and comfortable for people who may want to utilize it for longer hours. If you have a problem sleeping in areas with natural lighting, this is to go for a mask since it presses on the eyes to block off the light. The inner part of the mask features micro glass beads essential for providing enough pressure. The cover of the mask is removable for easy cleaning.
What we like
· The straps are adjustable for a comfortable fitting around the head
· It is easy to maintain this mask since the cover is removable to clean
· Your mask helps to relax the eyes and head nerves for a restful night
What we don't like
· This mask is limiting since it does not offer warm pressure treatment
NatraCure Microwavable Weighted Warming Eye Pillow Mask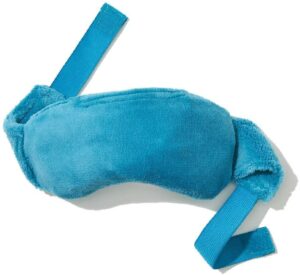 This weighted sleep mask is compatible with the microwave, and thus, if you enjoy heat pressure treatment, the mask will fit you. You can use the mask while sleeping or experience constant headaches since it does a great job relieving pains, anxiety, and stress while improving one's sleep. The mask features silica beads on the inside stitched on a comfortable soft fabric. This mask is a one size fit since it has elastic bands for fastening at the back of the head.
What we like
· This weighted mask provides both cold and warm treatment
· This mask helps to relax nerves for improved sleep
· You can utilize the mask to relieve head and eye problems
What we don't like
· The velcro elastic bands on this mask are pretty small and may be uncomfortable for people with large heads.
Cozynight Weighted Eye Mask for Women and Men-Heatable and Freezable Sleep Mask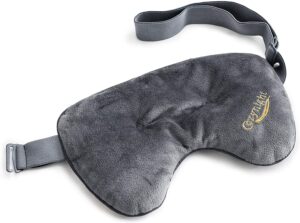 If you always have problems sleeping when traveling, I recommend you get this fantastic sleeping mask from Cozy night. The mask utilizes both cold and warm pressure treatment depending on your needs. Therefore, you can use it to relieve stress, migraines, anxiety: eyes' puffiness, and headaches for better sleep. The silica beads in the mask provide a soft and comfortable pressure around the eyes for fast relief. The headband on this sleep mask is adjustable, which qualifies it as a safe mask for both men and women.
What we like
· This sleep mask comes with a lifetime warranty
· The mask has multiple treatment benefits
· This mask helps one to fall asleep
What we don't like
· Some customers have complained about this mask being too bulky. You may need to remove some beads to balance the weight.
ASUTRA Silk Eye Pillow for Sleep

Get that relaxed evening while relieving eyes and head pains with this weighted sleep mask. The mask is made with comfortable materials, so it is safe to place next to your skin. The mask has natural ingredients to ensure the safety of your eyes and effective results as well. The mask is multifunctional since you can use it when sleeping, relaxing, and meditating. The mask blocks light so you can have an interrupted moment.
What we like
· This weighted sleep mask is only made with natural materials that are comfortable to your skin
· The mask is multifunctional
· The interior of the mask has a soothing gel
What we don't like
· This mask is scented, which can be uncomfortable for people allergic to strong scents.