An exercise ball as an office chair is a smart choice for maintaining good posture and preventing back pain. Conventional office chairs can be harsh on your back and do not offer the required support. To say goodbye to back aches, consider some of the top-notch exercise chairs for your desk.
Choosing the right exercise ball for your office is important for both comfort and durability. Not all exercise balls are created equal, so take a look at some of the options listed to find the best one for you.
A List of Top Best Exercise Balls for Desk
Gaiam Classic Balance Ball Chair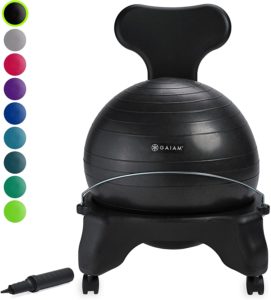 This is a great alternative to your traditional desk chair. This particular option was created by the health and fitness experts at Gaiam to provide an active seating outlet that relieves back pain and promotes proper alignment. This chair comes with a chair base, exercise ball, support bar and even a metal ball holder to keep it in place. If you want to do some great exercises while at work, this one comes with an exercise guide to help you get the most out of this great chair.
The Benefits
The perfect size to help you sit up straight at work, designed for users 5 to 5' 11" tall.
Can hold up to 300 pounds.
Has a back support when you need a break.
The Negatives
The metal bar is a little bit weak and may not last long
The Verdict
This is a great option to enjoy at work to improve your posture and can work with many different heights. It comes with a back support and easy storage when the day is done.
PRO MAX Exercise Ball Chair by SmarterLife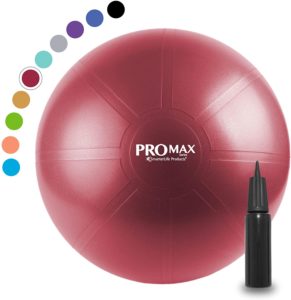 This is the perfect exercise ball to use at your desk. The material provides all-around thickness to prevent rolling and help everything maintain its shape. You will also enjoy the matte surface that prevents slips so you won't have to worry about falling right off. Sit on this ball to promote proper posture while at work or get ready to do a nice pilates or yoga workout during your break.
The Benefits
Anti-burst rating up to 2500 pounds so it will last without making you fall if it gets a little hole.
Perfect for working out or using it for a desk chair.
3 sizes to work with depending on your height.
The Negatives
The hand pump that comes with this is not very sturdy or good so you may need your own.
The Verdict
This is a simple exercise ball to use in your office. It doesn't come with all of the frills, but it will get the job done for an affordable price.
Live Infinitely Exercise Ball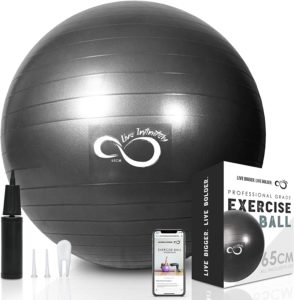 This ball is made out of top of the line materials to provide you with a sturdy way to sit and get work done without all the back pain. It is made out of professional grade PVC materials that can help it stay nice and strong for a long time. Add in a good warranty and you know this product is made to last.
The Benefits
Anti-burst tested so it will not explode on you.
Made out of the strongest materials around.
Just the right size for most people to use comfortably.
Designed to kick back pain to the curb while sitting at the office.
The Negatives
The sizing on the ball is not always consistent which can make it harder to use.
The Verdict
If you are looking for something that is strong and is sure to last, then this is the ball for you. The materials are strong, it will not burst on you, and it will provide all of the comfort you need.
ProBody Pilates Sitting Ball Chair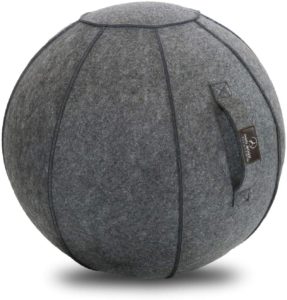 The materials on this one are much better than many of the others, providing more of a fabric that helps you feel comfortable on it rather than the smoothness of other exercise balls. It is also a clean design and really attractive, providing you with everything you need for a good workout. It comes with a handle to make moving it around a breeze.
The Benefits
Cover over the ball to make it more comfortable to sit on.
Comes with a handle to move it around.
The materials are low-odor that do not contain any of the harmful materials found in other balls.
The Negatives
Unless you really inflate the ball quite a bit, you may find the cover does not fit it that well.
The Verdict
This ball is steadier than some of the others because of the materials found around it. It is easy to move around and it provides the support you need to feel comfortable while working all day.
Trideer Ball Chair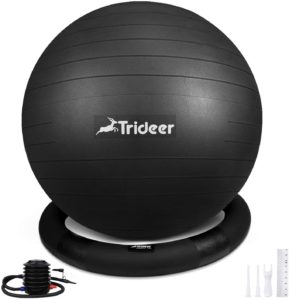 There are two choices when using this chair. You can work with just the exercise ball or use it with an inflatable ring. It is set up to be durable and not burst and is perfect for your home office. Enjoy two sizes for those who are up to 5' 10" and the second size for those who are up to 6' 4" tall. This is the perfect alternative to your traditional work chair, giving you comfort and more to get things done.
The Benefits
Two sizes to fit almost anyone who would like to use it.
Different options to make it easier to use; use with the ring or not.
Easy replacement for your office chair.
The Negatives
Inflating this ball can be difficult.
The Verdict
If you want to have a lot of options that are easy to use with your exercise ball, then this is the right one to choose. There are different sizes and even different options to ensure that you get all the comfort that you need.