Adding weight to your jump rope can greatly enhance your workout experience and improve your overall fitness. By incorporating a weighted jump rope into your routine, you can target various muscle groups and increase your endurance, strength, and cardio. With so many options available in the market, finding the right weighted jump rope can be a challenge. That's why we've rounded up some of the top options to help you choose the best one for your needs.
A List of Top Best Weighted Jump Ropes
Mr. Mars Weighted Jump Rope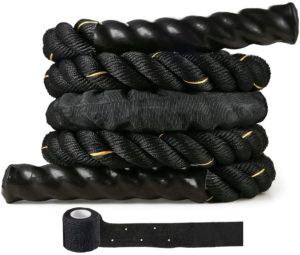 This weighted jump rope is suitable for all fitness adults and even professional athletes. It a great addition to any workout program, providing you with a way to add endurance and cardio to one workout. You can take this to the gym with you or do a quick workout at home, and weighted jump ropes add five time more efficiency to the workout.
The Benefits
Soft rubber handles to make it easy to hold.
A great way to train.
Simple and easy to use.
The Negatives
A little bulkier than some of the other jump rope options that you can use for the workout.
The Verdict
If you need a simple way to improve your workout, then the Mr. Mars weighted jump rope is a great option to work with. It can fold up and go on the road with you or provide motivation to workout at home.
Weighted Jump Rope By Pulse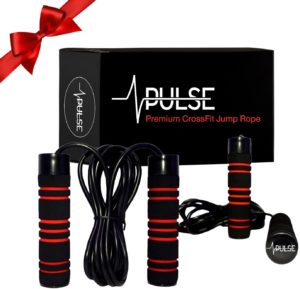 This is everything that you need for a weighted jump rope. It comes with a lifetime warranty, and the size can even be adjustable, making it the perfect jump rope for anyone who is 6' 6" or shorter. It can easily adjust so you can jump rope from 10 feet down to the length that you want in just a few seconds. The design is smooth and tangle-free, allowing you to fold it up and put it away without any trouble. Add in the ergonomically designed handles and you have all the comfort you need as you workout.
The Benefits
Can fit all heights and sizes for providing a good workout.
Handles that are comfortable and easy to use.
Won't get all tangled up while you workout or when you put it away.
The Negatives
A little bit hard to work with the adjusting.
The Verdict
This weighted jump rope is perfect for anyone who wants to enhance their core and their workout. It fits so many sizes, is easy to work with, and easy to hold so you get all of the workout that you would like.
Gaoykai Weighted Jump Rope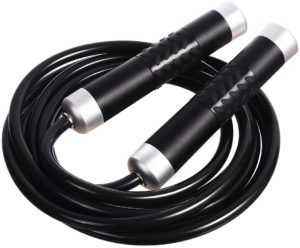 This may look like a traditional jump rope, but it has a lot of power behind it. Using any weighted jump rope will help shape your cardio endurance while improving muscle tension, but this one will provide you with even more power as you workout. The handle is set up to be anti-winding and anti-slip so it is more durable and the high-quality ball bearing system will make sure the rope won't wind, bend, or twisting. It is also ten feet long so you can adjust the length of the rope to fit your own height.
The Benefits
Simple and easy design to help improve your endurance.
Goes up to ten feet to make it easy to use for any height.
Easy handles to hold onto.
The Negatives
The rope is a little bit thinner than some other options and may rip.
The Verdict
If you just plan to use this jump rope to enhance your workouts on occasion, then this is the perfect rope to work with for your needs. It is simple and adjustable to all heights and can add the endurance in that you want.
Embracing Sport Challenger Weighted Jump Rope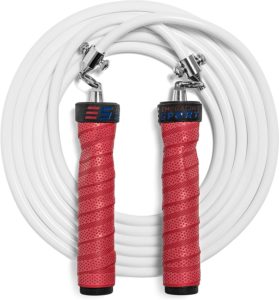 This weighted jump rope combines the resistance of a thicker and heavier rope with all of the customization you need by removing the handle weights. This is made out of heavy PVC with a diameter of 8 millimeter so you can get the resistance that you need, even when the rope is rotating through the air. This one provides weight through the entire rope instead of just in the handle so you can get a full body workout that you would like.
The Benefits
The rope is adjustable up to 10 feet.
The whole rope is weighted to get a better workout.
Strong PVC so it will last a long time.
Will not tangle up.
The Negatives
The links under the PVC are not welded well so it would spread apart as you use. This may be a problem on some ropes.
The Verdict
This is a simple and strong rope that will help enhance your workouts and make you feel amazing when you are done. There are not a lot of bells and whistles but it will get the work done.
BODYHACKERZ Heavy Battle Jump Rope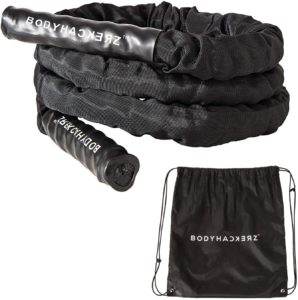 This is the ultimate in weighted jump ropes for you to choose. It comes in at 5.5 pounds so it is heavier, giving an even better workout. The quality is some of the best, providing a good amount of thickness and making sure it will last for a long time. In fact, it is made out of a durable polyester with a protecting sleeve and rubber handles so it will last a long time.
The Benefits
Durable materials that make it last longer.
Thicker rope that can take a beating.
Heavier than other options.
The Negatives
Kind of bulky and hard to use for beginners
The Verdict
If you are a beginner with weighted jump ropes, you will probably need to avoid this one as it may be too much of a challenge. It is a great option for those who need a little bit more in their workout though.