A warm and cozy hot tub in the winter is a luxurious experience, but not all bathtubs are created equal. When choosing an inflatable hot tub, it's important to consider factors such as running costs, massage system, safety, and value for your money. To assist with this decision, we've compiled a list of the top five inflatable hot tubs based on first-hand experiences and customer reviews. Enjoy shopping for the perfect inflatable hot tub that offers the best value for your money.
A List of Top 5 Best Inflatable Hot Tubs
Coleman Salu Spa Inflatable Hot Tub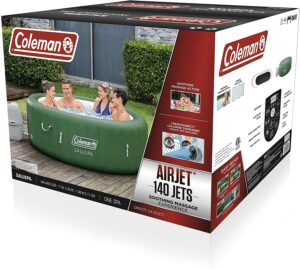 This Coleman hot tub measures 77″ diameter circle by 28″ in depth and is wide enough to occupy up to 6 adults sitting comfortably inside. Its heating system is fast, giving you the chance to hop in within 12 to 14 hours. Besides, its water can withstand the cold winter and maintain water temperature because of its 1″ foam board insulation under its ground cover. Covering it with its top cover buys it enough time to maintain temperatures for long, even in the cold winter.
Its pre-tested pump guarantees safety from electrocution, and its ground fault circuit interrupter usually trips at 6mA in case of excessive power surges.
The hot tub is also fitted with the Lay Z and air-jet massage system, which creates thousands of tiny bubbles by pushing air from the pump through small openings found in the perimeter of the hot tub. Above all, this hot tab is easy to set up and inflates in minutes before you get the water gallons ready to fill it.
Salu Spa Helsinki Inflatable Hot Tub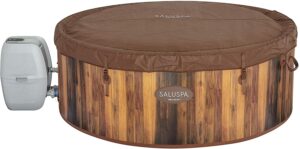 This hot tab lets you operate from inside with its digital control panel so that you don't have to move out to set up the temperature or change the flow of the jets. It can hold between five to six adults, made possible by its 71″ diameter circle and 26″ depth. You don't have to worry about the tub losing shape or buckling due to excessive weight. This is because it's fitted with an I-beam wall with resistant tri-tech material, enhancing its durability.
Setting up this hot tab is simple because it requires no extra tools like in other hot tubs. You can also effortlessly inflate and deflate it in minutes using its pump, reducing your standby time. The also tub comes with a heat-proof cover to maintain temperature and block leaves and other debris from falling in. Its 87 bubble jets enable you to massage you to relieve any forms of fatigue in your body.
Saluspa Miami Hot Tub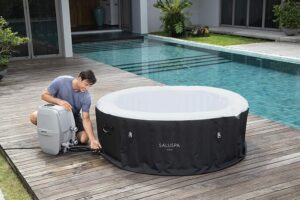 Like the Salu Spa Helsinki hot tub, this spa lets you control the temperature and flow of jets while still on the inside. Besides, it has a power-saving timer to automate the temperature up to 72 hours. It also lets you and four other people fit in comfortably because of its large volume, measuring 52″ inner diameter and 26″ depth. Its 9 feet cord length allows you to place the hot tub far into the yard as you enjoy the ambiance.
It's also fitted with 120 bubble jet soaks to massage and relieve you of muscle fatigue, giving you a makeshift feel of an authentic spa.
Intex Simple Spa Hot Tub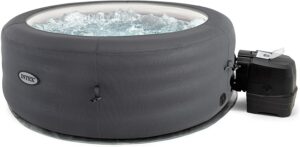 The Intex Simple Spa hot tub is durable, lined with PVC Laminate material, which can withstand all four seasons. Its heat insulation ability is top-notch, aided by an insulated cover and a thermal ground cloth so that it maintains heat as you warm the water. It's also fitted with a blower system to aid its 100 jet flows for massaging and a powerful heater that heats water faster within 17 to 18 hours.
Its 77″ diameter circle by 26″ depth allows up to four people to fit in comfortably. The tub is also easy to set up, and inflating it within twenty minutes enables you to fill the 210 water gallon and heat it to 104 Fahrenheit.
Lucia Salu Spa hot tub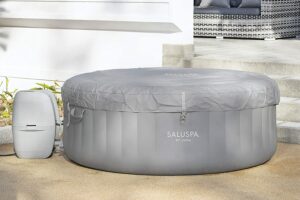 An ideal way to enjoy the winter is hopping inside this tub with probably, two other people. This inflatable hot tub can accommodate close to three adults and fits them comfortably in its 67″ circle diameter by 26″ depth. It also has a digital control panel allowing you to control temperatures and jet flow. Its digital prowess is also high-end to will enable you to control the tab through a phone application. In addition to this, it's also durable, lined with puncture-resistant DuraPlus material.
The tab's bubbled massage system is enhanced by its 110 jets to give you a great experience. Besides, inflation is fast to enable you to fill its 160 water gallon capacity.