How do you store toys in a living room? A simple way to organize your kids' toys is using some boxes and chests. With these toy boxes, you can easily organize and store the toys in your room. The living room toy storage are cheap yet useful. If you're looking for some ideas of the best toy boxes to buy, this list of recommendations will help you.
Versatile children's toy organizers come with storage boxes, bins and shelves in fun colors and designs for affordable prices.
What to look for before buying of the best toy storage organizers? Well, the materials, colors, sizes, and shapes are the key factors when choosing the storage solution for your children's toys.
Also recommended: The Best Outdoor Playsets for Kids
When adding a new storage organizer, will it complement your living room? Spacious boxes and chests are great for your big living room. But you can also get a space saver toy chest to add to your small space room.
A List of Best Toy Storage Organizers for Living Room
Humble Crew Supersized Wood Toy Storage Organizer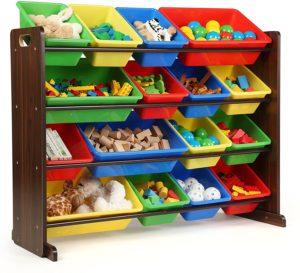 Top of the list is the Humble Crew Superized Wood Toy Storage Organizer. Why? You can create a space for your kids to learn and play. I really like the organization bins. They are the great way to organize your closet, cabinets and pantry. Space saving is what you should expect from the storage organizer. It usually takes about 20 minutes to set it up. Strong and study, you can also attach it to the wall.
Materials: wood, plastic and metal
x Large size
Removable bins for playtime and cleanup
Durable and easy to clean and to assemble
MINTWOOD Design XXXL Extra Large Baby & Dog Toy Storage Baskets & Bin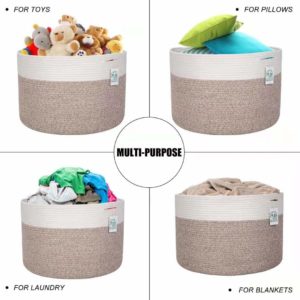 Ideally, you can have this Mintwood toy basket for stuffed animal toys and blanket. You'll like the soft and quality material, which is durable.
Portable and collapsible
Materials: premium cotton ropes
Otto & Ben Folding Toy Box Chest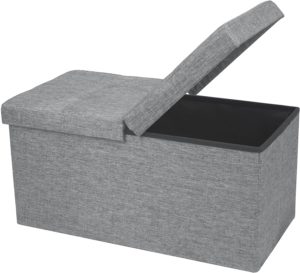 First thing first, it's so easy to start using this. You can storage shoes or even dog stuff. It's a lovely multi-purpose litter box container.
Materials: Fabric
Easy to set up and fold away
Strong and sturdy
Melissa & Doug Wooden Toy Chest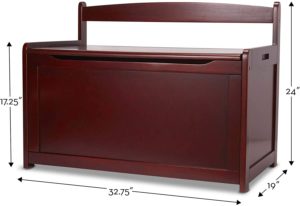 In essence, this is one of the greatest gifts for most parents. The size and color are just perfect for toy storage in the living rooms. You can expect that the wooden-made toy chest is built to last.
Safety-hinged lid
4.5-cubic feet
IKEA – TROFAST Storage combination (A1) with boxes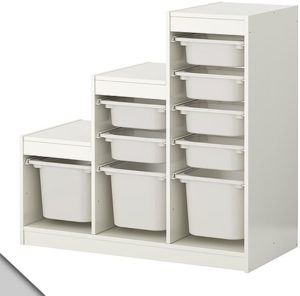 IKEA is known for its good enough quality products at an affordable price. This sturdy storage is great for storing and organizing toys, sitting, playing, and relaxing. You can have it with lightweight plastic boxes that your child can easily slide out, carry and put back again. You can use fasteners suitable for the walls in your home.
The frame comes with guide rails
Low storage makes it easier for children to reach and organize their things
Can be used with TROFAST lid