An important segment of a home is the dining room which is a place for families to eat and have a nice time in the company of each other. The dining room is also the main focus when inviting friends over for dinner or organizing house parties. Confused over what type of metal dining chair to purchase? We have you covered with a review of some of the best options available:
Affordable
Durable (built to last)
Ergonomic and comfortable
It is vital that your dining room looks gorgeous and comfortable and metal dining chairs can add aesthetic value. Metal dining chairs have taken an added emphasis on design, style and comfort. Lastly take your time, read through the review and select the perfect dining chair to light up your dining room.
A List of Top 10 Best Metal Dining Chairs
Devoko Metal Indoor-Outdoor Chairs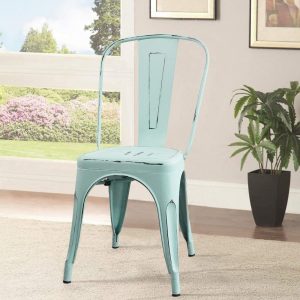 Devoko chairs tend to be top notch with scratch proof polishes which add a mix of design and durability. The seats are made from premium metals which is strong to absorb the impact of different weight. Plastic caps are placed on the heels to increase durability and prevent scratches to the floor. Devoko metal chair are typically packaged in sets of four.
Pros
Incredibly light weight
Stackable for space saving
Very easy to carry
Cons
Not for outdoor or backyard
DHP Fusion Metal Dining Chair Wood Seat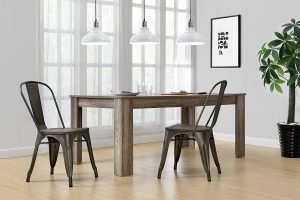 DHP Fusion dining chair is quite gorgeous and ideal for lovers of antique designs. The gun metal colour mix is fused perfectly with a classic design making the final product to be stunning. Additionally, the wooden seat is a brilliant concept designed to provide comfort and shares your weight adequately for a relaxed sitting posture.
Pros
Plastic caps are fitted to the heels for durability and prevent scratches on the floor
Furmax Indoor/Outdoor Silver Metal Dining-Chair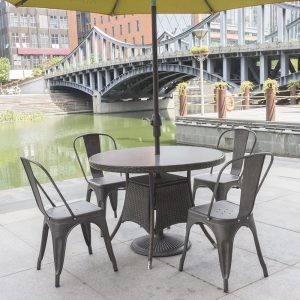 Furmax is one of the top producers of dining chairs and presents another stunning designed product from its stables. The chair is made up of scratch resistant steel with an overlay of sprayed silver.
Furmax Silver Dining Chair is the perfect fit for a small dining room as you never have to worry about lack of space. There are also other designs to choose from such as black color and gun metal.
Pros
Durable, comfortable and stackable
Comes in stacks of four
Affordable price
Poundex Shannon Series Dining Chair in Charcoal Iron Finish European Style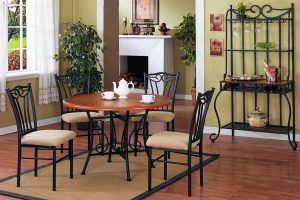 If you desire a European themed dining chair, checkout the Poundex Shannon series. The chair which comes in sets of 2 Inspired by classical European tastes the chair fits the bill with its iron frame with a charcoal finish. The seat is quite comfortable and made from premium cotton and the polyester material which spreads weight properly.
Pros
Relatively light weight of 15.4 pounds
Effortless to carry
Costway Tolix Industrial Metal Dining Chairs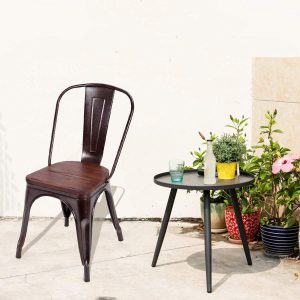 This modern styled high metal dining chair has a unique appeal to fans of high metal. The Tolix Metal dining chair for both indoor and outdoor dining rooms with its acoustic design from Costway.
Pros
THeavy duty high quality metals coupled with wooden seats
Plastic foot caps to prevent damage to your floors
Poly and Bark Trattoria Side Chair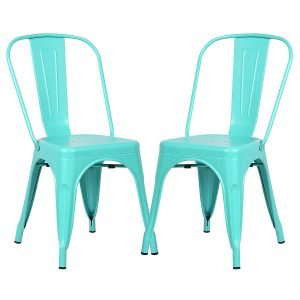 The seat is a bit narrow. Therefore, this Poly and Bark Trattoria side chair is not ideal for most people. However, it's strong and sturdy.
Electric-Plated Metal
Stackable
Non-Marking Feet Caps
Classic style
JUMMICO Metal Dining Chair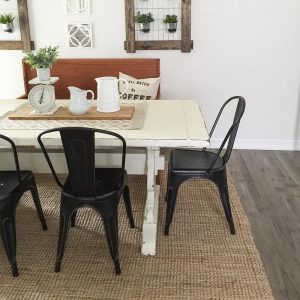 Made from strong and durable metal steel, the stackable chair can save your space. It's perfect for a dining room, courtyard, and cafe.
Waterproof, oil and scratch resistant
Easy to clean
Belleze Metal Chairs Side Dining Steel High Back Counter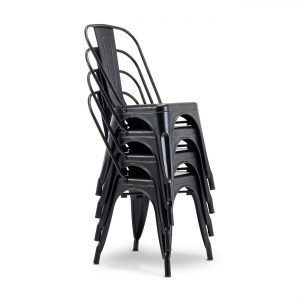 Buy these chairs only when you need to use them with low profile tables. We love the backrest as it provides support for your whole body.
Scratch and mar resistant
Heavy-duty steel build
Buschman Set of Four Bronze Metal Indoor/Outdoor Stackable Chairs with Back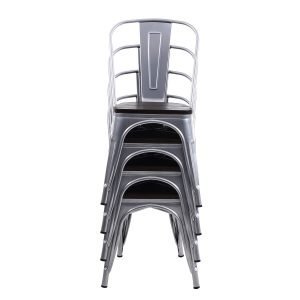 A set of heavy duty sturdy chairs you can have for either in your home or your backyard. The Buschman chairs look great in a restaurant or home.
Easy handling and stackable
Legs with floor protectors
Target Marketing Systems Windsor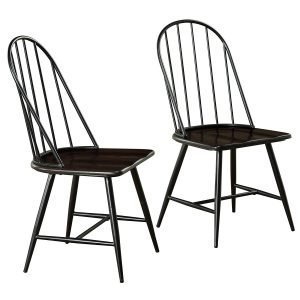 A combination of high quality wood saddle seat create beauty for this metal chair. We love how easy it is to install and start using it right away.
High quality wood saddle seat
Classic design with a modern flair