For frequent grillers, a natural gas grill is a must-have kitchen tool that can help enhance the flavor of your food. These top freestanding grills utilize natural gas and offer features to cook meat to perfection. A built-in gas grill is also a great addition to your outdoor space. If you have limited space, consider the best natural gas outdoor grills, which can be easily installed and offer ample cooking space. However, note that these grills require natural gas to be plumbed to your deck or patio area.
A List of Top 5 Best Natural Gas Outdoor Grills
Weber 7470001 Summit S-670 6-Burner Natural Gas Grill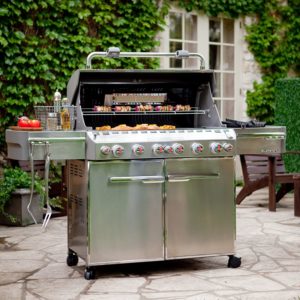 With tuck-away rotisserie motor, this burner features a stainless steel enclosed cart with chrome plated cast aluminum handles.
This grill exceeds most people's expectation. It has a massive grilling surface that heats evenly. Also, it is easy to start all the burners and the lighted knobs and grill lights on the handle are a real plus. However, every grill has its pros and cons. It takes some time to light all six burners and turn them off. Ideally, it's for smoking meat.
Comes with side burner, sear burner, and smoker burner with stainless-steel smoker box
Includes enclosed cart with stainless-steel doors, 6 tool holders and cookbook included
Main burners: BTU-per-hour input: 60,000
Napoleon BIPRO665RBNSS-3 Burner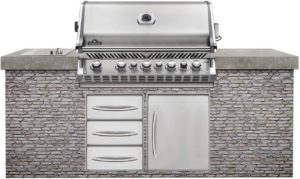 Big and beautiful, the built-in Prestige Pro 665 Natural gas grill with infrared rear burner comes with seven burners of grilling Bliss. What's included? The rotisserie kit is a set of forks, spit rod, and motor. The BBQ will need the appropriate gas line to connect to the stub. Essentially, it's one of the best natural gas grills for outdoor kitchens.
5 Stainless Steel main burners that produce 68, 000 BTU-per-hour input
Stainless Steel sear plates
With the built in smoker tray included in the Bipro665 Model,
JETFIRE ignition system
Mont Alpi 805 Black Stainless Steel Island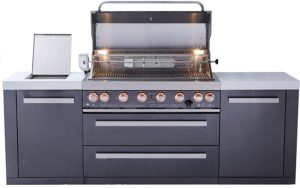 Natural gas and propane ready, this is one of high-efficiency burners a lot of people dream of. Our favorite feature is the blue LED lights on each control knob. What's else? Very sturdy, it's really easy to install and use. What you will need is a natural gas hose to connect to get started using the grill.
Black Stainless Steel
White granite surfaces
Ceramic infra red rear and side burners
All 304 stainless steel compartments
Blaze Built-In Grill with Lights (BLZ-4LTE2-NG)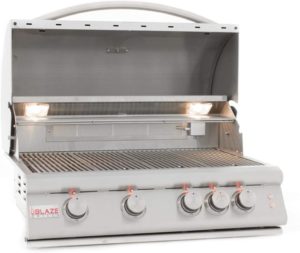 More affordable than other natural gas grills, the Blaze Built-In Grill also makes it on our list of recommendations. This heavy duty 304 stainless steel build is a durable appliance. The integrated interior grill lights essential as it illuminates the grill surface for day or night grilling. The grill is high quality and the lights provide really great visibility. The grates work really well and the removable separators really do a great job when cooking multiple foods at different heat levels.
Built-in natural gas grill
Cast stainless steel burners provide 14,000 BTU each; rear infrared burner rated for 10,000 BTU
Flame stabilizers
Lion 32-Inch Natural Gas Grill L75000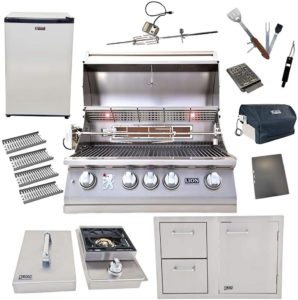 Some great deals to get are a free smoker box, a grill head canvas cover, a rotisserie kit, a griddle and a griddle remover. Using high quality materials, the Lion 32-Inch National Gas Grill is a must have for your outdoor grilling.
Made with 304-16 gauge commercial grade stainless steel and 830 sq. in. of cooking surface
Lion Eco Friendly Refrigerator uses R-600a as a refrigerant which has a potential warming effect of only 3 as well as causing no ozone depletion
Comes with smoker box, grill head canvas cover, rotisserie kit, griddle and griddle remover
Door and Drawer Combo with Towel Rack features All dual lined 16 gauge 304 brushed stainless steel