Having a portable air mattress can be convenient for unexpected visits from friends or family, as well as for outdoor enthusiasts who want a comfortable sleeping option. When choosing a portable air mattress, there are several factors to consider, including ease of use, inflation/deflation time, comfort, firmness, height, air retention, air pressure, portability, and materials used in manufacturing. Keep in mind that portable air mattresses vary widely in cost, and it's important to invest in a high-quality one that meets your needs.
There's nothing worse than waking up feeling terrible because of a bad night's sleep. That's why we've conducted thorough research online and in the market to bring you the top five best portable air mattresses. With this guide, you can make an informed decision and choose the best option for your needs.
[ The Best King Size Mattresses ]
[ The Best Waterproof Mattress Protectors ]
A List of Top 5 Best Portable Air Mattresses
Best Overall: Insta-Bed Raised Portable Air Mattresses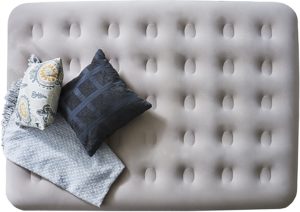 The 19-inch insta-bed model comes with an in-built pump to deflate/inflate the mattress to your own firmness preference. The mattress also has a wide range of approach that includes; plush, firm, or medium in and out for four minutes. Unlike other brands in the market with a single carrying pouch, the Insta-Bed Raised Portable Air Mattress has more than two carrying pouch for convenience.
The design on the Insta-Bed Raised Portable Air Mattress includes a 36 circular air input for comfort, much like an innerspring on a real pressure model. At a random 19'' high, this brand has the highest profile in the market, making it the best for those people with accessibility issues in getting on doubt of your bed.
The main in-built air pump is billed as 30% quieter than all the options in the list, and it deflates and inflates easily and quickly in about three and a half minutes. The second input pump keeps your mattress inflated throughout your sleep; with this brand, you don't have to wake up at night to inflate your bed.
The top cover/layer is designed with a flocked PVC material, giving the mattress a water resistance nature, damage resistance, soft, comfortable, and long-term durability assurance. Beneath the mattress, the bottom cover/layer is equipped with a sure-grip material so that you can get in and out of your bed without sliding.
This is the lightest model in our top pick in all in-home uses and outdoor camping. It is also affordable comes with a full year warranty.
Pros
2 in-built pumps
Affordable and economical
The mattress is made with lightweight materials
It is durable
Soft and flexible
Cons
Limited to a one-year warranty
Best for in-home use
SoundAsleep Dream Series Air Mattress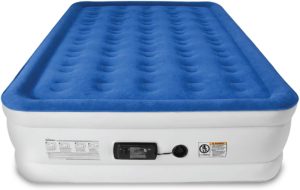 This is the most preferred mattress when it comes to home performance and comfort. The mattress also comes with a packed 40 inches of internal coils that hold your bed firm and strong without sagging or drooping throughout your sleep. Unlike other options in the market, the SoundAsleep Dream Series Air Mattress has an in-built air pump that ensures you get an easy deflate and inflate. And if you are looking for a better design with the shortest inflate and deflate mattress, then this is your option; it has a 3-minute refiling ability.
A queen-sized mattress offers you enough space for a family size of three to sleep comfortably, and its dual-chamber of 19 inches makes the mattress the design easier to climb on. The brand also has some Sure-grip layers and bottom linings that help your bed from sliding and slipping on glossy and hardwood floors. On the other side, this mattress's top layer/cover is designed with a waterproof and extra thick layer to avoid bacteria and mildew, a common problem caused by night sweats, and to reduce nicks, tears, and punctures.
Since the SoundAsleep Dream Series Air Mattress is designed mainly for normal home use, it is not the most portable choice on our list. The mattress weighs approximately 30 pounds and comes with a good carrying bag for toting the mattress around your home or to and from your room. One thing about the SoundAsleep Dream Series Air Mattress has a one-year customer warrant, which guarantees you durability and assurance of your money for a whole year. So, buying this model is a sure bet that you are buying something good for your home. Unlike the Insta-bed air mattress, this brand has only one firmness level making it the best for all home/indoor activities.
Pros
One-year buyers' satisfaction guarantee
Durable
Affordable
Equipped with heating coils
Dual pump, Durable top
Grippy bottom
Cons
Not Portable for Outdoor activities
Has only one firmness level
Best Budget: Intext Pillow Rest Raised Airbed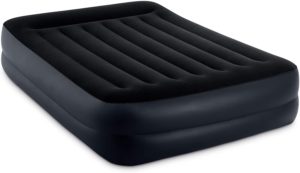 If you are looking for a portable mattress at a lower price, then the Intext Pillow Rest Raised Airbed is the best choice as it is made with lightweight materials. The Intext Pillow Rest Raised Airbed is more of an investment that you acquire at a lower price while being sure of durability and comfort. Customer durability satisfaction is guaranteed since this mattress comes with a two years warranty. The larger/queen-sized model measures 60 x90 inches making it the best for a family size of three and integrate a 16.5 inches height. Like other options on our list, the Intext Pillow Rest Raised Airbed offers the same style of flocked PVC covers.
The integrated pump takes the normal four minutes or so to deflate and inflate; many buyers say that the Intext Pillow Rest Raised Airbed to hold the firmness throughout the night or more than 12 hours. An unexpected and nice extension to this amazing portable air mattress is the in-built pillow, which lifts the surface of the bed just slightly where your kids will rest their heads as pillows. Besides, the mattress has a puncture-and water-resistant material as their outer covers, making it the best and easiest choice to clean.
If you are looking for a portable option, then Intext Pillow Rest Raised Airbed is the best choice as it is designed with a carrier bag that ensures your mattress fits in well for camping. Most designs have no customer guarantee on quality and durability, making this option a gamble, but this depends on the store you choose to buy your mattress. However, at your costs, you can hardly find something that lasts for a lifetime. Again, this brand is a purchase that you make when you are somehow low or have less to spend on an air mattress.
Pros
It is equipped with an integrated pump.
The cheapest option in the market
The mattress is equipped with a grippy bottom and a flocked top.
It is designed with in-built pillows.
Cons
Low Profile
Few or no warrant for customer satisfaction
Best for Kids: AeroBed Mattress for Kids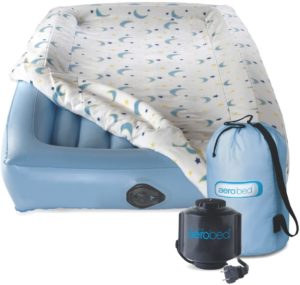 AeroBed mattress features a 50 x 25 inches making it the smallest mattress in our selection and the best for kids who are 5+ years. It is also made to keep kids or younger children from falling or rolling out of the mattress. Unlike other choices with different safety cushions, the AeroBed Mattress has a 5-inch safety pillow cushion raised around the mattress's perimeter. The 9-inch profile is ideal for children to get on and out of bed easily.
The mattress comes with a heavy-duty PVC filler designed to withstand any movement and friction pushes from kids. This being a kid's choice, its material is made of washable fleeces pads making the brand the best and easier to wash.
The mattress includes an electric pump that inflates the bed with less than 40 seconds and deflate the same mattress with 20 seconds, although its size means timing or inflate and deflate time shouldn't be related or compared with longer inflation when it comes to queen-sized beds. AeroBed model includes a carrying case that adds up to the mattress's total weight to a 13-pound type.
Although the cost tag might seem high for children-sized options, buyers say that their kids and toddlers enjoy this model the best. And from buyers' experience, the AeroBed Mattress has the longest lifespan with less damage, deflation, or any size problems.
One major problem of this model is the vague customer warranty, which is nor stated in any brand so that buying can feel like a gamble, but designers have the best tech to offer the right option. Most of the AeroBed Mattress are limited to designer warranty policies, which likely means you'll have an extra tussle to pick the best.
Pros
It is equipped with a safety cushion around its surface.
Deflates and inflates faster
Comes with an Extra carrier case
Includes a washable cover
Best price
Cons
Best Overall: Lazery Sleep Air Mattress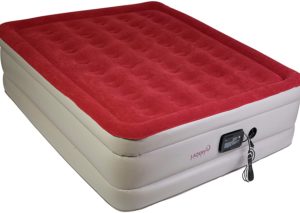 The Lazery Sleep Air Mattress features 5 x 7 inches with 12.5 inches giving you the best and durable options on the list. The brand has an extra feature that allows you to control the inflate and deflate with a wireless remote. The mattress is made of soft, durable, and flexible materials making the Lazery Sleep Air Mattress the bets for kids, adults, and people with sleeping problems. Besides, the mattress also offers you an extra in-built AC pump that works concurrently to allow you to have a continuous inflate while sleeping.
The application of an AC pump makes this the most preferred option in our list with a wireless remote for both refill and deflate. So, if you are looking for a portable and comfortable air mattress in the market, then the Lazery Sleep Air Mattress is an ideal choice for you. It also incorporates 40 internal coils that ensure both stability and firmness of your bed.
Designs for kids have elevated edges to help you keep your kid in the mattress and to avoid rolling at night. The materials used are puncture and water resistance making this brand the best when it comes to cleaning. Queen-sized models are big enough to fit a family size of three, offerings enough space for a night of comfortable night sleep. In addition to this, the Lazery sleep air mattress comes with a portable/foldable carrier bag that helps you to carry your deflated mattress anywhere in your room or in any outdoor activity.
Pros
Wireless control systems
Customized firmness controls
In-built AC pump with remote control
Cons
Expensive when compared with other options in our list
Key Factors to Consider When Buying a Mattress
With many brands and designers online claiming to offer the best portable air mattress, it is wise that you educate yourself before making any move. Before you buy, ensure the market size fits your personal needs, the material should be puncture and water-resistant, in-built AC pumps to allow you to inflate and deflate your mattress.
This is the key factor that you should always concentrate on buying something worth your money. It is also wise to find more options online, but with our guide, we've summarized all the options for you; all you need is to make a choice.