When it comes to high-intensity interval training, having the right exercise mat can make all the difference. A good mat will provide the comfort and safety you need to perform your exercises without worrying about slips, damage to your floor, or wear and tear on your carpet. Some of the best options on the market include Finer Form, AG Active Gear, SCHRINER Pro, CyclingDeal, and GymCope. These mats are designed to meet all your HIIT needs. If you're in the market for a new exercise mat, consider one of these top-rated options.
[ Best Mattress Pads for Back Pain ]
Best Quality Exercise Mats for HITT
Finer Form Exercise Equipment Floor Mat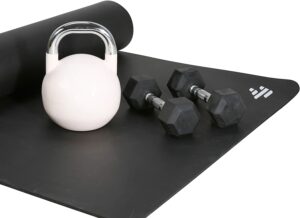 Finer Form exercise equipment floor mat is arguably the best exercise mat for HIIT(High-Intensity Interval Training). This workout mat is large enough for your workout bench and even treadmill, elliptical trainer, or exercise bike.
Besides HIIT, it's also a great multifunctional exercise mat for other forms of training including cardio workouts. Some common high-intensity interval training exercises you can do on it include; yoga, jump rope, and Tabata.
Not only is this mat good for your floor but also carpet. What's more, it is safe and does not slip nor get damaged by water. Additionally, it rolls up quickly to save space and time. Finally, Finer Form is odor-free, non-toxic, and safe.
AG Active Gear Large Exercise Mat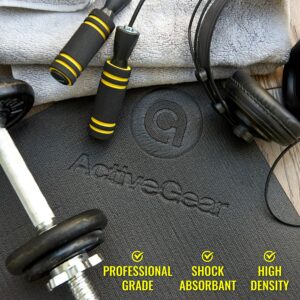 AG Active Gear is a large exercise mat that is suitable for all forms of training including HIIT, general fitness training, Mixed Martial Arts(MMA), cardio, and plyometric training. Examples of high-intensity interval training you can enjoyably perform on it include jump rope and yoga.
Made from premium rubber and polyvinyl chloride foam material, this 7mm thick rectangular mat is ultra-durable. Plus, it does not slip, making it an ideal mat for a home gym floor or public gym floor.
Finally, AG Active Gear is easy to store, easy to use. To store the mat, just roll it up and push it under your gym equipment. To use the mat, just fish it out of storage and quickly spread it on the floor to start training on it.
SCHRINER Pro Large Round High-Density Exercise Mat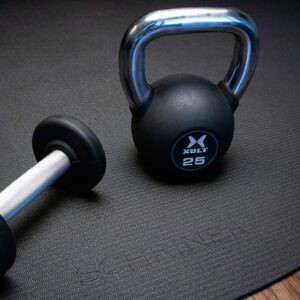 Schriner Pro is a large round high-density exercise mat. This circular fitness mat is very suitable for HIIT training. Made from non-toxic high-density foam rubber and featuring a premium extra thick design, this mat will protect your joints when you are doing intense workouts.
Plus, it's ultra-durable, slip-resistant, wear and tear-resistant, and shoe-friendly. Finally, the round stylish shape makes the mat look great in a room. It works well with all types of floors or floor coverings including tile floors, concrete floors, basement floors, or garage floors.
CyclingDeal Exercise Fitness Mat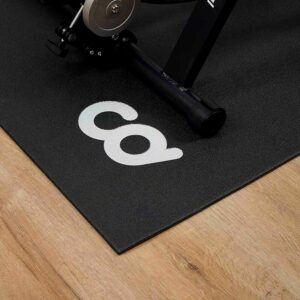 Besides Finer Form, CyclingDeal is another arguably best exercise mat for HIIT. This soft, compact, portable mat is great for high-intensity interval training equipment such as a peloton bike, treadmill, and elliptical bike. It is suitable for both home and public gyms.
CyclingDeal is made of thick 7mm foam and odorless PVC materials. This 100% waterproof mat does a great job at protecting your carpet or flooring against dirt or vibrations, wear and tear from your training equipment. Plus, it stays firmly on the floor, preventing you from slipping while doing your high-intensity interval training.
GymCope Exercise Mat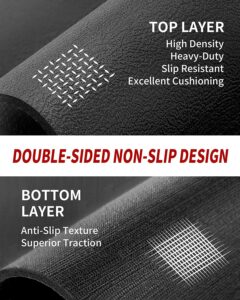 GymCope is an extra-long and wide workout mat that is perfect for high-interval intensity training. Some of the best HIIT exercises that you can enjoy doing on it include stretches, yoga, cardio, pylo, and jump rope. This thick fitness mat is shoe-friendly, non-slip, and both home-and-public-gym-friendly.
Made from a premium material(polyvinyl chloride), the GymCope exercise mat provides tear resistance and enhanced durability. Plus, it's extra-thick with superior cushioning to protect you and make training enjoyable as well as comfortable. Lastly, it's space-saving and easy to store. To store your mat after exercise, all you have to do is roll it up, fasten it with the two included velcro straps and then shove it under your training equipment.