Resistance bands are a versatile workout tool that allows you to target various muscle groups. Whether you're looking to build upper body strength or tone your legs, resistance bands can help you reach your fitness goals. With numerous brands and models available, choosing the right resistance band can be a challenge. These bands are multi-functional, allowing you to build muscle, tone, and even burn fat in the targeted area. They are also ideal for rehabilitating injured leg muscles and are portable and foldable, making them easy to take with you anywhere.
A List of Top 5 Best Resistance Bands for Legs
Fit Simplify Resistance Loop Exercise Bands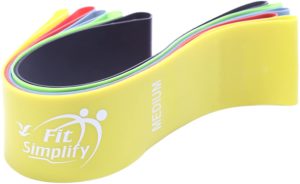 This resistance band pack is designed for both beginner and experienced people. One pack consists of five bands, with each band offering a different resistance level. So, you can start gradually and advance to multiple resistance levels according to how your body responds.
Also, the resistance bands are marked with varying colors for easy selection when working out. Again, these resistance bands come with a manual guide with multiple workouts that you can do with it. The resistance bands are super light in weight, so that you can incorporate them with other leg workouts for effective results.
For example, you can use the resistance bands when performing side lunges, squats, and leg lifts, among others. Note that these resistance bands are also recommendable for people healing from an injury since they help grow muscles in the injured areas.
Pros
The resistance bands are five offering different resistance levels
The bands come with a carrying bag
The resistance bands are portable to use from different areas
They are easy to work out with using the guide book
Cons
These resistance bands may not work for women with thick legs since they keep rolling when you work out with them
RIMSports Hip Resistance Bands for Legs and Butt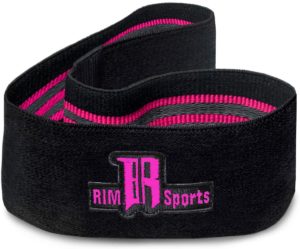 One feature that stands out on this resistance band is the interior material that is non-slip. So, anyone can comfortably workout with this band without it rolling off. If you want to tone the butt, glute hamstrings, and hips, this band will help you achieve effective results within a short period.
The band gives varying resistance levels so you can employ the right resistance on different muscles. Note that this resistance band is good for both men and women and can be used for various workouts.
Pros
The resistance band is portable
Has non-slip materials
Suitable for all people
The bands come with long term warranty
Cons
This resistance band has great results but may not work for small individuals since they come in large fittings.
Sling Shot Mark Bell Hip Circle Resistance Bands for Exercising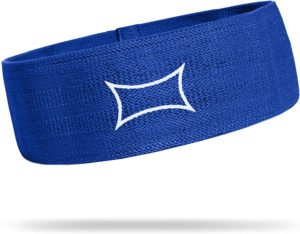 Tone your butt and the glute with this magnificent resistance band. It is comfortable to work with since the materials are non-slip. So, you can wear any gym wear without worrying about the bands not fitting well. Also, the design and sizing of this band suit all people, including those with slim thighs.
One essential thing to note, though, is that this resistance band provides two resistance levels. Thus, it is more advanced than previous models. Some of the leg workouts you can perform with this band are squats, lunges, leg lifts, and you can also use the band when lifting weight to help you maintain good form.
Pros
The band gives excellent resistance level
The band is comfortable to workout with
This band is good for both thick and thin people
The band is quite versatile
Cons
The bands only consist of one resistance band
Renoj Resistance Bands, Resistance Bands Set for Exercise Bands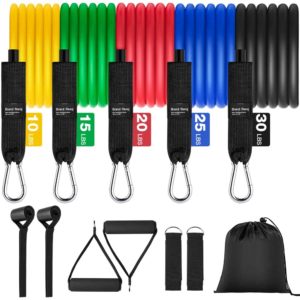 With a resistance level of up to 100 pounds, this band kit guarantees excellent results all around the body. The package has five bands that provide varying resistances ranging from 10 to 30 pounds. The bands come with handlebars essential for proving a comfortable grip when working out with them.
You can work out with the resistance band kit even outdoors since they are portable and come with a carrying bag to carry the accessories.
Pros
These resistance bands have non-slip handles
Provides great and multiple resistance levels
The bands are made of natural latex materials safe to the skin
You can use the bands even outdoors
Cons
These resistance bands are not too strong
WSAKOUE Pull Up Bands, Resistance Bands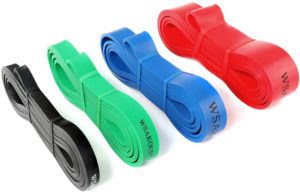 Besides improving your workouts, these resistance bands guarantee safety to the skin as they don't cause any skin irritation even when used next to the skin. So, if you like working out in shorts, the bands are great for you. One pack consists of four bands, with each band offering varying resistance levels.
Besides using these resistance bands to tone your lower body parts, you can also use them for rehabilitation purposes. These resistance bands are quite flexible and foldable for easy packing to carry.
Pros
The resistance bands give varying resistance levels
The bands are quite affordable
The resistance bands are easy to carry and use from multiple areas
The resistance bands come with a money refund warranty
Cons
These bands are quite hard to stretch and may inconvenience some people.
Choosing the best resistance bands for legs
The resistance level
The weight level measures the bands' resistance levels they add when performing workouts with them. Most brands have multiple bands, with each band providing a certain resistance level. The resistance level range from 10 pounds, all up to 60 or more pounds. So, for effective results, always choose a band model with multiple resistance levels to ensure you get excellent resistance.
Comfortable to use
The majority of bands are made of rubber latex materials to ensure you get the excellent stretchy effect when working out. However, the materials should be non-slip so you can focus on your leg workouts without worrying about the latex bands slipping off the legs. If you opt for resistance bands with straps for fastening on the legs, choose a universal fitting model. Choose the bands with ergonomic handles such that you will still get an excellent grip even when your hands get sweaty.